Over the past few winter months, I have subjected my hair to no end of damage; highlights, blow-drying, hair straightening, sun damage and living in a house that only supplies one type of heating; boiling hot!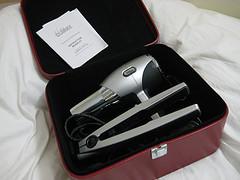 Contributors to my damaged hair:
Hairdryer and Straighteners
Photo Credit: ChicGeek
I think it's time my long-ish mane deserved a wee bit of TLC.
I have been given a bottle of Tints of Nature Reconstructing Treatment to review – lucky me!Tints of Nature, renowned for their Permanent hair colour range
, 
launched this treatment in Summer 2010.The treatment contains certified organic aloe, comfrey, almond oil and jojoba oil and prides itself in restoring hair to a soft, smooth and shiny condition, not to mention offering protection from UV damage. Quite a tall order so let's put it to the test!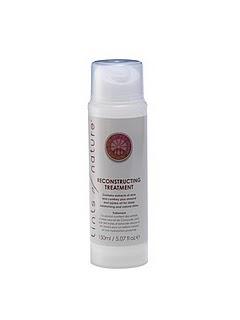 Tints of Nature Reconstructing Treatment
MeLikeyUK Review
Pros:
Scent:Pleasant. Subtle notes of sweet almond oil although this scent does not remain after rinsing.
Packaging:Treatment comes in a one size 150ml plastic pump dispenser and is easy to use.
Texture:Smooth and consistent without feeling greasy.
Effectiveness:After rinsing and drying my hair. It did feel very smooth, silky and nourished without feeling heavy. So much so, that my husband commented on the good condition of my hair (unprompted –a very rare occurrence indeed!). I also believe the treatment lasts after the second wash; when washing my hair the next day, I could still feel the benefits of having silky locks!
Ethical Purchase:Packaging stipulates that the finished product has not been tested on animals and contains no animal ingredients.Cons:

Price:
At the R.R.P. of £8.99 for 150ml it is quite expensive, especially with the instructions recommending 4-8 pumps for each treatment. I also think to get the full benefit, I would need to apply the treatment twice a week.
Worth noting that if
you order any Tints of Nature product online at 
www.tintsofnature.com
, 
you can get a discount of £1.50 from the bill
.
Convenience and Practicality:
This treatment requires you to do the following:
a) Shampoo and rinse your hair
b) Towel dry hair
c) Apply reconstructing treatment
d) Comb through hair and leave for 15 minutes
e) Rinse treatment out of hair
 For those challenged for time, it may not be the most practical option and they may choose a product that does not require rinsing.
Availability:
Tints of Nature Reconstructing Treatment is only available at selected
department stores (
http://www.fenwick.co.uk/
) and organic and health stores.It is also available to buy on-line from Herb UK at 
www.tintsofnature.com
.  Call Herb UK on 01590 613490 for further stockist information.
Overall MeLikeyUK rating:
6/10
My thanks to Nina Bass from 
Norton Cowan Communications Limited f
or introducing me to Reconstructing Treatment from Tints of Nature
Disclaimer:
The contents of my blog are my opinions alone. It is important for me to uphold the integrity of the "MeLikeyUK" blog. When I am asked to review a product/service, I will only agree to refer to it in my blog if I genuinely like it and I will provide an associated rating. Those blog posts without a rating signify me sharing an experience with the audience directly. To avoid misleading the audience, and to save time, I will not review and publish products/services which I believe are not compatible with my blog.
Anything with a rating of 5/10 or above will be deemed acceptable and published on the MeLikeyUK Blog.