– Note: This is a pure reproduction of the press information I received and is purely for sharing / informational purposes. –
Bid Dry, Sun-damaged Skin Goodbye!
Love water sports, but hate the damage that the sun can wreck on your skin? The new NIVEA Sun Water Sport SPF 50 PA+++ guards your skin from the damaging effects of chlorine, sea salt and UV rays, so you can flaunt that bikini body and baby-smooth skin every time you go for a dip.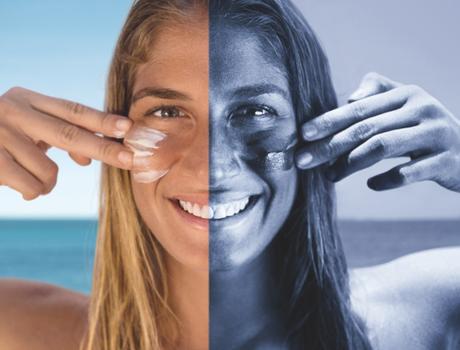 Does your skin feel rough and itchy after a dip in the pool or the sea? You are not safe underwater. Chlorine irritates your skin, while sea salt strips skin of its natural oils, and turns skin dry and itchy. In addition, UV rays reflected from the sand and water also increase your exposure to the damaging effects of the sun. UVA rays trigger sun-allergies and are responsible for premature ageing, while UVB rays are the cause of sunburn and DNA damage.
Rescue your skin with the NIVEA Sun Water Sport SPF 50 PA+++. Containing broad-spectrum UVA/UVB protection against UV rays, this sunscreen lotion guards your skin with the highest sun protection factor SPF50+. This sunscreen is also very water-resistant, so you get reliable, long-lasting protection against the damages caused by sea salt and chlorine.
WHAT DOES 'VERY WATER-RESISTANT' MEAN?
A product is considered 'water resistant' when at least 50 per cent of the original SPF is detectable after 40 minutes in water. For any sunscreen to be considered 'very water- resistant', at least 50 per cent of the original SPF has to be detectable after 120 minutes!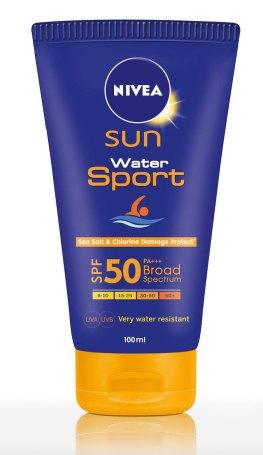 GUARD YOUR SKIN IN 3 WAYS:
1. IT PROTECTS AGAINST SEA SALT AND CHLORINE
Armed with Panthenol, it helps protect the skin barrier against sea salt and chlorine, while actively moisturising skin.
2. IT IS VERY WATER-RESISTANT
NIVEA Sun Water Sport SPF 50 PA+++ is formulated to be very water-resistant to keep up with you when you are most active. It gives you the luxury of splashing around for as long as you desire without having to worry about your sunscreen washing off too quickly.
3. IT OFFERS BROAD-SPECTRUM PROTECTION
With a sun protection factor (SPF) of 50 and PA+++, this sunscreen protects your skin from the aging and pigmentary damage caused by UVA rays, while at the same time preventing long-term skin damage, so you can confidently have fun under the sun.
NIVEA SUN WATER SPORT LOTION SPF50 PA+++
Price: $19.90 for 100ml
DIRECTIONS FOR USE: Apply generously before sun exposure and reapply frequently to ensure adequate coverage. Avoid direct contact with eyes. Discontinue if there is any adverse reaction after use.
NIVEA Sun Water Sport SPF50 PA+++ retails at $19.90 from April 2015, and is available at Guardian, Watsons, Cold Storage, NTUC Fairprice outlets and other major retail stores.