– Note: This is a pure reproduction of the press information I received and is purely for sharing / informational purposes. –
TIE DYE
This summer, Dior takes the spirit of tie-dye seen among the house collections and interprets it for the skin. Colours fluctuate, stretch and transform, as though saturated by light, from hypnotic jade to amber bronze, in spectrums of sandy beige or lagoon blue. A variety of sunset tones drenches the complexion in light. On the lips, combinations of coral, pink, mauve and red make your smile vibrate; on your nails, a wave of grenadine adds a twist to the key summer shades.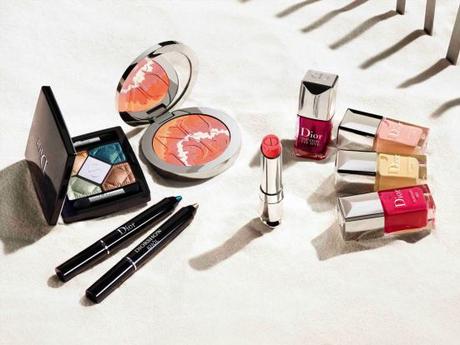 —
SOLAR LIPS
Dior reveals Dior Addict Tie Dye, a lipstick with a second, contrasting color running through it that adds a subtle twist, boosting the first color. Textures and shades blend together, enhancing the lips with vibrant color. The lips light up in six sunset combinations: rosewood heightened with fuchsia, coral sealed with red, brown with contrasting beige, violet warmed by orange, vermillion softened by mauve, and candy pink emphasized with pale pink.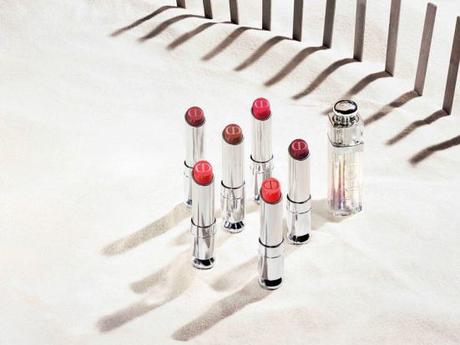 Pure color and glossy shine. Dior Addict Fluid Stick is available in 4 new colours to highlight your smile: a sienna beige, a delicate rosewood, a punchy pink and a flamboyant fuchsia.
Lip Maximizer, your indispensable partner for the summer, comes out in an audacious bubble-gum pink version.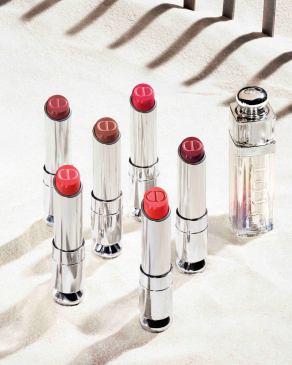 Dior Addict Tie Dye, $48 each

001 Red Bliss
002 Coral Trip
003 Hypnotic Pum
004 Cosmic Pink
005 Fuchsia Utopia
006 Nude Fever
Dior Addict Fluid Stick, $48 each

229 Beige Passion
379 Tropiques
449 Ciel Rose
779 Plaisir
Dior Addict Lip Maximizer in 007 Pink Sunset, $46
—
THE SKIN AT ITS PEAK
Nude Tan is available in two "sunset" color harmonies for summer. One blush with four shades that fuse together,infusing the skin with a sun-kissed radiance.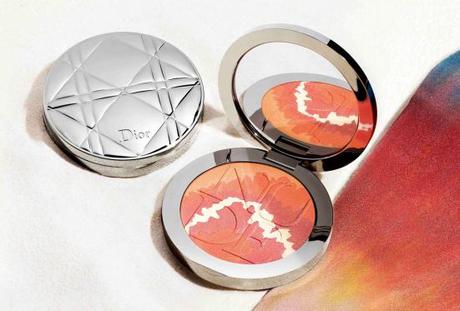 A blend of oranges and iridescent pink dusted with sandy beige sculpts tanned complexions, while lighter complexions enjoy a blend of effervescent pinks and mauves, suffused with tender rose.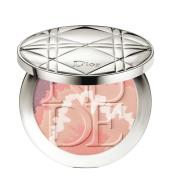 Sweep the special kabuki brush over the face, emphasising zones that naturally catch the sunlight (top of forehead, nose, cheekbones).
DiorSkin Nude Tan Tie Dye Edition Blush Harmony, $95 each
001 Pink Sunrise
002 Coral Sunset
—
A SUN-BLEACHED LOOK
The 5 Couleurs palettes metamorphose into a blend of solar shades on the eyelid. Dior creates two color harmonies: "Variation Nude", based on tones of bronzed amber and sand, and "Contraste Horizon" that evokes nuances of sky blue.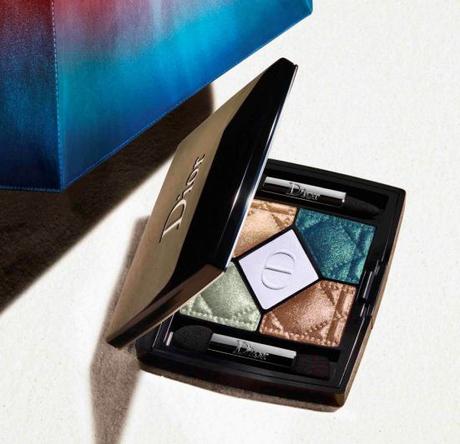 To add a metallic touch and intensify the eyes, Diorshow Khôl is available in universally flattering shades of deep blue and platinum. In Diorshow Iconic Overcurl Waterproof, lashes curl in soft turquoise. To complete this eye make-up look, Dior delivers two new editions of Diorshow Fusion Mono: a dazzling platinum and a coppery sienna.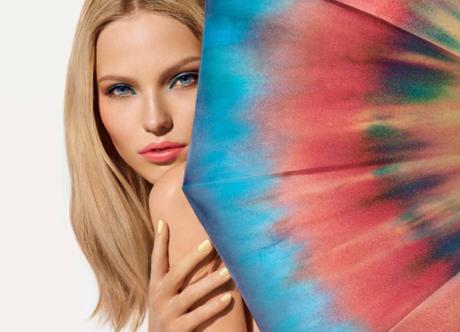 5 Couleurs, $102 each
539 Variation Nude
556 Contraste Horizon
DiorShow Fusion Mono, $53 each
DiorShow Iconic Overcurl Waterproof, $53 each
451 Bleached Turquoise
091 Over Black
DiorShow Khol, $34 each
379 Pearly Turquoise
559 Pearly Platinum
—
TIE DYE MANICURE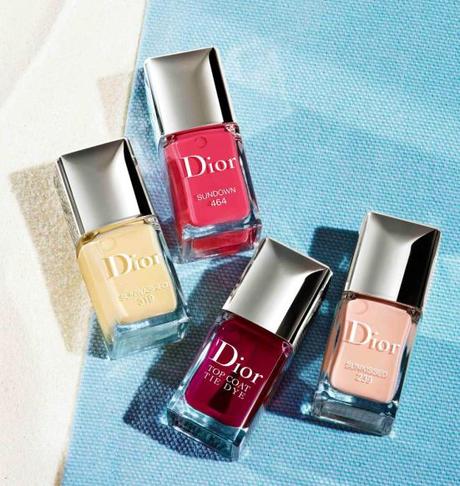 For summer, Dior creates a translucent grenadine-coloured top coat that adds tie-dye shading to your nails. Applied alone, the Top Coat Tie Dye heightens the natural pink of the nails with a wave of ultra-shiny, translucent color. Each successive coat creates a more intense effect. Layered over one of the three Dior Vernis it-shades – "Sunwashed", a milky yellow, "Sunkissed", a rosy nude, and "Sundown", a radiant hibiscus – the Top Coat Tie Dye customizes with all-over color or with shading for a fun, made-to-measure manicure.
Top Coat Tie Dye 869, $40
Dior Vernis: 239 Sunkissed, 319 Sunwashed, 464 Sundown, $39 each
—
BACKSTAGE SECRET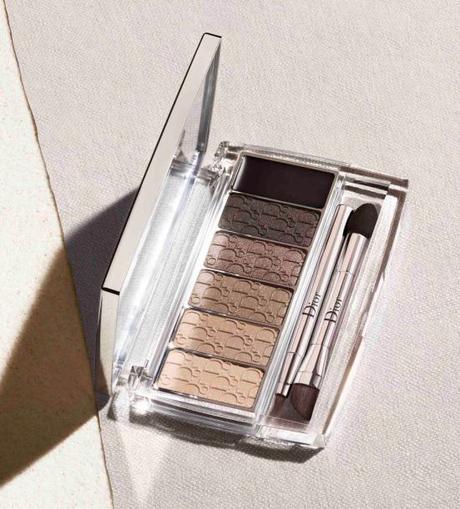 From behind the scenes at the Dior runway shows comes the Eye Reviver palette, a collection of ultra-luminous, universal neutral eye shadows, which open and brighten the eyes in six simple steps. The four eye shadows are applied in conjunction with a primer and a liner, working in perfect harmony to create a smooth, even and wide-eyed look, while adding definition and brightness. The silver case reveals a complete set of applicators – eyeliner, foam, and "sculpt & blend" brushes – that are easy to use. The intuitive Eye Reviver palette is the ideal device for ensuring a nude look that simply glows just like on the catwalk, all summer.
Eye Reviver – Illuminating Neutrals Eye Palette 001, $102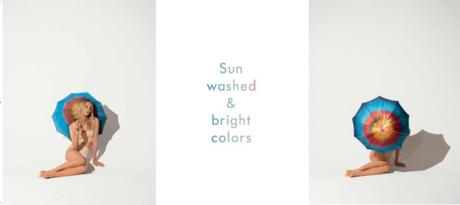 Available from May 2015 onwards at all Dior counters