– Note: This is a shortened reproduction of the press information I received and is purely for sharing / informational purposes. Review to come realllly soon!  –
RENEW, RE-NOURISH AND REPLENISH AGING SKIN WITH IRIS FLORENTINA ROOT EXTRACT
Kiehl's new multi-action treatment essence instantly reveals radiant, smooth and younger looking skin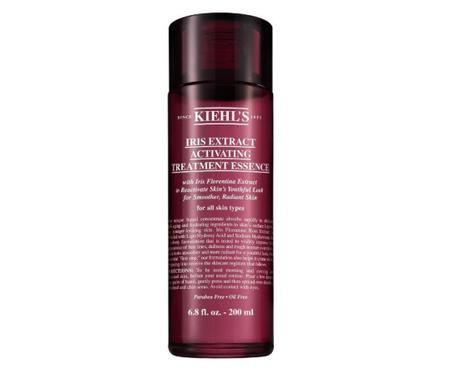 When skin is young, it is smooth and possesses a healthy, rosy glow. At the earliest stages of aging, skin's texture begins to look rough, fine lines are more visible, and youthful radiance is lost. It is at this stage when women begin to notice that they no longer "look like themselves" or that something isn't "quite right" with their skin.
The causes of these early signs of aging are three-fold: skin's hydration levels and cell turnover rate decrease, while the integrity of the skin's layers is reduced. To activate these properties of the skin and impart essential nutrients, Kiehl's proudly introduces — Iris Extract Activating Treatment Essence 200ml, $75. Harnessing the nourishing power of Iris Florentina Root Extract, this advanced liquid concentrate quickly and deeply penetrates the skin to boost radiance, reduce fine lines, and improve dullness.
In just 1 week, 94% of women saw smoother skin, and in as little as 2 weeks, 90% saw a reduction in dullness.
THE POWER OF IRIS FLORENTINA ROOT
To address age-related loss of radiance, Kiehl's chemists chose to develop a treatment essence formulated with Iris Florentina Root. This nutrient-rich ingredient contains strong nourishing and anti-aging benefits that include the preservation of skin quality and cohesion, protection of the skin barrier, and reduction in visible lines and wrinkles. "As a first step after cleansing, a treatment essence is the ideal formulation to apply on skin," shares Dr. Geoff Genesky, Head of Kiehl's Research and Innovation. "Its highly concentrated liquid texture not only allows for more swift absorption of the formula's key ingredients, it also better prepares the skin to receive the subsequent anti-aging and hydration benefits of other products in a customer's regimen."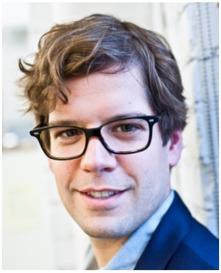 Cultivated from the Mediteranean region, Iris Florentina Root Extract is rich in flavonoids which are essential for the plant to thrive and grow as they serve as chemical messengers and physiological regulators, offering the plant protecting and regenerating properties.
"In nature, the Iris Florentina Root is the plant's life source," stated Dr. Geoff Genesky, Head of Kiehl's Skincare Laboratory. "Its nourishing and anti-aging properties have been demonstrated for skincare purposes as well. This includes an ability to reduce skin damage and improve skin's youthful appearance."
Specific research conducted on the ingredient Iris Florentina Root Extract has demonstrated:
Stimulation of anchoring proteins Laminin 1 and 5, which support skin's cohesion and integrity5. These proteins direct skin's assembly and architecture, which are essential to maintaining skin texture and density, preserving skin quality and helping to reduce fine line formation6.
A reduction of the damage of Stratum Corneum (SC) proteins, which helps skin maintain its capacity to bind and retain water and its ability to properly reflect light.
A decrease in the number and length of wrinkles after 4 weeks. This data, from a small clinical study, confirms the capacity of Iris Extract to reduce early signs of aging by improving skin's structural properties and protecting it from oxidation

With age, skin loses its ability to properly reflect and diffuse light from the skin's surface and throughout its deeper layers. This is due to changes such as fine lines and rougher texture caused by a reduction in hydration, slower cell turnover, and a decreased integrity of the skin's layers7. For example, in older skin, the hydrating capacity of the Stratum Corneum decreases over time as aging keratins are less able to bind water, making skin drier8. In concert with a reduction in cell turnover and the increased appearance of fine lines, skin's visible smoothness decreases and skin's light reflectivity is compromised. The result is dull and uneven looking skin.
A MULTI-ACTION SOLUTION FOR GLOWING, YOUTHFUL LOOKING SKIN
To address the appearance of dull, rough, and lackluster skin, Kiehl's chemists developed Iris Extract Activating Treatment Essence as a high-performing, concentrated treatment to help maintain and improve skin's surface quality, while reducing fine lines to reveal skin's youthful glow and radiance. This silky, texturized, multi-activating treatment contains three key ingredients that work together in the formula:
Renew Skin with Lipo Hydroxy Acid (LHA)
LHA activates skin's natural exfolitation process to remove dull, dead skin cells on the outer layers of the skin, and stimulates cell renewal to optimize penetration of the formula and subsequent skin treatments.
This derivative of Salicylic Acid is also highly lipo-soluble, making it better able to diffuse throughout the outer layer of the epidermis to reach dead skin cells and precisely, yet gently remove them.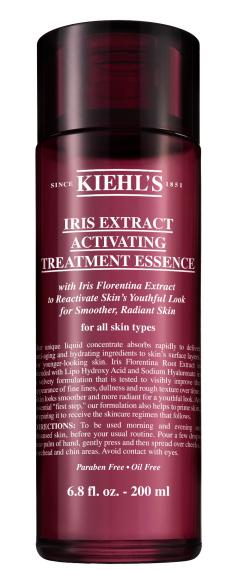 Re-Nourish Skin with Iris Florentina Root Extract
Hand harvested from Spring to Autumn and gently processed to yield a highly concentrated nutrient-rich extract.
The root is known for its deeply nourishing and anti-aging benefits to the skin, including the preservation of skin quality and cohesion, protection of keratin integrity found in the Stratum Corneum and the reduction in visible lines and wrinkles.
Within the formula, it has the ability to increase deeper surface level hydration, while improving barrier function to lock-in skin's moisture for up to 24 hours post-application.
Replenish Skin with Sodium Hyaluronate
With the ability to hold up to 1000x its weight in water, Sodium Hyaluronate instantly hydrates to replenish skin and smooth fine lines.
In consumer testing, the formula performed very positively on all key product attributes:
96% felt their skin was moisturized and 94% thought it was smoother after 1 week of use.
90.6% felt their skin appeared less dull after 2 weeks of use.
After 4 weeks of product use:
96.2% saw healthy looking skin.
90.6% saw younger/youthful skin.
86% saw more radiant looking skin.
84% saw a more even complexion.
96% felt formula absorbed quickly.
96% felt formula was gentle on skin.
Iris Extract Activating Treatment Essence 200ml retails for SGD$75
Kiehl's Since 1851 is available at:
Robinsons Raffles City t: 6338-3457 | VivoCity #01-11/12 t: 6376-9017 | TANGS Beauty at TANGS Orchard t: 6732-5394 | Metro Centrepoint Level 1 t: 6835-7675*NEW | Tampines Mall #01-29 t: 6785-7610 | Takashimaya S.C., Ngee Ann City, #B1-33 t: 6732-9695 | ION Orchard #B3-54 T: 6509-8941 | Plaza Singapura #01-66 t: 6454-3457 | Parkway Parade #01-19 t: 6346-1276 | Bugis Junction #01-13 t:63369022| Great World City #01-16 t: 6735-3755 | Suntec City #01-321 t: 6336-9338 | Westgate Tower #01-32
Note: Featured image was taken from Nylon (as it's so new that I don't have any other styled images to use).