– note: this is a pure reproduced version of the press release I received and is for sharing / informational purposes only. Product review to come soon! –
Etude House presents the Loving Days Fragrance Line
Etude House completes your scent-sory experience with the new Loving Days Fragrance Line that will refresh your senses with the natural and subtle fragrances.
Korea's no. 1 makeup brand Etude House introduces an all-new line of scented body care products, specially designed with a dash of vibrancy to take you from day to night, no matter what the occasion. Ignite your senses in a truly decadent experience with the new Etude House Loving Days Fragrance Line that comes in three girly ranges – Blooming Love, Sweet Sparkling and Cool Sugar.
Scented with natural and subtle hints of fruit, flowers and citrus, the Etude House Loving Days Fragrance Line will leave you feeling lovely and refreshed from head to toe with every spritz. The collection includes a complete product line to cater to your heart's desire! With the new Etude House Loving Days Fragrance Line, you'll get to mix, match and layer your scent with a fragrance mist, a body lotion and a body wash, each contributing to a fragrance harmony that deftly dances about your senses.

Blooming Love: Floral Fruity
This dreamy scent draws from pink flowers and bright berries to evoke the sweet memories of the rush of love.
Top Notes: Peony and roses
Middle Notes: Berries
Base Notes: Soft amber and wood

Sweet Sparkling: Citrus Floral
Refreshing and sweet, the range draws from citrus fruits and jasmine flowers to rejuvenate your senses in the midst of the summer heat, the perfect companion to have in a summer festival!
Top Notes: Citrus flashes
Middle notes: Freesia and jasmine
Base notes: Light musk

Cool Sugar: Fresh Fruity
Light and fresh, the breezy blend of watery fruits, violets and lilies transports you to the carefree days of an early summer afternoon under the sun.
Top notes: Watery fruits
Middle notes: Violet and lilies
Base notes: A blend of peach and musk.
Pricing:
Fragrance Mist (60ml/170ml): SGD$16/28
Body Lotion (250ml): SGD$25
Body Wash (250ml): SGD$21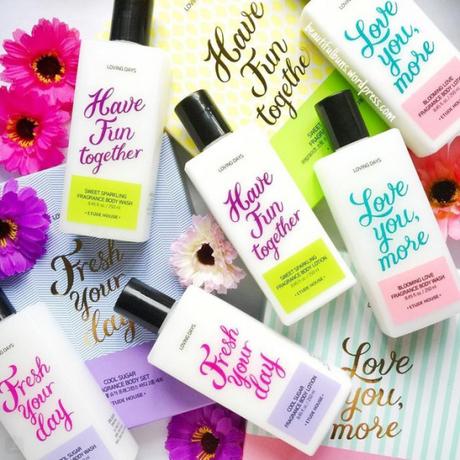 My Instagram photo
:D
Available at all Etude House outlets from 3 July onwards