– note: this is a pure reproduced version of the press release I received and is for sharing / informational purposes only. Product review to come soon! –
A DREAM PORE CARE SOLUTION ROUTINE IN THE ETUDE HOUSE WONDER PORE COLLECTION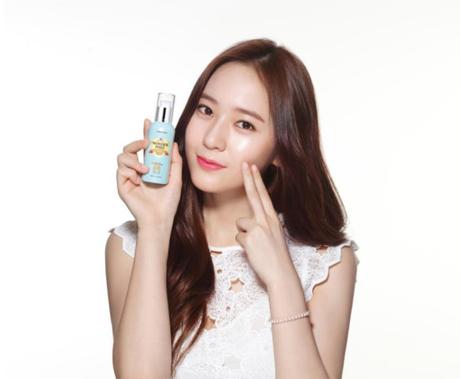 Pore size is a universal beauty obsession. We all know when it comes to pores, the smaller the better; however, the size of our pores is dependent on climate and genes. With the new Etude House Wonder Pore range, neither humidity nor DNA will come between your quest for a perfect clear complexion. Korea's no. 1 makeup brand has pulled out all the stops to create the ultimate pore minimising collection, specially designed to create the satin smooth skin of dreams.
Its key ingredient, Mint Vinegar™ and Anti Pore-Dex Complex is vital in this comprehensive pore solution. Extensive research has shown that usage of this unique blend has resulted in dramatic decline1 in the number of Demodex2 found within the pores of women around the age of 28. The unique Mint Vinegar™ and Anti Pore-Dex Complex combination not only removes Dermodex, it also prevents their future growth! The duo components also balances skin pH levels, controls sebum output, and removes dead skin cells for pores that are clean on the inside and tight on the outside.
1: 57.06% decrease after 4 weeks of use, 69.25% decrease after 8 weeks of use
2: Demodex is a genus of tiny parasitic mites that live in or near hair follicles of mammals
Your answer to the flawless complexion of dreams is right here with the new additions to the ETUDE HOUSE Wonder Pore line. From cleansers to facial masks the dermatologist tested Wonder Pore range from ETUDE HOUSE has everything you need for the minute pores your heart desires.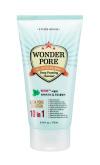 Wonder Pore Deep Foaming Cleanser, 170ml
$18
Mint Beads (mint + eucalyptus particles) deeply cleanses pores and dead skin cells leaving it fresh and thoroughly clean.
The Wonder Pore Deep Foaming Cleanser is gentle enough to be used daily.
—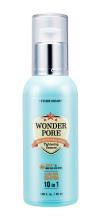 Wonder Pore Deep Tightening Essence, 170ml
$32
The perfect follow up to Wonder Pore Freshener, the Wonder Pore Deep Tightening Essence instantly tightens gaping pores for visible smoother skin.
The lauded Mint Vinegar™ and Anti-Pore Dex Complex contracts pores and maintains pH levels for fresh and clean skin all day long.
—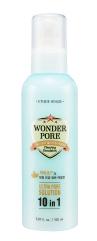 Wonder Pore Clearing Emulsion, 50ml
$24

The lightweight Wonder Pore Clearing Emulsion restores your skin's surface pH levels, keeping it refreshed.
The water based formula contains:
ETUDE HOUSE's signature Mint Vinegar™ and Anti Pore-Dex complex
to create naturally flawless skin from the inside to out.
—

Wonder Pore Balancing Cream, 50ml
$31
The lightweight Wonder Pore Balancing Cream restores the oil-moisture balance within the skin, ensuring that your skin is kept hydrated and supple even as it experiences pore contraction.
Every level of the skin is drenched in moisture for crystal smooth skin from within.
Wonder Pore Black Mask Sheet, 21ml – $5
Mask your way to tight pores with the Wonder Pore Black Mask Sheet. This new sheet mask from ETUDE HOUSE Contains bijangtan, one of the highest grades of charcoal currently produced in the modern world. Charcoal is known to have excellent cleansing and nourishing properties on the skin and is especially effective in controlling sebum secretion. The Wonder Pore Black Mask Sheet is treated at temperatures of over 1000℃ for 25 days to fully optimize the benefits of this excellent pore care ingredient.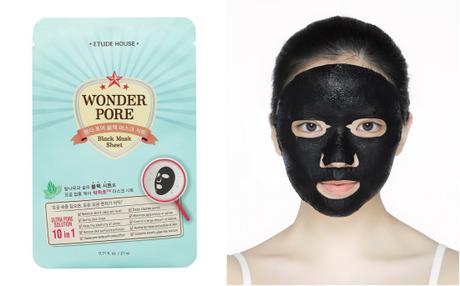 Wonder Pore Collection is available at all ETUDE HOUSE Singapore stores from 3 July 2015.
ETUDE HOUSE Singapore boutiques are located at:
Flagship Store at Wisma Atria #B1-20/21/22
[email protected] #B2-30
Bedok Mall #01-87/88
Causeway Point #B1-K02
Chinatown Point #01-12
Clementi Mall #03-34
JEM #02-44
Junction 8 #01-48
Jurong Point #01-57/58
Lot One #01-19
NEX #01-63
Parkway Parade #01-23B
Plaza Singapura #B1-26
Tampines 1 #01-15
Vivocity #B1-03
Suntec City #02-601/601A