– note: this is a pure reproduction of the press release I received and is for sharing / informational purposes only. Product review of the Bioderma Sensibio H2O Micellar Cleansing Water here. Review of the Cleansing Milk to come soon! –
Bioderma Sensibio H2O celebrates its 
20th Anniversary
World's 1st & Leading Micelle Solution Recommended by Dermotologists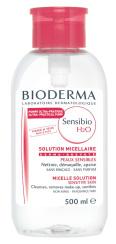 Beauty aisles today are filed with facial cleansers in so many different textures and formats that it's hard to imagine that only 20 years ago, the facial cleansing routine was to apply a rinse-off milk. while universal, it did not cater for specific skin types. Some of these milks were so strong they stripped off skin's natural protective film; others too mild to cleanse skin effectively.
Understanding that sensitive skin needs more tender loving care, and to help dermatologists find an ideal cleanser for sensitive skin, Jean Noel, Thorel, the founder of Laboratoire Bioderma, researched tirelessly on a new gentle and effective cleansing solution. He created the first micellar solution in 1995 and called it Sensibio H2O.
The 1st Micelle Solution Inspired By The Skin
A well-research innovation that has gone from strength to strength, Bioderma Sensibio H2O has won the hearts of not only dermatologists, but also top makeup artists and celebrities.
The micelles in the Senisbio H2O solution are biologically compatible to skin, offering an exceptional powerful and gentle cleansing result.
Due to its biomimetic structure, the formula also allows for high skin tolerance. It is formulated to suit even very sensitive skin.
Many have tried to emulate the Sensibio H2O success story, even 20 years after it was formulated! Today the gentle but powerful cleanser is:
The +No. 1 dermatological prescription in France.
sold every 3 seconds in the world – a powerful testimony to the customers' stamp of approval.

NEW! Bioderma Cleansing Milk – review to come soon! 
What sets this cult favorite apart from the rest?
The answer is its focus on biological mimetism. Bioderma Sensibio H2O is created to have great skin affinity and compatibility, thus offering high skin tolerance and dermatological safety. It has:
a ultra-mild biomimetic surfactant called glycerol ester that allows for maximal tolerance.
a physiological pH between 5-5.5 which is similar to the skin's pH.
pharmaceutical0quality water.
unique patented association of active ingredients which builds skin's resilience and reduces the skin's reactivity.
a minmalist formula based on dermatological safety and is fragrance-free.
the highest cleansing and makeup remover power*
*clinical study result measured against five competitors after one application.
+IMS YTD end of June 2014 France. Non-rinse Cleansing Water category.
 THINGS YOU DIDN'T KNOW ABOUT BIODERMA SENSIBIO H2O