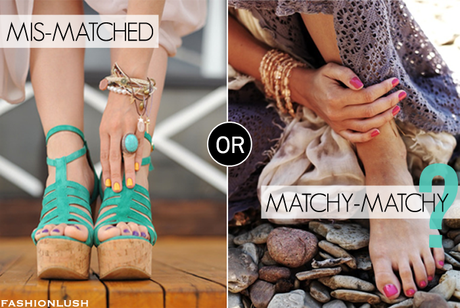 I recently, as you may have noticed here & here, decided to test out the stiletto nail shape. So far, I am pleased. Def still getting used to them, not sure how long I will keep them, but for now… it's a fun change.
Not to mention, painting my nails has gotten much more exciting. These nails give me a larger canvas to get weird (with added thanks to this book), muchhhh easier to paint, & for some reason- they always look good… even if I go outside the lines a little.
That said, after all the nail fun, it's time to paint my toes. Now I am lazy, and don't feel like picking out a color that goes well with my mani. Too much effort, I just paint them the same color as my nails.
Question is- am I making a beauty faux pas? Is it tacky to match your nails to your toes? Do you prefer mis-matched mani & pedis? Drop me a comment and LMK your thoughts!!
(source, source)