"8 Study this Book of Instruction continually. Meditate on it day and night so you will be sure to obey everything written in it. Only then will you prosper and succeed in all you do."  JOSHUA 1:8 (NLT)

I'm not surprised that for many of us the idea of  Bible-reading is automatically slapped with the hashtag #boring or brushed off with the neutral "Whatever, I'm livin. He's with me'" shrug.  I named this post Between My Highlights, because He made those areas between my USUAL verses our special meeting place.  In a way in my life He's met me most deeply in between my triumphs and victories, not just amidst celebration.  I wanted my experience to touch on a gaping hole in modern Christianity, which is we don't actively pursue what's for us in the Bible.  We want someone to tell us what's in it, but we often don't want to look ourselves.  We have one so we say we have one, or sometimes two even, or perhaps just the app for Sundays and connect group days.  The revelation for me was if you don't read your Bible to know Him, or just reading through the verse then closing it without meditating, I don't feel it can be quite called praying as a WHOLE, because prayer is supposed to be a conversation, not a one-way street with a shopping list in hand, and sometimes what He has to say won't fall on your head from your ceiling or appear on a billboard or jeep, it may already be lying in wait within the pages of His Book in addition to that still, small voice.  We commune with Him in prayer and a massive part of communicating with Him is reading His Word, because unlike the still small voice that we sometimes "think" we hear you can return to the verses He reveals to you over and over.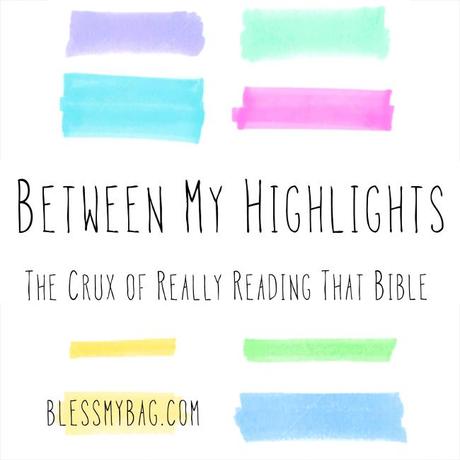 "Humor aside, I think the reason we sometimes have the false sense that God is so far away is because that is where we have put Him. We have kept Him at a distance, and then when we are in need and call on Him in prayer, we wonder where He is. He is exactly where we left Him." – RAVI ZACHARIAS
The truth, folks, is just before this year I was a serial non-Bible reader.  Yep, my YouVersion Bible app kept sending me that "would you like to take at least 5 minutes to read…" alert over and over for two years and I'd feel so nagged by it before.  I preferred my real Bible but I wouldn't really meditate.  I used to pay attention to it just on Sundays but now…recently, I've been completing the app plans like wildfire.  I look forward to them. I don't expect a badge or a trophy or a "good for you" slap on the back, there  just really happened to be a turning point sometime around Feb to March early this year, and I'm just thankful that God changed something in me, I pray for good.  In the past I agreed with that Joshua 1:8 verse above because I knew I ought to, hellooo, I'm a believer I should, but I didn't do it, meaning it didn't really reach me deep down.  I would peak in reading and dip quite quickly when life was going well.  I quipped certain verses to encourage friends and write in my journal (so easily because my parents were Navigator affiliated family evangelists from when I was 2).  We can sort of thank the media for all the pop-ups, IG accounts, Tweets, sites and feeds with inspirational quotes and Scripture which we don't seek out but encounter 'coz otherwise we starve unconsciously.  "Newsflash" as Judah Smith says, that's not really knowing God.  You don't really nurture a friendship with your best friend by hoping you see their status in your feed today.  We reason out "Oh, I saw two verses in my feed today, that's already seed that's going to grow in me…" true, yes I agree, but what delights the Lord is when we love Him with all our mind, heart, and soul…and love isn't passive, love is active, a commitment to love is a priority.  Read more to get the full post and of course I'll include an embedded video.
God pursues us always, but yes there is a verse about laboring to be in His presence in response, because lets face it, He's God and we live in a fallen world that distracts us daily from Him but we need to decidedly lean into Him.  It isn't easy but we need to take the step (especially when we wake up, notice how hard it is to go to Him first before your phone) and once we're with Him in His presence there is relief.   Growing up, I was proud of the fact that my Dad was the divemaster/Bible teacher man who shared the full Gospel with his brother-in-law, Gary Valenciano and the rest of Mom's clan.  I copy-pasted, and posted verses with earnest passion but not with a super deep-seated yearning and respect for it, 'coz the truth is you respect what you really, wholeheartedly know.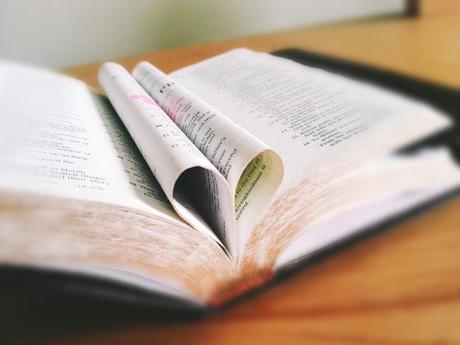 Jesus Prays for His Disciples

6 "I have revealed youa]" data-fn="#fen-NIV-26766a" class="footnote">[a] to those whom you gave me out of the world. They were yours; you gave them to me and they have obeyed your word. 7 Now they know that everything you have given me comes from you. 8 For I gave them the words you gave me and they accepted them. They knew with certainty that I came from you, and they believed that you sent me. 9 I pray for them. I am not praying for the world, but for those you have given me, for they are yours. 10 All I have is yours, and all you have is mine. And glory has come to me through them." – JOHN 17:1-10


"My library is full of books on prayer. One would think that with each passing year the discipline of prayer would get easier, but in fact it doesn't. Whether early in the morning or late at night, it is always a challenge. But as God has proved himself, I have had several different experiences in which I sensed God's very clear answer within my spirit. There is no doubt in my heart that prayer makes a difference in anyone's life." – RAVI ZACHARIAS

I survived hard situations before with Scripture to carry me through but it merely served me as a crutch and once I had done away with the crutch I technically walked without it these last couple of years while having God's Word just on the surface to lace the real condition of my faith.  This year that changed and I've been really reading the Bible daily for six or seven months now.  One random day last February, I didn't know what to do and God told me "Renew your passport now", I told Him back sort of like "I was going to, You know. I have no idea why I must do this like right now, but okay Lord, I'll renew it."  And then one random weekend with family I was suddenly granted a trip to NY by a relative.  It was a trip I had already declined, 'coz I didn't have enough on me financially for it, and so I thought I wouldn't be able to go.  So my heart leaped when God proved me wrong and I was excited and penned and plotted my plans on paper, gosh I remember that night before leaving, I slept at 2am before my trip trying to familiarize myself with NY, list down attraction promos, memorize its streets, and its outer boroughs on the map.  Plans, plans, plans.  Before my departure for the US my brother and I decided to reappear more actively in our church youth ministry because we felt in need of a "cool drink" to say the least in the midst of stuff we were going through and we really wanted to serve again.  We connected and re-established ties with friends who were leaders.  Shortly after that, I then left for New York last spring as a birthday gift, which I'd like to call God's amazing oasis for me at this time (with a bit of misadventure just when I arrived but that fixed itself), and I was so glad to have this getaway for me.  When I returned home to reality and some of the burdens I already had even before I left for my trip the season of testing at home was just waiting for me to return and it grew even bigger and tougher.  While of course I will not pour my life's details onto this page of pixels all I can say is God allowed a due season of testing in my life that I myself would not have wished upon anyone I knew…an overlapping of not one, not two, but three situations all happening simultaneously that challenged me to the point of me shaking my fist at Him for awhile.  It hurt to some degree, but I kept the pain to myself as much as I could.  There is no one to blame for anything in all that happened, you know that sort of conundrum?  All of it was just HAPPENING.  Yet through it all God drew me close, closer than before, reassuring me that He had a plan for me I couldn't see.  I'm still thankful, I'm at a point where I realize just a little bit why He had to bring me through it.
"Only so much about life can be understood by reason; so much falls far short of any reasonable explanation. Prayer then becomes the irrepressible cry of the heart at the times we most need it. For every person who feels that prayer has not "worked" for them and has therefore abandoned God, there is someone else for whom prayer remains a vital part of her life, sustaining her even when her prayers have gone unanswered, because her belief and trust is not only in the power of prayer but in the character and wisdom of God. God is the focus of such prayer, and that is what sustains such people and preserves their faith. Prayer is far more complex than some make it out to be. There is much more involved than merely asking for something and receiving it." – RAVI ZACHARIAS
If you have what people call designated "Life Verses"…be open to un-designate them sometimes and look deeper, don't just STAY with them only, keep them but grow with more verses.  I really encourage you to learn to read the verses before and after those ones as well, it's literally about "expanding" the knowledge.  From the ever-popular life verse you've flagged yourself with it's great to try and read the chapter of the life verse and you get a whole different context.  I recently advised a cousin of mine to find the Easter eggs in Scripture, they're sometimes hidden and not the most popular, but when you uncover an "Easter egg" verse, you find resurrection and you get that warm, goose-bumpy feeling knowing you were meant to find it if He's revealed it to you.  To get to the point, the key to all my circumstances igniting the way I read my Bible was having the gift of unanswered questions (some I'd been asking for years already) which led to a ravenous seeking in Scripture on my part ("God, seriously… like why…").  I really hoped I would find something.  What changed was I began to read BETWEEN my highlighted verses, between the verses everyone knew or flagged, and God would meet me there take my hand and show me stuff I never knew or thought would be relevant to me.  He suddenly crushed…or maybe better to say REPACKAGED the Christian "cliches" that I was sick of hearing (when you grow up Christian some phrases begin to sound redundant even if they are truthful).  Some familiar verses He re-revealed to me and some that I never knew existed formed banners of victory in my heart.  I now almost fully understand the meaning of "Seek and you shall find…".  I didn't have a map for finding what I was looking for but I earnestly sought.  I started off my "search" by recognizing what caught my focus most.  I knew myself as an audio-visual person so I began seeking encouraging sermons online with the topics in my heart and wow, I unlocked a treasure trove of videos I never knew existed and some were so profoundly encouraging but only had few views (Like that ExporeGod YouTube channel, zondervan, and thomas nelson) and I was like "Why aren't people viraling this stuff like crazy?  They're 'dope' LOL." I shared some videos with friends and family and they'd be like "Where did you find this?" and I'd be like, "I was looking and I just did…" then those videos sparked a chain reaction.  The speakers like Jennie Allen, Ann Voskamp, Ben Stuart, Judah Smith, Francis Chan…and even old Mr. Charles "Chuck" Swindoll (whose Trust God sermon messed up my face lol) reached me in ways I didn't think I could be reached.  When they would mention verses, books, and other stuff that inspired THEM, I'd take note and write them down.  Then I would seek those references out and then my feeding just began to flow on its own.  We toe the line with Bible reading because we think it's just going to take up more of our time and make us feel bad about ourselves.  Here is a quote, that describes for me what happened to my heart when I dove back into his Word.  The quote is credited to both Guillaume Apollinaire and Christopher Logue, because one re-mentioned the other.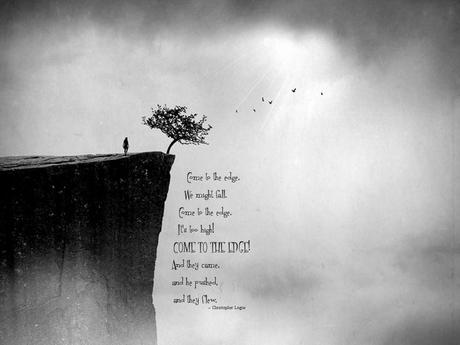 "Come to the Edge" he said. "We might fall".  "Come to the Edge" he said. "It's too high!".  "Come to the edge!" And they came, and he pushed, and they flew.

- Christopher Logue/Guillaume Apollinaire
I'd like to push you  to not wait for a challenging season to round you up back for Bible reading.  I do understand that it's easier if you experience a turning point of your own but really don't wait around for it, take the step and start doing the Bible lunges.  Here are 5 Steps that helped me which I recommend to usher yourself back into reading His Word again.  I will include links of course for the videos.
1.)  Make sure you have a Bible,  Bible Gateway is online, and YouVersion Bible App is free for IOS and Android, and Bibles are for sale almost everywhere.  The versions I like to keep in the app are KJV, NKJV, NLT, NASB and NIV.  Try one of the YouVersion devotional plans and go through it daily as well as the verse that accompanies the devotional content (some people read the devotional and skip the verse, remember the devotion was written BECAUSE of the verse).  Try and open your physical Bible to go through the Word part after the devotional (I'm right now going through 5 YouVersion plans but you don't need to be schizo like me lol).  Try Our Daily Bread, or if you're in for a devotional that's a little deeper and challenges you more try downloading Charles Swindoll's My Utmost for His Highest or buying the actual book.  The green one has been re-edited to more modern language.  Set a time for Him daily, don't be afraid to ask Him questions when going through the verses.
2.) Search for Christian sermons on YouTube, or even inspiring videos and sermon jams.  For easy listening or watching at night before bed.  They will for sure mention verses that tie in with human experiences and stories and you will want to keep those.  The preachers that have inspired me most are Jennie Allen (I love her Restless video message), Joyce Meyer's Trusting God When You Don't Understand message makes me laugh and cry, Francis Chan and his genuine heart for knowing Jesus and reaching people, Bayless Conley and his beautiful testimony about turning from being a hippie drug addict to one of today's trusted preachers, Judah Smith (Jesus Wasted Love sermon) the young fiery 7th gen preacher from Seattle (author of Jesus Is___) , Ben Stuart ( When God Shoots Down Your Plan, low key youth and young adult preacher who is divinely funny), Ravi Zacharias (Faith in the 21st Century video) the preacher/theologian/motivational speaker who thinks out loud, writes beautifully, and makes understanding God, prayer, and the Bible so easy to outline and take to heart, Christine Caine (Undaunted), former Hillsong youth staff turned whoa Women of Faith preacher, John Piper (How He Chooses Bible verses video) who is a theologian not afraid to challenge those who reaches and deeply address the topics of suffering and yielding your heart to God, and Charles Swindoll ,His Trust God sermon might make the walls of your house shake (he's old and you think his videos will be boring, trust me they're not.  He is an ex-marine turned preacher who is labeled "The Great Encourager").  Last but not the least the ExploreGod YouTube channel which gathered together professionals, church leaders, and ordinary voices to speak about various topics on God and the Bible as well as share their testimonies in short easy to share video clips.
4.) Read classic Christian theologians (they were focused back in the day and had less technological distractions to deal with so some more or less delved deeper in their search for Him).  Some of my favorite classic authors are C.S. Lewis (Screwtape Letters, Mere Christianity), J.B. Phillips (Your God is Too Small), A.W. Tozer (The Pursuit of God), Elisabeth Elliot (Passion and Purity, Path of Suffering).  Don't be afraid to read traditional books, there are some that are thinner and easier to go through.  Remember, if you've been a believer for awhile you're big na, you want meat not baby food.
5.) Read or watch the work of modern Christian theologians as well who aren't scared to go deep or challenge you like Ravi Zacharias and John Piper.  Slightly more modern writers include for fiction Frank Peretti, for professional self-help (a Christian psychologist), Dr. Larry Crabb's Inside Out helped me come to terms with myself during my college years.
This post is WAY TOO LONG already, I haven't done a post like this in years.  It was about time to do this one I think.  I hope anything of everything I said was able to encourage and help you :).  So get reading and see how much He really loves and cares for you.  Here's a video of good people who believe in some good word. Watch this video on Can We Know God Personally by the Explore God team.  Trust me, you will be touched.