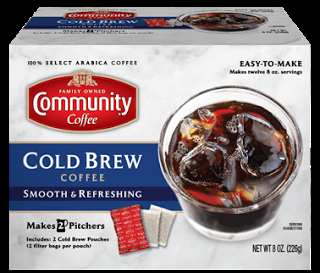 Here in Florida, it has been HOT, HOT, HOT. So far, there have been no signs of summer releasing its grip on our weather. So, a nice cold drink is definitely what we're craving! One glorious option I recently found is
Community Coffee Company's Cold Brew Coffee
! No longer do I have to pay premium prices at my local coffee shop for a delicious cold coffee that's easy to make at home! Community Cold Brew is made with 100% select Arabica beans, and they've specially formulated this coffee for the cold brew process. It's so easy ... just drop their special cold brew filter bags into water, and before you know it you've got a refreshing pitcher of cold brew coffee!
My husband has been drinking Community Cold Brew in the morning instead of hot coffee. It's a refreshing start to the day! And I enjoy it in the afternoon when I'm arriving home after a long, tiring day at work. My husband drinks it black, but I prefer to add a little flavored creamer to it. (And I'm thrilled that my favorite seasonal pumpkin creamers are arriving at stores. Scrumptious!)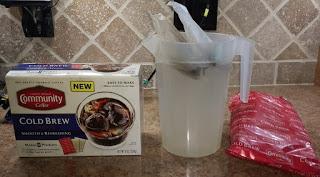 This is all you need: Community Cold Brew, a pitcher and water!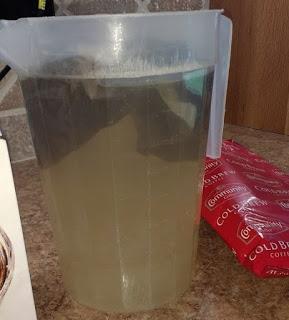 Drop two filter bags into the water.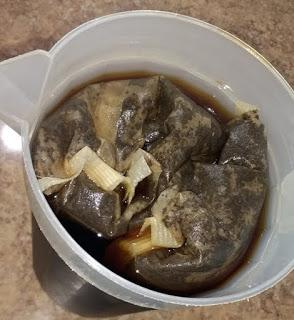 Let it steep for 24 hours.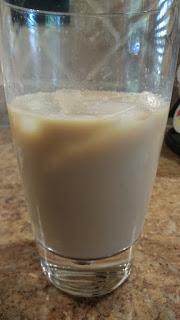 Add ice and cream if desired and enjoy a delicious glass of cold brew coffee!

As you can see in the photos above, it's easy to make a pitcher of Community Cold Brew: Open the Cold Brew Pouch and drop both filter bags into a 2-quart or larger pitcher. Add four cups of cold, filtered water and steep in the refrigerator for up to 24 hours. Then remove the filter bags and add three more cups of cold water to the pitcher. (You can always divide it into two pitchers if you don't have a big one.) Then serve over ice or sweet with cream or sugar if you wish. That's all there is to it! You've got a supply of cold coffee for up to 7-10 days. And the high quality of Community Coffee's beans means you get a smooth, never bitter flavor.
I hope you'll visit
communitycoffee.com
to learn more about their Cold Brew coffee, as well as all of the other wonderful coffee and tea products they have available. You can also visit Community Coffee on
Facebook
and
Twitter
.
Disclosure: I received complimentary product samples to facilitate my honest review.