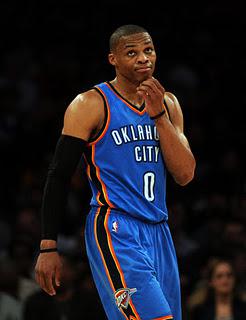 Photo: Zimbio.com
In the midst of a miserable shooting game, Oklahoma City Thunder point guard Russell Westbrook was caught engaging in a loud verbal argument with All-Star forward Kevin Durant during a team timeout. According to sources in OKC, the team is back to normal, everything has worked itself out, and there will be no fallout from the disagreement.
However, we here at Beard and Stache aren't so quick to believe that Westbrook is totally safe with the Thunder.
- Are Westbrook and Durant no longer capable of playing with each other?
- Is Westbrook in danger of being traded?
- What should OKC do moving forward?
- Possible landing spots for Westbrook, and what should the Thunder get in return?
This and more, in a 10 minute lightning-fast B&S podcast!