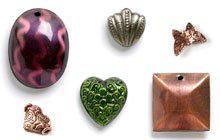 Jewellery making is a growing trend in the arts and crafts world. Not only is it an artistic endeavour, but it is a way to both save and make money in an uncertain economic climate. There are hundreds of types of beads, with new creations every day. However, here are a few common bead types to get you started:
Pandora Style Beads
These beads are reminiscent of the beads used for Pandora bracelets. Pandora bracelets are high-quality charm bracelets that sell very well. The authentic ones are quite pricey, but the Pandora style beads are a cheaper alternative. The beads are normally larger than your average bead and can be made of metal, glass or stone. They have very ornate shapes and patterns, along with specific charm beads to represent specific aspects of the bracelet owner's life.
Wooden Beads
These beads are perfect for creating tribal jewellery. They are rustic and exotic, and can give anyone an air of worldliness. They come in all shapes and sizes, as well as colour. Wood is generally light in weight and very durable, often used in the creation of rosaries or other religious paraphernalia.
Seed Beads
Seed beads are generally small in size and are perfect for stitched bead designs. They tend to be fiddly and are best used in intricate designs, but the results are worth it!
'Swarovski' Crystal and Glass Beads
Swarovski Crystal beads are elegant and delicate. They come in many shapes, and are made of high quality crystal. As beautiful as they are, they can be quite expensive. If your budget does not allow for real Swarovski beads, many 'Swarovski style' bead makers out there can duplicate the look. These replicas are usually made of glass. Most glass beads, however, are recognizable by their bright colours and daring designs. They are often composed of contrasting colours and animal shapes, giving your jewellery a playful, child-like quality.
Pearl Beads
Pearl beads are classic and timeless. Pearls come in many variations, but they all retain that opalescent quality we all love. Their price will vary depending on the shape and colour of the pearl. A perfectly round pearl will cost more than a slightly irregular one. The more uniform the colour, the more expensive the pearl will be.
Shell Beads
Shell beads will immediately take you back to the beach. Normally worn with casual attire, shell beads will take any outfit back to the islands. Made from the shells of various molluscs, some are cut into different shapes to show off the iridescent quality of the shell.
Acrylic Beads
Acrylic Beads tend to be the most inexpensive of all bead types. This allows you to have more options when it comes to design. They come in virtually any style or shape, so you can accommodate various designs while staying within your budget.
Metal Beads
Use metal beads to give jewellery an industrial, masculine look. They are good for the Rock Star in your family and for anyone looking to add more edge to their look. Depending on the shapes and sizes you choose, you can give your jewellery an array of qualities, from sharp to soft.
Written by Natalie Bell on behalf of Beads Direct.