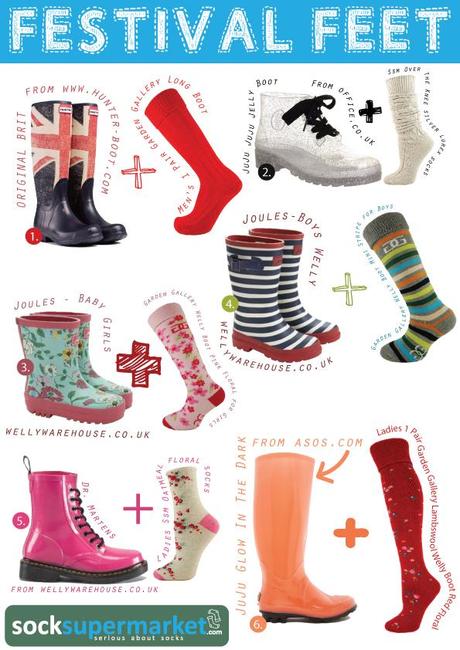 Here at socksupermarket were always saying we have something for everyone, and it really is true! So to help you all out this summer we have hand picked some of our favorite welly boots from all over and paired them with their perfect sock partners, saving you time and effort. With Radio 1′s Big Weekend just around the corner, if you hurry you can grab some great socks in time for the big day. Not only do you want your feet to look super stylish they'll need to be cosy and warm too. Sad feet = sad faces and nobody wants that at a festival. so starting from the top heres our best picks for this summer.
1. From the one of the most popular brands on the high-street -  'Hunter' worn by many celebrities we have chosen the 'Original Brit' for Men – at £135 they arn't cheap but are definitely a classic that will last you years, a real statement welly of the highest quality. We paired these boots with our  Men's Garden Gallery Long boot socks in red, to compliment the union jack flag, but they come in 7 different colours to chose from.
2. Juju footwear is everywhere this spring/summer 2014, famous for they're gorgeous sweet shop coloured jelly sandals, they now also make welly boots, and we absolutely LOVE them, at a reasonable £40.00, they wont break the bank. This transparent design are perfect to show off pretty socks!  you can also customise them more by changing the laces! Perfect for teenagers. Were happy spending on these as they're still made in Northampton, the materials are sourced in England and are recyclable! You could pair these with any pretty sock as the design will show through, but we have opted for our 'Ladies over the knee silver lurex socks' they can be worn over the knee or slouched down depending on the look you want, the silver glitter in these adds glamour for night time too!
3. These adorable Joules welly boots for baby girls are just perfect for spring and summer, in a gorgeous floral they will go with everything, just £19.95 they're  at an affordable price. We have kept to the floral theme when choosing the socks to go with these and have gone for our Girls Garden Gallery pink floral socks fully cushioned throughout for warmth and comfort to keep your little princess toes cosy.
4. Boy-stress boys need a good strong welly! That's why we have chosen the Joules Navy Stripes simple yet trendy, and at £17.99 they're a bargain! Pair them with the Ssm Garden Gallery welly socks in mini stripe and they'll think they're indestructible!
5. Now we all know Dr.Martens are famous for they're boots, but.. did you know that they have now started making wellies? Well you heard it here first! These patent pink rubber wellies are super cool and comfy.  With celeb's like Miley, and Rihanna rocking the the brand this year, they're a must-have for this year's Festivals. They claim to be 100% waterproof and at a sale price of £54.99 they're cheaper than you'd expect. They go up to men's sizes too and come in all different colours, so if pink's not your thing, there's lots to choose from. We have chosen to clash these boots with the ladies ssm floral dress socks for a pretty meets rock twist.
6. Now as we love  the brand JUJU so much we have chosen are final pair of welly boots to be true show stoppers! These cool coral wellies transform at night into glowing beauties! You will have no trouble with standing out from the crowd in these, and at just £18.00 in the sale on asos.co.uk they're our best buy! Now to keep your feet extra cosy we have teamed them with our 'Garden Gallery Floral – Lambswool welly socks'  - All the cheer of the normal Garden Gallery Welly sock with the added benefit of the extreme warmth that the soft lambswool provides great comfort and warmth and looks super stylish in your welly boots.. A must for keeping your feet nice and toasty.
So whichever festivals you are heading to this year, you can have super stylish feet with SSM! Find festival lineups and 2014 festival tickets information by clicking here.