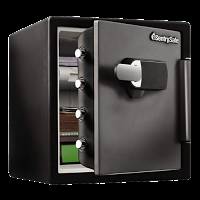 I live in South Florida, and this time of year we become especially concerned about hurricanes. We watch the weather reports closely and make sure that we have everything we need so that we're well-prepared if a hurricane decides to head in our direction. We have a generator, lots of bottled water, a battery-operated TV and radio, and many other supplies ready in case we lose power or can't leave our home for a while.
Our number-one priority is to keep our family and pets safe, but we also have some valuable possessions and important documents that we want to protect from a storm, flood or even a fire. Master Lock's SentrySafe products help in this regard, especially the SentrySafe SFW123TTC Extra Large Digital Alarm Fire Safe. With many premium features, such as a hidden keypad, a loud audible alarm, and theft-deterring technology, this product provides powerful protection against a fire or flood. Watch the video I created below for some of the safe's features.

Our family owns a SentrySafe SFW123TTC Extra Large Digital Alarm Fire Safe, and I must say that this is one tough product! My husband and I have peace of mind in knowing that if a hurricane comes our way, our important documents and family treasures are as safe as they can be.
"For Everything Worth Protecting" Twitter Sweepstakes
(Hosted by @MasterLockUS)
While Master Lock products help keep your prized possessions protected when disaster hits, American Red Cross is a relief effort that supports families when disaster has struck. A natural partnership, Master Lock is in its third year of supporting the urgent needs of the American Red Cross mission and is kicking off their "For Everything Worth Protecting" Twitter sweepstakes this August to raise funds and awareness for the American Red Cross.
Master Lock will ask consumers via Twitter to share what possession they'd most like to save or protect in case of a natural disaster. For every tweet posted with the hashtag #MasterLockProtectsSweeps, a $1 donation will be made to the American Red Cross -- up to $10,000.
Sweepstakes and Donation
Starting August 16 through August 31, participants who tweet their reply to "What possession would you protect or save in a natural disaster?" using #MasterLockProtectsSweeps will generate a $1 donation to the American Red Cross and will be entered for the chance to win one of 5 prize bundles. Each winner will receive a $75 Visa gift card, a SentrySafe and American Red Cross Preparedness Kit to help them be prepared in case of fire or flood.
Master Lock will donate an initial $10,000 to the American Red Cross and will donate up to an additional $10,000 based on consumer participation in the sweepstakes. Master Lock's donation will support the urgent needs of the American Red Cross mission, whether it is responding to a disaster, collecting lifesaving blood, teaching skills to save a life, or assisting military members and their families during emergencies. This marks the third Twitter sweepstakes that Master Lock has hosted to benefit the American Red Cross
Prize:
Five (5) grand prizes are available to win. The prizes consist of the following:
• $75 Visa Gift Card
• SentrySafe Extra Large Digital Fire Safe SFW123TTC
• Red Cross Emergency Preparedness Kit
ARV of the Grand Prize: $300 USD.
I hope you'll join Master Lock in supporting the American Red Cross, and be sure to pick up a SentrySafe Digital Alarm Fire Safe to help protect your family's valuables during a natural disaster.

Disclosure: As a member of the Master Lock Live Secure Safety Squad, I receive compensation and product samples to facilitate my posts.