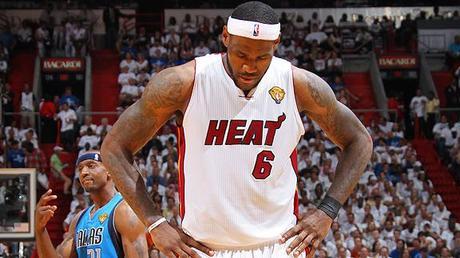 And by "v-card," I mean victory. As I have made clear for the past nine months, all I wanted was for Lebron James and the Heat to lose. For better or worse, I got exactly what I wanted.  I was giddy with anticipation to witness his implosion last night. In the third quarter, watching Miami's body language, I knew it was assured. And that is when, much to my surprise, I started to feel badly for Lebron James.
Lebron wanted to be the GOAT – the greatest of all time – but he never expected to be labeled a scapegoat, or the reason why Miami choked in the playoffs.  He wanted the glory and greatness of Michael Jordan without the individual responsibility of carrying a franchise. That's why he agreed to ball with his buddies; he erroneously assumed that by doing so, the pressure would subside.  It was a conscious choice, an admission that he needed help – something MJ never would have done and something LBJ was criticized for wholeheartedly.  It culminated last night when it became apparent that, even with help, Lebron still couldn't win his first elusive championship.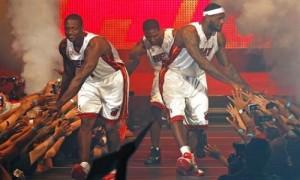 Since his ill-advised Decision and post-Decision celebration – you know, the one where he guaranteed more than seven titles – Lebron has said all of the "right" things. For a few months, it seemed as if he had learned a lesson in humility. At the very least, he seemed to understand that his immature TV special inspired the entire country outside of Miami to root against him – and he handled the criticism accordingly. In the end, he did so because his trump card – an NBA title – was still waiting to be played.
When it initially happened, little did we know that The Decision would scar Lebron James much more deeply than the city of Cleveland. He was only 25-years-old and clearly had a lot of growing up to do. The Decision was supposed to put him on the path to greatness; instead, it stifled him. It created such pressure that he was paralyzed from the expectations he created.  Think about it this way: before last night, James had set himself up to capture history. He was either going to lead the greatest comeback in NBA Finals history or the biggest flop. If Miami had won last night, if the Heat had then gone on to win Game 7, Lebron would have been hailed a hero. His trump card, the championship, would eliminate all questions and doubt that lingered. He would have spent his summer humbly gloating that he knew exactly what he was doing when he joined forces with Wade and Bosh. But now there are even more questions than when this season started. Like his years in Cleveland, Lebron came up short again – but this time he had help and there are no excuses. Last night left little doubt that if anyone is still affected by The Decision, it is Lebron himself.
Lebron started the game on fire – he hit his first four jumpers and seemed like he was finally going to exert his dominance over the less-talented Jason Terry and the veteran Mavericks. Like a rainbow after a storm, his play seemed so beautiful at first – before the magic slowly dissipated into thin air. His long shots started clanking off the rim. His hero complex – which made him take low-percentage jumpers to begin with – faded along with it. James is addicted to taking big shots and the crowd adoration he earns from making them. It worked for him with Boston and Chicago. But once he lost the high last night, he could never get it back. Instead of chasing it, like a normal addict would – like Michael Jordan would – he ran away.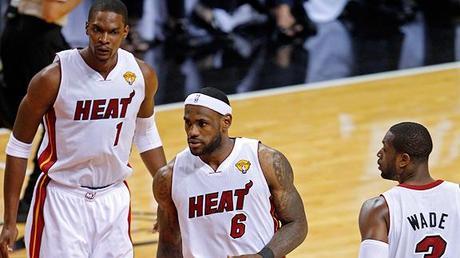 Rather than trying to take over the game, Lebron faded into the background and played like a scared teenager. It was almost as if he didn't want the pressure of the ball in his hands. How many times did he pass in the paint to Udonis Haslem or Joel Anthony instead of driving himself? How many dumb extra passes did he make, especially in the last ten minutes, which led to Miami turnovers or forced shots? I thought James was hiding behind the idea of "offensive execution" and purposely passing up high-pressure shots to his teammates. Sure, he wouldn't be the hero, but at least he wouldn't be blamed for the failure. But what Lebron didn't seem to understand was that it was too late for that – he would be blamed no matter what. There was no where left to hide. A triple-double wasn't good enough. And the absolute only thing that could have saved him was a victory. But nothing can save Lebron now.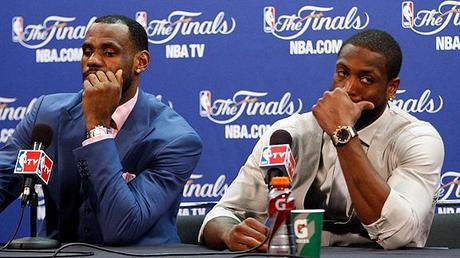 Dwayne Wade got to return home knowing that he gave his all; that, if anything, his poor play last night was excused by a passion to win and an injured hip. He possessed a look, a fire, that Lebron can't fake, regardless of how hard he tries. Wade got to go home with a ring on his finger and a Finals MVP award already on his mantle. He may not sleep easily, but it will only be the typical Monday morning quarterbacking that any superstar athlete undertakes after losing a series like this. James, on the other hand, will have to wait until next June to put his demons to rest. Because then, and only then, will Lebron be able to confront the monster – the unattainable expectations and lofty goals – that he himself created. And only then will be finally be able to prove that he is a closer, that he can be clutch, that he can carry a team in the Finals, and that maybe, just maybe, he can still be the greatest of all time.
I wanted Lebron James to lose. And I got what I wanted. But watching him fall apart left me with a sense of sadness rather than satisfaction. I realized, as I watched his post-game press conference, that what I really wanted, above all else, was for Lebron to prove me, all of us, wrong.  To have a Tiger-Woods-at-the-2008-U.S.-Open type of moment.  To wow us all with his excellence in the greatest fuck-you in athletic history. He still can. We can debate this season, but we cannot debate Lebron James's raw talent, which we saw in bright, momentary flashes. Whether he applies that talent towards greatness is another story - but that decision, like those in the past, is his and his alone.