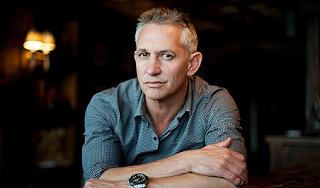 BBC Match of the Day presenter Gary Lineker
I was never very familiar with BBC's well-known soccer/football show. You see, I grew up with the Serie A and its intensely passionate highlight shows which consistently feature an immense variety of journalists, ex-players, coaches, tacticians, and even comedians all together with a live-studio audience.
The well known Italian show "
La Domenica Sportiva
" (which literally translates to, "
The Sunday of Sport
") was host to a variety of strange methods which, because it had been the only soccer/football television program which accompanied my upbringing, all seemed incredibly normal to me. Chaotic live post-game interviews with the studio's voices overlapping each other as the player hurriedly fumbles with the microphone and earpiece flung towards him, as he attempts to decipher the barrage of questions, often with wet hair still steaming from the post-game shower.
In the past I'd never really bothered with Match of the Day, I watched Premier League matches live, or found stuttering, eight-pixel highlights on some eastern-european website. But now, every since my first watching, Match of the Day has become a regular part of my soccer/football watching life. In my eyes (especially in the early days when I had just discovered it), MotD was practically a work of art. Fantastic clarity in its presentation, thorough match highlights, snazzy music... what more could I ask for?
Everything is prepared, timed, and professional. While I'm not getting the tactical analysis/breakdown by Jose Mourinho or Pep Guardiola, when MotD offers any humble insights they're always accompanied by dynamic graphics with slowed down replays, making sure I see any sometimes simple but fundamentally important tactical observations I might have missed in my viewing of the highlights.
While I still watch "
La Domenica Sportiva
" frequently, MotD in comparison is free of extended verbal debates between an ex-player and a journalist as they argue incessantly over the weekend's most recent penalty decision (along with any other managerial, tactical, and refeering decisions which can be scrutinized from a full weekend of league action). MotD is where ultimately the core programming of soccer/football lies. It provides a professional and often insightful review of the Premier League's action to those who aren't able to watch the matches live. If I want deeper tactical analysis I'll go read up on
Michael Cox's fantastic tactics blog
, or if I want in-depth discussion and reflection I'll listen to
The Guardian's Football Weekly podcast
 (and I can't forget The Football Ramble), but before I can truly appreciate any of these others, I need to have at least seen the goals of the weekend, and MotD delivers exactly that.
As I laud all this praise upon MotD, it's important to keep one key point in mind, these merits do not extend to MotD 2 in my eyes. MotD 2 provides the bare necessity of programming, goals I've yet to see, and then I'm out of there. On the most recent MotD I had the great pleasure of hearing analysis by Everton's incredibly charming and astute manager Roberto Martinez (along Danny Murphy), discussing situations arising from the variety of the weekend's interesting scores with Gary Lineker.
Now while I've mentioned Gary Lineker; compared to the many different lifeless and vapid Italian program conductors, the former player steers the show with definite timing often raising excellent points and questions upon which his guests can easily muse or build upon. I say all this because after watching the latest MotD 2, it just didn't manage to quite reach the levels of Lineker and Martinez's discussions regarding this weekend's matches which begin to put some definite pressures on certain managers of the Premier League (Martin Jol, perhaps even David Moyes...?).
While there are definitely those who will make the case that perhaps MotD lacks consistent "top quality" opinion and analysis (like that of BT Sport's Gary Neville), the overall presentation in the well-timed and well-led BBC show still definitely satisfies. And of course, while I always enjoy the window "
La Domenica Sportiva
" offers looking into the passionately chaotic world of Italian programming, there's an extremely pleasing sense of polish and professionalism with which BBC's Match of the Day consistently delivers.
What are your thoughts on BBC's Match of the Day? What is your program of choice for your football highlights and analysis? Share your thoughts in the comments below!