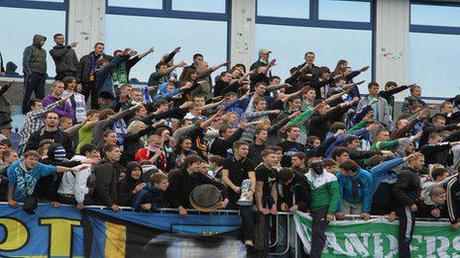 Hardcore football fans at the Metalist stadium in Kharkiv in Ukraine. Photo credit: BBC
The background
With just days to go before the kick-off of the Euro 2012 championships, a hard-hitting BBC Panorama ducumentary has revealed shocking new evidence of racist violence and anti-semitism at the heart of Polish and Ukrainian football. In the show, which went out in Britain on the evening of 28 May, a group of Asian fans are shown being attacked on the terraces of a Ukrainian premier league match and anti-Semitic chanting is captured on film at games in Poland. The show has cast fresh doubt on the joint hosts' suitability to stage the high-profile football tournament.
The BBC Panorama team interviewed ex-England international Sol Campbell for the film who had this advice for fans thinking of traveling to Euro 2012: "Stay at home, watch it on TV. Don't even risk it … because you could end up coming back in a coffin."
The tweets
The shocking footage sent the Twitterati into overdrive. Some key sports commentators insisted that the film has irresponsibly overstated the countries' societal problems, while others welcomed the BBC's expose.
How about the notion that normal Ukranians will embrace the Euros,welcome everyone and do something about the minority?What a stupid idea.

— Stan Collymore (@StanCollymore) May 28, 2012
Yes, there are problems in Ukraine but would not expect overt racial abuse. It's more insidious day-to-day stuff. Poland next to no problems

— Tony Evans (@TonyEvansTimes) May 28, 2012
If games at Euros, in England, wherever, are tainted by racist abuse, teams should walk off. Uefa would do something about it then

— Oliver Holt (@OllieHoltMirror) May 28, 2012
Disturbing #Panorama on racism in Poland/Ukraine. Not a total surprise to those who've been to games there. Btw other nations have problems

— Henry Winter (@henrywinter) May 28, 2012
Very shocked at #panorama program I've just watched. Surely this has to be addressed before tournament begins?

— Joseph Barton (@Joey7Barton) May 28, 2012
Krakow is 30 miles from Auschwitz, yet Panorama found anti-semitism there. That was another mind-blower in tonight's documentary.

— Paul Hayward (@_PaulHayward) May 28, 2012