A few of you asked what color I was wearing on my nails in my last post.  It's a local nail polish available at BAYO boutiques and it costs Php89.00.  Here it is!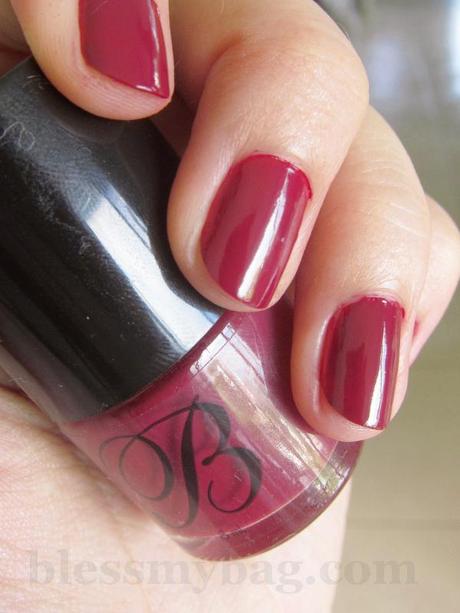 The photos you are seeing have no top coat.  Sorry, dark polishes are a pain when it comes to achieving perfect edges, I did my best for now.  Clothing boutique BAYO recently released these nail polishes amd I think I saw about 8-10 colors in there but my eyes immediately fell on this shade.  The texture is creamy, glossy, and rich and I got full opacity in two smooth coats, it's a slightly thick but workable formula.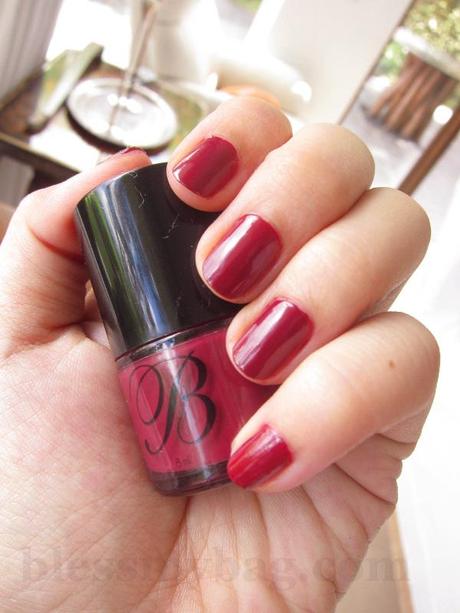 I dug around in the glass jar till I spotted something i liked, and it was this, a creamy slightly cool blood red called CHRYSANTHEMUM.  It is similar to but not as dark as Chanel's original bloody dark creme #18 Rouge Noir (which later on became Vamp with Shimmer) which was originally crafted to represent dried blood.  I promise I'm not saying that simply in the spirit of Halloween (which I hate), it's true trivia.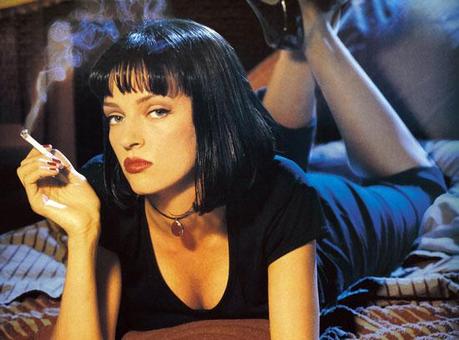 Chanel's Rouge Noir became undyingly popular and made record sales thanks to Uma Thurman's vampy role in Pulp Fiction.  Another almost identical polish, going in the opposite direction when it comes to price, would be Caronia's bestselling polish "Pussy Red" (eye twitches) which costs about Php39.00.  I own that, too, it was handed over to me "Yours nalang"  after used on a model at a shoot (smiles).   Here's another shot of Bayo's Chrysanthemum without the bottle.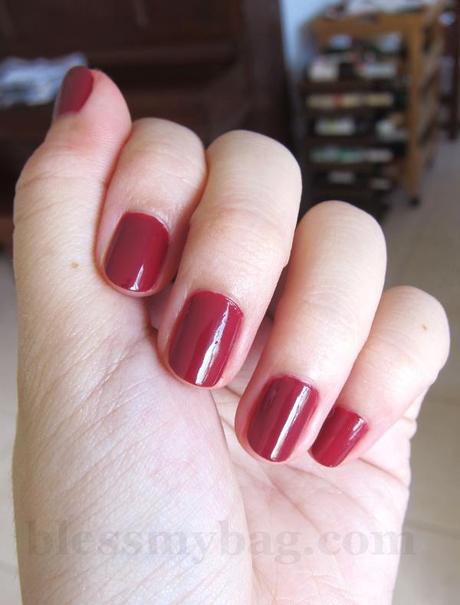 Try not to apply your polish in a humid area or you'll wonder why your polishes streak and don't smooth out perfectly, that's when humidity is interfering.  Try finding a dry air-conditioned room maybe if you want hassle-free application that dries quickly.  I didn't follow my own advice but anyway, that's what I recommend.  Once again, BAYO polishes are available at their boutiques at Php89.00 each.  They've got some really fashion forward shades and even have a chalky lime green (sorry I forgot the name) that looks like OCC'S (Obsessive Compulsive Cosmetics) Nail Lacquer in the same color called "LoFi".