2014 is the 75 year anniversary of Batman's first appearance in the comics!  So, we're doing a series of articles (called "Batman 75"-blunt, and to the point, right?) looking back at the Caped Crusader's history as well as articles covering DC's efforts to celebrate the anniversary.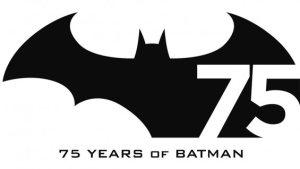 Batman TV Legend: The Adam West Batman TV series came into being because an ABC executive attended a party at which people watched the old Batman film serials and mocked them.  Is that really true?
Verdict: Yes…Kind of.
As pointed out in Seth Rogen's Neighbors, for some of us we know we're getting old when the person we're talking to has only ever known a Batman played by Christian Bale, sadly ignorant when asked about Michael Keaton, Val Kilmer, or even Kevin Conroy (from Batman: The Animated Series).  However, as illustrated in the following classic clip from a 1992 episode of The Simpsons at one point Michael Keaton was on the other side of the equation, held up as the current and cool Batman to the detriment of who had come before him, namely Adam West:
Pure West indeed.  That man straight up saved Batman.  Prior to the January 1966 premiere of his ABC show Batman, DC was seriously considering canceling its Batman comic due to its ever-dwindling sales.  Beyond saving Batman from such an unfortunate fate, West helped turned the character into a cultural phenomenon, a relatively early illustration of the power of TV.  In the first year of West and Burt Ward's camp-tastic adventures as Batman and Robin the show generated a then-astonishing $75 million in merchandising sales, even passing the similarly lucrative 007-related merchandising profits.
Playing on the pop-art aesthetics of the time, this Batman featured a Catwoman (Julie Newmar) who purred all of her lines, a Penguin (Burgess Meredith) who added an odd "Quack, quack, quack" sound to the end of every other sentence, a Boy Wonder (Burt Ward) who sported an endless supply of "Holy non-sequiters!", and cartoon action balloons which popped up during fight scenes ("Bam!" "Wham!").  It aired two half-hour episodes a week, with Wednesday's installment ending on a cliffhanger (ala an old film serial) and setting up Thursday's conclusion, thus William Dozier's oft-paraphrased closing narration, ""Tune in tomorrow – same Bat-Time, same Bat-channel!"
The astounding success which instantly greeted Batman was a byproduct of ABC's endless and remarkably aggressive promotion prior to the debut, the decision to shoot in color when that was not entirely the norm on TV, and the ability of the show to appeal to adults (who were in on the joke) and children (who didn't realize it was a joke) equally.  By the time the bubble burst and ABC canceled Batman in 1968 after just 2 1/2 seasons, they had squeezed out 120 episodes and 1 feature film.  Warner Bros. and D.C. have recently embraced the nostalgia for Batman, launching a new merchandising line and Batman '66 comic book last year and promising the first ever home video release for the show later this year.
Would any of this have happened if the hipsters of the early '60s hadn't decided to have a bit of a laugh at the expense of the old Batman film serials of the '40s?
The urban legend has always been that Batman emerged as an extension of a growing movement of younger audiences seeking out the '40s movie serials to mock them, yet that's always been difficult to actually prove definitively.  What we do know is that a Batman TV series first went into development sometime in the early '60s when Ed Graham Productions planned to produce a straightforward Saturday morning CBS kids show, in the spirit of the George Reeves Adventures of Superman and The Lone Ranger.  Graham's negotiations with CBS eventually stalled, at which point DC re-obtained the rights to ultimately be optioned to ABC.
Concurrent to that, the camp culture movement of the '60s was just getting started, represented in this case mostly by college students realizing how much fun could be had from watching old, crappy movie serials and mocking them.  There was a certain "shooting fish in a barrel" element to this movement as these film serials had originally been made as quickly as possible on shoe-string budgets, primarily hoping to appeal to little kids.  They were definitely never meant to stand the test of time, and, in fact, film serials stopped active production by 1956, an early victim of TV.
Many of the serials continued to be reissued for cheap rental fees to local theaters throughout the '60s, and by mid-way point of the decade a Manhattan art house had scored so big with their exhibition of an old serial that Columbia Pictures decided to serve up its 1943 and 1949 Batman serials for slaughter, usually failing to clarify which of the serials you were getting.  The new twist was that all 15 chapters of the individual serial would play back-to-back marathon-style, running over four hours long.  They called it An Evening with Batman and Robin.  Initial bookings at art theatres in Cleveland, Champaign, Illonois, and at Chicago's Playboy Theatre were an unexpected smash success in the Fall of 1965.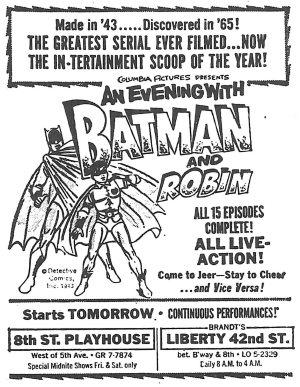 Notice the "Come to Jeer-Stay to Cheer…and Vice Versa!" tag-line. Image found at GreenBriarPictureShows.BlogSpot.Com
Life-long Batman fan and ABC executive Yale Udoff attended one such Evening with Batman at the Playboy Club, and was so impressed by the crowd's reaction that he contacted higher ups at ABC to suggest a prime time Batman series as he knew they had been looking for a comic book character to adapt to TV.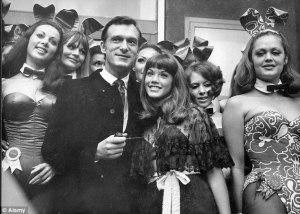 Hugh Hefner living the dream at the Playboy Club in the '60s
Over the years, though, this story has taken different forms, those arguing that what Udoff actually attended was a Batman-themed party at the Chicago Playboy Club at which Hugh Hefner had hired actors to dress up as Batman and Robin and spout cheesy "golly gee whiz" dialogue from the comic.  Plus, there are reports that people were actually watching and mocking the Batman serials at parties well before Columbia officially sanctioned An Evening with Batman and Robin at actual theaters.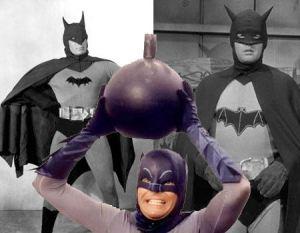 (Black & White) Lewis Wilson and Robert Lowery as Batman in Their Respective Film Serials, (Color) Adam West as Batman
The strongest evidence, though, is that at some point in 1965 Yudoff simply saw An Evening With Batman at the Playboy Club, regardless of whether or not Hugh Hefner was hosting one of his famous theme parties that night.  The strange part of that, though, is that An Evening with Batman was explicitly sold as being an opportunity to "come to jeer," which is ultimately what became the spirit of the 1966-1968 Batman except unlike the serials they were in on the joke.  That's not at all what ABC wanted, though.  When they approached 20th Century Fox about making the show they were expecting to get something in line with The Man from U.N.C.L.E. (a popular spy show of the time), but what they got was more like Get Smart (a parody of Man from U.N.C.L.E, James Bond, etc.).
That's because 20th Century Fox had William Dozier produce the thing, and he failed to tell them at the time that he had never read a single comic book in his entire life, let alone one featuring Batman.  As Dozier is seen to admit in the Biography Channel's documentary about the show, "I bought a bunch of comics of various vintages, and when I read these things I thought [ABC/Fox] must be out of their minds.  It was all so juvenile.  Then, a very simple idea, and that was to over-do it.  If you over-did, I thought, it would appeal to adults but also appear stimulating to kids."  In Dozier's defense, though Batman started off a grisly, bad-ass knock-off of pulp heroes like The Shadow by the time the '50s came to a close he had descended into truly regrettable camp in the comics.  So, if those are the type of Batman comics he got his hands on then his conclusion was the only sane one you could reach.
While Dozier was busy at work developing the show along with writer Lorenzo Sample, Jr., tackling decisions such was who to cast to play Batman and Robin, Adam West and Burt Ward or Lyle Waggonerand Peter Deyel, An Evening with Batman and Robin was gradually expanding to more and more college towns and art house theaters.  A month prior to the January 1966 debut of the TV show several dozen cities had booked An Evening with Batman and Robin, with San Francisco's Presidio Theatre actually committing its entire Christmas week to Batman.  However, these showings weren't exclusive to hipper-than-thou college students, getting their rocks off with Mystery Science Theater 3000-esque mockery.  The theaters also targeted little kids, as evidenced below when New Orleans' Peacock Theatre had a Tulane University senior dress up in a home-made Batman costume to regale some seriously miserable looking kids awaiting their Evening with Batman: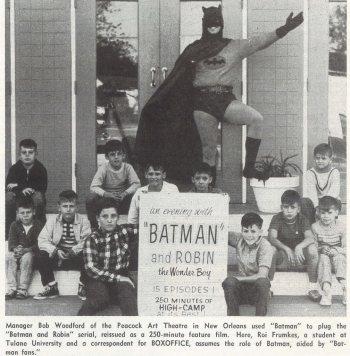 Long-time theater owners were quick to point out that the kids of '65 seeing the serials didn't seem as enthused as the kids did back in '43.  Image found at GreenBriarPictureShows.BlogSpot.Com
By April of '66, Columbia wanted to ride the Bat-Mania wave started by the TV show, but they also realized the 4-hour marathon thing just wasn't working for people.  So,  An Evening with Batman and Robin was expanded nationwide, but split up into two installments, with 8 episodes running one Saturday and 7 episodes the next or maybe isolated to a single weekend, as below: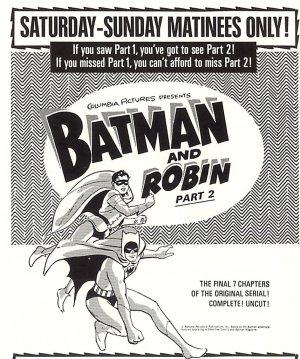 Image found at GreenBriarPictureShows.BlogSpot.Com
By the time Fox rushed their Adam West/Burt Ward Batman film, which was like a super-sized version of the TV show, into theaters in August 1966 Columbia had already been milking theaters with its Evening for months.  However, it wasn't all gravy for Columbia.  There were multiple reports of theaters fighting down itty bitty mobs of kids who came to the Evening expecting to see a movie starring their beloved Adam West Batman, but were incensed to discover at the start of the film that they'd been suckered into seeing the crappy old black & white Batman their parents liked.
Sources: Wikipedia.org, antiscribe.com, GreenBriarPictureShows.BlogSpot.Com, Tested.com
The format of this post was inspired by Brian Cronin's fantastic site LegendsRevealed.com.
If you like this, check out our other "Batman 75" articles:
Batman 75: Looking Back at Batman's Film Debut in the Casually Racist & Generally Atrocious 1940s Film Serials
Batman 75: Will We Ever Be Able to Accept a Non-Bruce Wayne Batman on Film?
Batman 75: Test Your Batman Knowledge With 11 Questions from NPR's Comic Book Critic Glen Weldon
Batman 75: Watch New Animated Batman Beyond Short & Assault on Arkham Trailer
Batman 75: Watch Bruce Timm's New Animated Short "Batman: Strange Days"
Batman 75: How the Joker Was Created & Then Saved from an Early Death
Batman 75: Bill Finger – The Man Who Co-Created Batman