New to little Indiana? Subscribe for free to my RSS feed. Thanks for stopping by!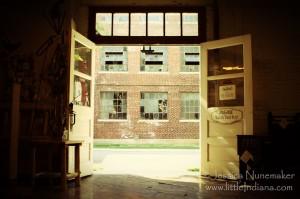 Batesville, Indiana: Romweber Marketplace Inside Looking Out
The RomWeber Marketplace in Batesville, Indiana is in an incredible building.
Four stories tall, it demands attention. Fortunately for this old furniture manufacturing facility, it has been re-purposed into the ultimate shopping hub: 40,000 square feet of vendor space!
Batesville, Indiana: RomWeber Marketplace
This building is beautiful. When we coasted around the town, I couldn't wait to get out of the car and get in there!
It is the new hub of activity in the small Indiana town of Batesville.
With handsome hardwood flooring that is original to the building spanning across the length of the first floor, along with exposed brick, and fabulous large windows–it's a beautiful, airy hub at that!
RomWeber Marketplace History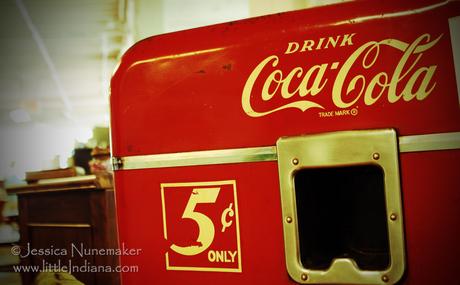 Batesville, Indiana: RomWeber Marketplace Antique
Back in 1879, this very large facility shared its space with three new companies: American Furniture Company, Batesville Cabinet Company, and Batesville Coffin Company.
That would be bedroom furniture, dining room furniture, and coffins! I guess they covered the bases.
With a shared sales team, they sold and shipped products across the country. When the depression hit, they manufactured five pound fruitcake boxes just to survive.
For World War II, they produced ammo boxes, pontoons, and office furniture for the officers!
RomWeber Marketplace Today
According to their brochure, presidents, Saudi royalty, and governors' mansions have possessed RomWeber furniture.
You can still find dorm rooms that boast furniture from the company's manufacturing days.
Now? Vendors of all kinds have taken up residence in the old factory.
Shop 'Til You Drop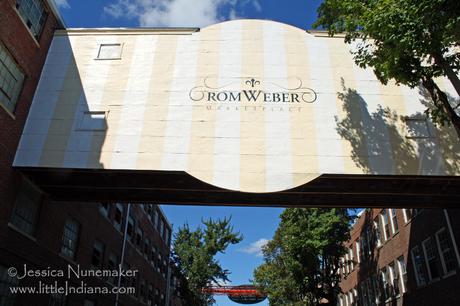 Batesville, Indiana: Romweber Marketplace Breezeway
There's many unique Indiana antiques here! Furniture to jewelry, books, crafts, and even handmade items also have a place here. Give yourself plenty of time to browse! Seriously, the selection is awesome.
There is still plenty of available booth space–which is exciting! Every visit can bring something new and unexpected. How fun is that?
Just note that while the flooring is beautiful, like any other historic building, it has its quirks. If you are not sure-footed, it's something to watch.
If you need to take a break or want a bit of entertainment? The RonWeber Marketplace has an ice cream parlor and arcade! My tip? Bring a bag of checkers–the ice cream parlor tables have checker boards painted on them! Would that be a fun surprise for kids or what?
See more RomWeber Marketplace images and other pictures in Batesville, Indiana on my Flickr photostream.
RomWeber Marketplace
7 South Eastern Avenue
Batesville, Indiana 47006
812.932.2600

View Larger Map
little Indiana: Where to Stay, Play, and Eat in Small Towns in Indiana. Discovering Indiana's best small towns! Now get little Indiana on your Kindle.
New! Offering affordable online advertising for your small Indiana business! little Indiana Businesses is the online presence that you've been looking for.