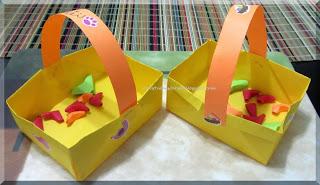 Whenever my niece visits me , she makes it a point that she has some craft time with me and my daughter.
I absolutely love that one on one time. I am amazed by how quickly kids learn things and how fast their fine motor skills develop.
These lovely little hearts were made by my sweet Niece and my lovely daughter.
Initially we decided we will make lot of hearts and then we ended up making a paper basket to hold them too.
Once everything was complete. They were very proud of themselves and then my Niece comes and gives me a heart from her basket and says...This is specially for you Mami. Thank you for all u do. It really touched my heart.
My daughter brings one and says..this is for you Mommy for teaching me to make heart which is a symbol of love and was followed by a warm hug.
I guess this is why I love crafts so much..these are my rewards.
I got so involved in teaching them that I took less pictures than usual. Apologies for that.
For now just sharing some pictures.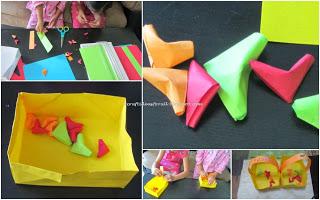 Instructions for making the Paper Hearts:
-For making heart we used different color different widths of paper ranging from 1/2 inch to 1 inch.
Use a light weight paper like print paper.
-Hold the corner of the strip,fold it into a triangle along the width. Refer the picture.
-Crease it and the keep on folding the triangle till you reach the end where you snip a little and tuck it in the flap.
-Pinch the resulting triangle in the center and puff it a little to make it look somewhat like heart.
-Cut the corners with scissors to round it a little.
Tips:
-Wider paper will result in a bigger heart.
-Adults should help kids for rounding the heart as it really needs muscle power and sharp scissors.
-This is a very popular way of making heart, though this was the first time I really tried making it with kids.
-If the instructions are not clear enough you might want to look for a video on You Tube, there are plenty available.
Disclaimer :I have not used any particular video for this tutorial.