There are not one, not two, not three, but
four
news items / concerts notloB finds to be of significance this weekend and urges you to lend your ears and support:
1.  Saturday and ongoing ~ 
BARNES NEWBURY
is back on the radio!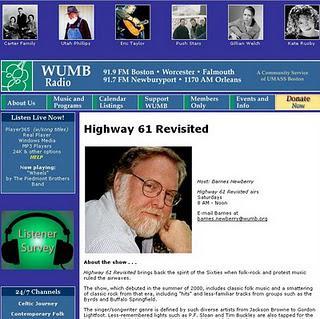 This was received from Barnes earlier today:
Okay folks, looks like it is ON tomorrow at 8 am for the debut of My Back Pages with Barnes Newberry. Please join us online at mvyradio.com to pre-celebrate the 70th birthday of His Bobness! Thanks for all your early good wishes (to us both!) and of course, a big thanks to MVY.
The new program is scheduled at the same time as Barnes' former "Highway 61 Revisited" on "public" radio WUMB.  Without Barnes, the current version being a mere shadow of its former self.More about WMVY, its broadcast frequency and internet stream at
http://www.mvyradio.com
2. Ongoing through June ~
 SI KAHN'S "Silver Spoon"
at the Nora Theater, Central Square, Cambridge.  notloB attended last nights' premier and gives the musical two claws up!
Begins May 19!
World Premiere Musical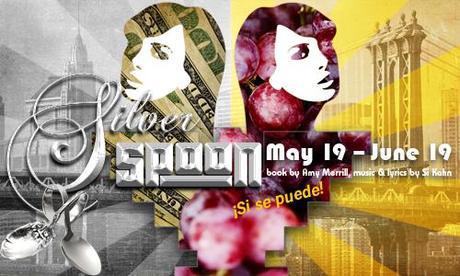 More info at 
http://www.centralsquaretheater.org/
And read 
Playwright, folkie find kinship in musical theater
By Joel Brown in today's Boston Globe
3.  FRIDAY ~ 
RAMBLIN' JACK ELLIOT with Special Guest: Kate Taylor
Prospect Hall at Lesley University
(Former Congregational Church)
1801 Mass Ave, Porter Square
Cambridge, MA   Venue Information
Friday May 20, 2011 8:00 PM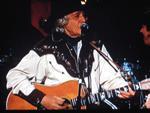 Ramblin' Jack ~
Received the National Medal Of The Arts, 1998;
Five Time Grammy-Award Nominee;
Grammy-Award Best Traditional Blues Album, 2009;
Grammy-Award Best Traditional Folk Album, 2005
When Dylan and Joan Baez were still in the audience, it was often Ramblin' Jack onstage. He was the vital link between the Woody Guthrie folk era and The Dylan era. Check out Jack's first appearance on Johnny Cash's TV show: Click here 
Ramblin' Jack is the proud recipient of the highly prestigious NATIONAL MEDAL OF THE ARTS awarded to Jack by President Clinton in 1998. He is a two-time GRAMMY WINNER: For Best Traditional Blues Album, 2009 and Best Traditional Folk Album, 1995. He has received three additional Grammy nominations.
Our Opener, Kate Taylor, is a proud member of America's most prominent musical family which includes her brothers, James and Livingston.
A note: This beautiful 19th century church will soon be renovated into a library. So, please join us in our farewell to this beautiful landmark...It is easy to find and minutes away from both the Porter Sq. T and commuter rail stations.
Ticket Information: Please present e-receipt for admission. This venue is general admission seating.
NOTE: TICKETS MAY BE PICKED UP AND DOORS OPEN BEGINNING ONE HOUR BEFORE PERFORMANCE. 
Source 
4.  
The Boston Blues Society presents "Ladies of the Blues"
at the Bull Run Restaurant, 215 Great Road, Shirley MA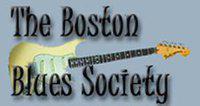 The Boston Blues Society presents "Ladies of the Blues",
a fabulous cast of eight guest stars backed up by
Lydia Warren, Diane Gateley and Susan Goldberg.

The Ladies of the Blues are:Toni Lynn Washington
: Nominated for seven Blues Music Awards, including three for best female soul-blues performer, the legendary Ms. Washington received the 1999 Boston Blues Festival lifetime achievement award, among numerous other accolades. Her powerful voice, with its soulful romanticism, is not to be forgotten.
Shirley Lewis
: Described as Boston's "Regal Queen of the Blues," singer-songwriter Shirley Lewis has been bowling over audiences since the age of 4 performing blues, Gospel, jazz and soul. With her superb voice, along with a sense of humor, warmth, and grace, the charismatic Ms. Lewis has performed at clubs and festivals all over the U.S and Canada.
Cheryl Aruda
: With her smoky voice, the Weymouth-born Aruda, and her own band, Dirty Blonde, has been a premier Boston music scene front-woman for years.
Diane Blue
: A soulful, sassy performer, Diane was the winner of the Massachusetts Blues Society's 2010 blues challenge. She delivers the goods vocally - along with her harp playing - putting her own spin on blues, soul, and R&B.
Gracie Curran
: Gracie has a silky smooth voice with a thick timbre that recalls women singers from a bygone era of great music. She sounds as vintage as her 1950s-style microphone. She is usually backed by her High Falutin' band, a Boston-based blues band with mucho soul.
Cindy Daley
: Just back from the International Blues Competition in Memphis where she was half or the Boston Blues Society's duo entry, Cindy has been singing and playing the blues, and rock, since the 1980s. With a powerful voice reminiscent of Janis Joplin, Cindy has opened for some of the best in the business.
Erin Harpe
: Hailed as an authentic blues chanteuse, Erin Harpe has earned a reputation for her raw style and total, selfless and compelling immersion in the music. An accomplished finger-picking guitarist, she is often compared to Memphis Minnie, Rory Block, or early Bonnie Raitt.
Carolyn Waters
: A relative newcomer to the stage, her powerful, riveting voice has already gained her a wonderful reputation as a crowd pleaser as she moves effortlessly from folk, gospel, jazz, to the good old fashioned foot stomping blues.
Lisa Marie
: Lisa Marie is a versatile singer-songwriter with loyal fans of all ages. This winner of the 2008 Outstanding Female Singer award from The Blues Audience, belts out everything from roots, blues, rockabilly, jazz, swing and funk, with an incredible vocal sound.
Guitarist and vocalist 
Lydia Warren
 tours internationally from Brooklyn to Beirut, whipping audiences into a frenzy at each stop.
Thank you for supporting live music!