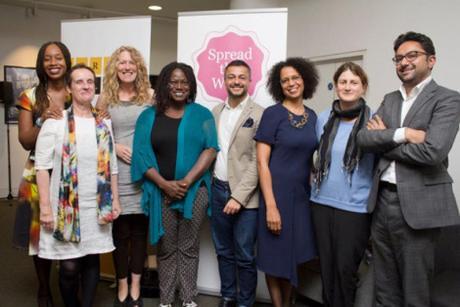 Black, Asian and Minority Ethnic (BAME) writers in the U.K. are being marginalised and pigeonholed by the British publishing establishment, which is overwhelmingly white.
This was one of the disturbing findings of the Writing the Future report, commissioned by the writer development agency, Spread the Word and released at last year's London Book Fair.
The report was the result of of a major new survey of writers, literary agents and mainstream and independent publishers to determine whether they thought cultural diversity was improving in the the UK publishing industry. The report's findings show that over 74% of those employed by major publishing houses and 97% of agents believed that the industry is only "a little diverse" or "not diverse at all".
What's more, the few BAME authors who succeed in getting published are being urged to focus on producing literary fiction that propagates stereotypes of their communities and culture, by addressing topics such as "racism, colonialism or post-colonialism as if these were the primary concerns of all BAME people", said the report's author Danuta Kean.
"Black and Asian authors complained that they were expected to portray a limited view of their own cultures or risk the accusation of inauthenticity if their characters or settings did not conform to white expectations. Failure to comply, many felt, limited their prospects of publication," wrote Kean.
He added: "Writers find that they are advised by agents and editors to make their manuscripts marketable in this country by upping the sari count, dealing with gang culture or some other image that conforms to white preconceptions."
The release of the Writing the Future report caused a stir in British literary circles, and fired up readers, writers and bloggers who have long been demanding more diverse representation in British publishing. Many of them had been drawing attention to the issue for years, and now feel vindicated by the report's findings.
"It seems the industry likes to champion likes to champion one or two of us at a time, but no more," said Guardian columnist and author, Irenosen Okojie way back in 2014. .
In November last year authors Nikesh Shukla and Jon McGregor launched blistering attacks on the UK publishing establishment for its failure to take literary diversity seriously.
In the wake of the report, Media Diversified, a non-profit advocacy organisation which cultivates and promotes skilled writers of colour, has rallied to the cause by launching a groundbreaking new initiative - the Bare Lit Festival, Britain's first literature festival devoted wholly to BAME authors. They say they want to "counteract the trend of equating literary merit with whiteness by highlighting the amazing variety of work currently being produced by Black, Asian and Minority Ethnic writers."
According to the festival organisers, "Last year, the UK's three largest literary festivals featured over 2000 authors. Of those 2000+ authors, only 4% were from Black Caribbean, Black African, South Asian or East Asian backgrounds." The Media Diversified team say they want to change that.
Their decision to launch the event is a courageous move. It is being done without the backing of grant funding. For now, the organisers are relying on crowdfunding to cover the appearance fees and travel costs for the featured writers, booking venues, promotion and festival administration.
The two-day festival, which takes place February 26 and 27 in London at the Betsey Trotwood pub in Farringdon and the Free Word Centre, will feature a lineup of established and new international authors, including novelist Xiaolu Guo, poet Jane Yeh, London's Young Poet Laureate Selina Nwulu, journalist and fiction author Robin Yassin-Kassab, and many more.
Events will focus on addressing the question of what it means to be a writer of colour in the 21 st century, with performances, panels and conversatios suxh as "Second-Generation Poets in Exile", "What Does Liberation in Literature Look Like?" and "Sci-Fi vs. Afrofuturism." Real-time social media coverage of all events will be provided to ensure that people unable to attend can still keep up to date.
"We've tried to embrace different genres, so we have science fiction writers like Haris Durrani and Afrofuturism writers such as Tendai Huchu on the lineup, plus non-fiction writers e.g Robin Kassab whose new book is on the Syrian war," says Samantha Asumadu, founder of Media Diversified, the organisers of the Bare Lit Festival. "We're currently finalising the line-up which will include a YA author. BAME publishers will also be doing a session," she added.
Bare Lit is the latest of many projects undertaken by Media Diversified to promote the voices of people of colour. The organisation's previous projects include setting up an independent online publishing platform for BAME writers; hosting the live #AllBlackEverything day of discussions and workshops on Black British experiences and creating the groundbreaking Experts Directory, which enables media outlets to immediately access a comprehensive database of BAME experts from a wide range of professional fields.
To learn more about the Bare Lit Festival visit their and check them out on .