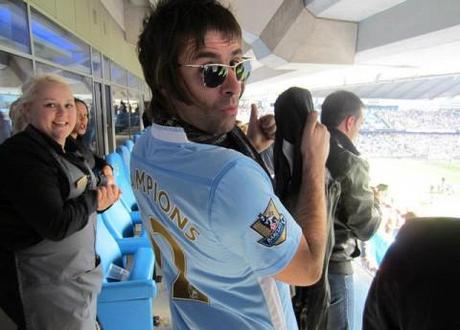 Singer Liam Gallagher Celebrates Manchester City's Premier League title victory. Photo credit: umbrofootball http://flic.kr/p/bXPwRf
The background
The Barclays Premier League season went right down to the wire. Here's The Periscope Post's guide to what went down on the superest of all super Sundays.
A awful lot can happen in injury time
As injury time approached at the Etihad Stadium, Manchester City were losing 2-1 to relegation-threatened Queens Park Rangers and Manchester United were 1-0 up at Sunderland. Had the games ended like that United would have won the league by three points. But City turned around their faltering fortunes in spectacular fashion. They scored two goals in five minutes to win the league on goal difference. The dramatic finish to the season proved once and for all that footballers must stay switched on for not only the regulation 90 minutes but also for the minutes added on by the referee. Thankfully for QPR fans, Bolton's inability to beat Stoke meant Rangers avoided the drop despite conceding two so late on.

All-out defense can (sort of) work
QPR manager Mark Hughes sent out his charges to park the bus at Manchester City and it oh-so nearly worked a treat for the Rs. Although City has almost all the possession, QPR frustrated the sky blues and were somewhat unlucky to go in at half-time trailing given that goalkeeper Paddy Kenny had not been forced into making too many difficult saves. Even after QPR lost reckless captain Joey Barton to a red card, they remained defensively compact and very nearly denied their hosts the title. Hughes' set-up was reminiscent of the way Roberto di Matteo organised Chelsea away at Barcelona and proved again that a brave back-to-the-walls performance can be just as impressive as a swashbuckling, swaggering, demonstration of tippy-tappy football.
When it comes to big men, Hodgson is spoiled for choice
Here's The Periscope Post guide to Barton's five biggest on-the-pitch meltdowns.
New England manager Roy Hodgson announces his 23-man England squad for the summer's European Championships this Wednesday and he has some mighty tough choices to make. It is widely predicted that he'll on only take one striker in the big man mold and three players all staked their claim this weekend. Stoke's Peter Crouch, who has an impressive record at international level, won a crucial penalty for his side in their 2-2 draw with Bolton. Norwich's 31-year-old Grant Holt scored his 17th goal in total this season to enhance his growing reputation. Liverpool's Andy Carroll has had a largely disappointing season but he has come good in the last month. Although he didn't score against Swansea this weekend he played well and almost netted via an audacious bicycle kick attempt.

Tottenham fans will be supporting Bayern Munich in the Champions' League final
Tottenham beat Fulham 2-0 but it wasn't enough to snatch third spot from Arsenal, who won away at West Bromwich Albion 3-2. Tottenham's highly creditable fourth-placed finish would usually guarantee Chmpions League qualification but it won't if sixth-placed Chelsea beat Bayern Munich in the Champions' League final (as they'll qualify as defending champions next term). With that in mind, Tottenham fans will likely all be cheering on Bayern Munich in the final, which takes place in Munich.
Moyes deserves all the plaudits he gets
Everton manager David Moyes ended the season on a high. His well-drilled unit defeated Champions' League-chasing Newcastle 3-1 which meant the toffees end the season above fierce rivals Liverpool in the table. Moyes is widely regarded as one of the best managers in the Premiership and has consistently exceeded expectations on limited resources at Goodison Park. Few would be surprised if his next managerial position is at a top four club.