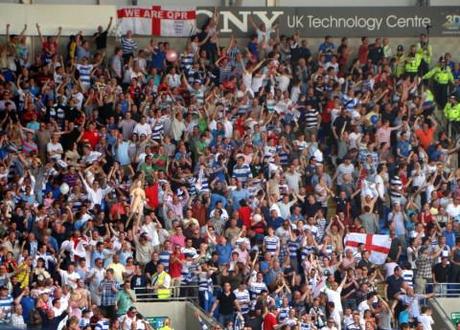 QPR fans celebrate a goal at Cardiff, 2011. Photo credit: Jon Candy
Amid all the hullabaloo over the European Championships it's easy for English football fans to forget that it's only a few days until the 2012/2013 Barclays Premier League fixtures are announced. For anoracky football fanatics like this writer the fixture announcement kicks off the  serious business of assessing one's team's prospects. It starts up again that hopeless addiction to refreshing the messageboards for far-flung and fantastical transfer rumours.
My beloved Queens Park Rangers escaped relegation to the Championship on the last day of last season in agonisingly tense fashion. Despite somehow going into injury-time ahead at the Etihad, QPR lost 3-2 to Manchester City (who were crowned champions). Only Bolton's inability to win at nothing-left-to-play-for-other-that-pride Stoke saved the superhoops' bacon.
However, regardless of the fact that QPR huffed and puffed their way through most of last season, hopes are high in Shepherd's Bush that the Rs can really push on next season and achieve a more-than decent Premier League finish. There is even some ill-advised natter about the possibility of a top ten finish (shush people). The upbeat mood is largely down to co-owner Tony Fernandes indication that QPR will strengthen again in the summer. The fact that QPR have a far more settled set-up than they did last summer is also feeding the optimism.
"I feel confident that (manager) Mark (Hughes) is potentially the man who could take QPR into another era, a stable era, where we become an established Premier League club," Fernandes told London24.com. "I want to be a club like Arsenal or Manchester United, who have had the same manager for a long time, and West Ham as well, when John Lyall and Ron Greenwood were there."
Here's the top five reasons why, next term,  QPR really should improve on last years disappointing 17th-place finish.
Diakite and Faurlin – a potentially formidable pairing
Argentinian midfielder Alejandro Faurlin was QPR's best player in the first half of the season and his serious knee injury in January was a big blow to the team's prospects. The good news is Faurlin's surgeon has told the QPR midfielder he remains on course to make an excellent recovery from his injury, reported West London Sport on 14 June. The prospect of Faurlin lining up alongside rangy Malian Samba Diakite – who has signed a permanent deal after a successful loan spell from Nantes – has QPR fans licking their lips in anticipation. Faurlin's graft should provide a platform for Diakite (the newest 'new Vieira?') to bomb forward next season. The pairing could prove the perfect blend of steel and silk.
Cisse and Zamora – the new Sutton and Shearer?
In January, Hughes brought in big name strikers Djibril Cisse and Bobby Zamora to get the goals to secure safety. Both did their bit but there's a feeling in W12 that we've not seen the best of either of them yet. Cisse missed seven games due to two (needless) suspensions and Zamora seemed to be carrying a knock for much of the campaign. If Cisse and Zamora can click they could form a classic pairing; Cisse is the sort of striker who thrives of knock-downs and there are few better at winning flick-on headers than a fully-fit Zamora. Just ask Arsene Wenger or Roy Hodgson – two well respected managers who've both declared the admiration for Zamora in the past.
Mark Hughes might not be everyone's cup of tea but he is no mug
The sacking of Neil Warnock is January upset many QPR fans who felt he had been unfairly treated by the board. And his replacement didn't exactly set the pluses racing. But after a frankly piss-poor start which included, shudder, a home loss to Wolves, Hughes drilled into the players his football philosophy and home performances became increasingly well organised and disciplined. While the somewhat dour Hughes does not possess the jolly charm of a Warnock, he is a canny Premiership manager who has proved at both Fulham and Blackburn he knows how to get the best results out of a limited squad. Ex-Manchester United, Chelsea and Barcelona striker Hughes is well connected in the game and should be able to attract talent to the club this summer. It doesn't hurt QPR's recruitment prospects that Hughes is Kia Joorabchian, an agent with fingers in lost of tasty-looking footballer-shaped pies.
So long Paddy and thanks for all the memories
Paddy Kenny was QPR's first-choice goalkeeper for last season and struggled badly. Although he had a few decent games (Arsenal and Tottenham at home spring to mind), unlike Clinton Hill and Jamie Mackie, he was unable to replicate his Championship form in the Premiership. It is widely reported that Kenny is on his way out this summer and QPR have been linked with quality stoppers including Robert Green, Shay Given and Ben Foster. A better keeper should shore up the shaky defence. The only slight pity about Kenny's imminent departure is that it robs the terraces of the humorous "Paddy Kenny's having a party, bring your vodka and your charlie" chant.
They've all got the summer off
While most Premiership sides have packed off plenty of their players to sweat it out in Poland and Ukraine, all the QPR players are on the beach (or in Las Vegas) this summer. The player's full dose of rest and relaxation could see QPR get off to a fast start to the season. It's inevitable that some players partaking in Euro 2012 will return to the clubs either injured or exhausted and that will upset their clubs pre-season preparations. QPR don't have that problem.