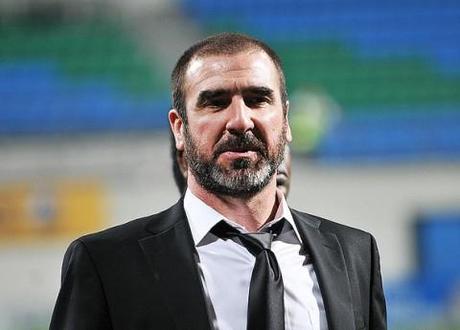 Eric Cantona. Photo credit: KallangRoar.com
The Barclays Premier League
has announced shortlists for a series of awards
to mark the twentieth anniversary of the launch of the league. Ex-Manchester United showman Eric Cantona is shortlisted in five categories, more than any other player or manager.
That Cantona should lead the lead should come as no great surprise. The mercurial French forward helped United win four titles and scored 65 goals in 144 Premier League games. And he always provided drama for the TV cameras. He fed football journalists bizarre quotes in post-match interviews and was famously sentenced to 120 hours community service for his kung-fu attack on a fan at Selhurst Park in 1995.
Cantona is nominated for best player, best goal, best goal celebration, best striker, and best quote. Former Newcastle United and Blackburn Rovers forward Alan Shearer is the closest to him with four nominations: best player, striker, goal celebration and goal. Arsenal's Thierry Henry and Dennis Bergkamp have each made three shortlists. Although the majority of the winners will be selected by expert panels, the public will vote to determine four of them – best goal, match, save and goal celebration – via the Premier League's website, premierleague.com. The awards ceremony is scheduled for 15 May.
Unsurprisingly, the nominations have sparked furious debate in the sports commentariat. The omission of Premier League stars Steven Gerrard, Wayne Rooney, David Beckham, Frank Lampard, John Terry and Didier Drogba from the highly competitive best player category has raised the most eyebrows.
The best player nominees are Dennis Bergkamp, Eric Cantona, Ryan Giggs, Thierry Henry, Roy Keane, Cristiano Ronaldo, Paul Scholes, Alan Shearer, Patrick Vieira, and Gianfranco Zola.
Too many superstars. Matt Lawton of The Daily Mail delighted in the memories but said that such lists are problematic because, with so wonderful players to have graced the Premiership over the past 20 years, the choices are just so hard. "Picking two central midfielders is a task that would trouble Sir Alex Ferguson," joked Lawton. "Easy you might think. Roy Keane and Patrick Vieira. But that means there is no place for Paul Scholes or Cesc Fabregas, Frank Lampard or Claude Makelele. Ferguson once described Steven Gerrard as 'the most influential player in English football'. Would Ferguson pick the Liverpool captain?"
The best team contenders are Blackburn Rovers 1994-95, Manchester United 1998-99, Arsenal 2003-04, Chelsea 2004-05, and Manchester United 2007-08
Arsenal's Invincibles were the best team ever. At The Guardian's Sport Blog, Kevin McCarra argued that, when adjudging the best ever team, one need not look beyond the Invincibles of Arsenal, who took the title undefeated in 2003-04: "(Dennis) Bergkamp, a schemer of a forward, was the perfect foil for Thierry Henry, who had speed and technique that made him uncontainable at times. Wenger, in those gleaming days, showed virtuosity in bonding ruggedness with expertise. Those traits also coexisted in Patrick Vieira, a commanding and composed midfielder."
What do you make of the lists? Who or what is missing? Leave a comment and let us know your thoughts.
Liverpool 4 Newcastle 3: Best ever Premiership game? Phil McNulty at his BBC Sport blog mulled what was the best Premier League match of the past 20 seasons and plumped for Liverpool's 4-3 win over Kevin Keegan's Newcastle United at Anfield in April 1996. McNulty added, "another Anfield game also sticks in the memory for another reason – the balmy April night in April 2009 when Arsenal drew 4-4 courtesy of more or less their only attempts on target in the game, all from the same player. Andrey Arshavin. Manchester United's 4-3 win against Manchester City, with a winner scored by Michael Owen deep into what the visiting fans labelled 'Fergie Time' was another match that was an illustration of everything good that the Premier League has to offer." McNulty flagged up one notable absentee from the list: "One game that has not made the list but will always be remembered here was Wigan Athletic's 3-2 win over West Ham United last season. This was the game that had just about everything – then a little more besides after the final whistle." In the game, Demba Ba put West Ham two goals up at half-time to give them hope of survival and leave Wigan on the brink of relegation. Wigan bounced back to win the game and relegate West Ham.