By Susan Duclos
We've heard of the barbarianism happening across the middle East as the group formerly known as ISIS, now just IS for Islamic State slaughters Christians, beheads people, crucifies them, but for many sitting at home watching television, it is surreal, happening elsewhere, so they feel disconnected from what is happening.
Not anymore.
One image, displayed proudly om Twitter by Khaled Sharrouf, a convicted terrorist who fled Australia to join the Islamic State militants waging war in Syria and Iraq, of his seven year-old son, holding up a severed head of what is believed to be a Syrian soldier, has sparked outrage and condemnation across the world.
The image is censored, but clearly underscores the barbaric, savage nature of these jihadists.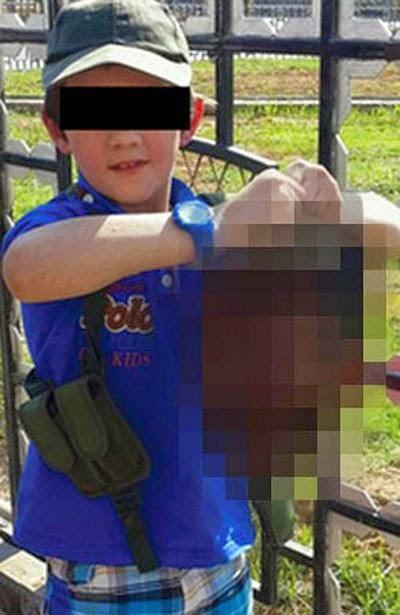 The caption read "That's my boy."
Via
Huffington Post
:
"This image, perhaps even an iconic photograph... really one of the most disturbing, stomach-turning, grotesque photographs ever displayed," Kerry said after a security meeting in Sydney, in remarks quoted by The Associated Press.
"Of a 7-year-old child holding a severed head up with pride and with the support and encouragement of a parent, with brothers there," Kerry said. "That child should be in school, that child should be out learning about a future, that child should be playing with other kids, not holding a severed head and out in the field of combat."
In the photo below, Sharrouf poses with both his sons in front of an ISIS flag.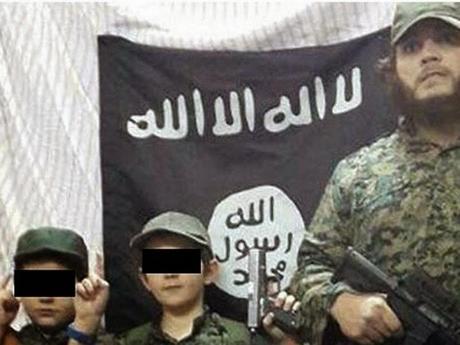 CNN report about this photo that shocked the world, shown in the news clip below.
Source: 
http://www.allnewspipeline.com/Barbaric_Photo_Shocks_The_World.php