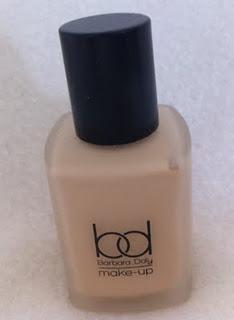 Barbara Daly Moisture Foundation
Whilst shopping at my local Tesco on a Sunday afternoon I decided to dull my trolley rage by treating myself to some new makeup. As I strolled down the cosmetics aisle the soft glow from the backlit kiosk created a calming effect and all my urges to plow through the hordes of Sunday shoppers with my trolley began to subside.
Working my way up the aisle one kiosk shone a little brighter than the rest and as I approached it my heart nearly skipped a beat. Were my eyes deceiving me, a makeup range by non-other than makeup guru Barbara Daly, exclusively at Tesco? What's more they have a range of foundations with shades pale enough even for my blue- tinged skin!
As I weighed up this information I became dizzy with excitement. Good quality, affordable makeup, suitable for the palest of skins all for sale at the supermarket round the corner from my house?! As I held a bottle of Barbara Daly's Moisture Foundation in Porcelain in my hands the roof parted and a beam of light shone down. I looked to the sky and sent my praise to the god- of- affordable- makeup- for- pale skin before skipping around the supermarket and finishing my shopping.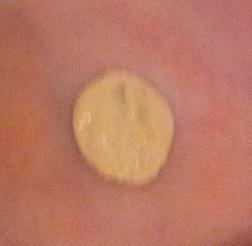 Barbara Daly Moisture Foundation Porcelain
The Product
The following morning I examined the bottle with anticipation. The packaging states that it is 'a lightweight yet creamy foundation, perfect for normal to dry skin types. Evens out skin-tone beautifully for a fresh, flawless finish. Contains moisturising ingredients, to keep skin looking soft and smooth, and sun protection filters SPF20.'
Lets break this down:
Affordable – yes, £6.75
Widely available – check, after all Tesco are taking over the world.
SPF 20 – brilliant, no one wants to look like a sun withered, wrinkled prune.
Normal to dry skin – I fall into this category.
Fresh flawless finish – perfect, there's always a small mountain range of pimples waiting to erupt on my chin.
Hmm suddenly I'm starting to wonder if this product could be too good to be true. Sadly this is the case….
The Verdict
Ok, so I did heap a monumental amount of anticipation on to this product but still that doesn't explain my extreme disappointment. This product is way below average quality.
The foundation has very watery consistency which when applied to the skin just disappears providing extremely minimal coverage. The coverage is so poor it doesn't even out skin tone, never mind hide any more obvious imperfections. When applied the foundation settles and gives a powdery feel, however the only place it settle on my face was on the dry, problem prone areas where it then preceded to flake off.
Being the eternal optimist that I am I gave the foundation another go, perhaps I had applied too much moisturiser before hand, perhaps it needed a little air to it to help it thicken up? Err nope…it still just settled in problem areas giving a patchy, uneven and unattractive finish.
In the interest of being fair this light moisturiser would suit someone blessed with the kind of skin all women envy and try to create with the help of makeup, even skin tone and normal to slightly oily skin that doesn't require much coverage. But if I had skin like that I wouldn't bother using a foundation anyway!!
While she may have been responsible for the makeup of princesses, Barbara Daly's Moisture Foundation is no majestic creation and definitely not a product I would recommend.
Barbara Daly Moisture Foundation ReviewProduct:
Poor quality foundation that provides minimal coverage.
Longevity:
Doesn't give a good enough coverage for it to be long lasting.
Affordable:
£6.75 but you are better off investing in a different foundation.
Easy to use:
No, watery consistency means it is very difficult to get an even application.
Availability:
Available at Tesco
The Verdict: 2/10 – Only receives the 2 points because it comes in pale shades.