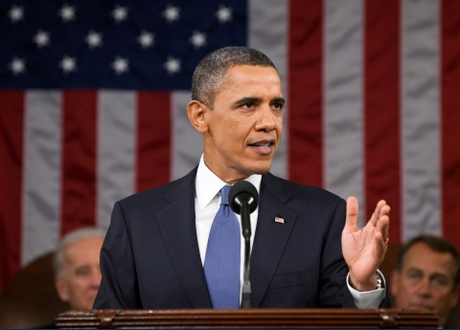 Obama gives the State of the Union address on January 25, 2011. Photo credit: White House photo Pete Souza
President Obama would beat Republican presidential frontrunner Mitt Romney in a hypothetical general election, according to a new poll. Romney may not have clinched the GOP nomination as yet, but the Washington Post/ABC News poll found that Democrat incumbent Barack Obama would have a strong chance of re-election against the former Massachusetts governor, partly thanks to the increasingly fractious Republican contest.
"As the contest has grown more negative, public impressions of the top Republican contenders have soured, as has the former Massachusetts governor's standing as a general-election candidate," reported The Washington Post. Other factors include the improvement to the US employment rate, with 243,000 new jobs created in January.
Romney is proving particularly unpopular as the GOP presidential race goes on, according to the poll: "By better than 2 to 1, Americans say the more they learn about Romney, the less they like him." Romney's cause is unlikely to have been helped by the release of his tax returns, which showed that the super-rich candidate paid a lower-than-average tax rate on his 2010 income of $21.7 million.
Mitt Romney is fresh from victory in the Nevada caucuses, taking 48 percent of the vote ahead of nearest rival Newt Gingrich's 23 percent. Romney has now won three out of five of the Republican presidential contests.
All Romney, all the time. "In the rarefied world that is dedicated to getting Mr. Obama re-elected, the battle has never been viewed through the prism of how to beat Newt Gingrich or Rick Santorum or Ron Paul. It has always been about Mitt Romney," said Helene Cooper on a New York Times blog. According to Cooper, Obama's campaign staff are using their considerable online-savvy to put Romney missteps into the spotlight: "On the Web, which even rivals have long considered a strength of the Obama political apparatus, criticizing Mr. Romney has become arguably as big a focus as defining the president," wrote Cooper.
"Obama's overall approval rating stands at 50 percent, the highest in a Post-ABC News poll since a brief run above 50 percent immediately after Osama bin Laden was killed in early May," reported The Washington Post.
Obama shouldn't celebrate too soon. Jim VandeHei warned against "Pollyanna punditry" at Politico, arguing that the real numbers tell a different story for Obama. "If Obama is on the rebound, someone forgot to tell swing voters in the most important up-for-grabs states in 2012," wrote VandeHei, pointing out that Gallup data has Romney and Obama tied in the all-important swing states. What's more, said VandeHei, economists are divided as to whether "robust enough economic and job growth can happen in time for Obama to benefit"; and there's a chance that the Republican party could end up outspending the Democrats, as the Obama campaign fundraising drive has not been as effective as advisors hoped.
Economy key to Romney campaign. "If the economy falters, Romney's message and his candidacy will have a very good chance to break through. If the recovery roars to life, they probably won't," wrote Adam Sorenson on Time's Swampland blog, pointing out that the idea of Romney as economic savior is the basis of his campaign. If the economy continues to recover, Romney will be left with precious little ammunition to use against Obama, said Sorenson. However, Obama is vulnerable to a major event that would impact the US economy, such as a European financial meltdown.
"In a general-election test, Obama leads Romney 52 to 43 percent among all Americans," said The Washington Post. In a hypothetical Obama presidential election against Newt Gingrich, the Democrat incumbent leads the former House Speaker by 15 points.
 Republicans don't want economic recovery? As a group, Republicans are "toxic destroyers, their minds infected by the idea that any cooperation with the president for the sake of the country is the moral equivalent of Munich," wrote Michael Tomasky for The Daily Beast. Tomasky expressed concern that Republicans would try to "blunt the [economic] recovery" simply to damage Obama, suggesting the party could start "throwing new poison pills" into White House negotiations to extend the payroll tax break for US workers.
Republican or Democrat: US poor still lose out. "Romney's election in particular, and the Republicans in general, would be a terrible thing for poor and middle class people in America," wrote Gary Younge at The Guardian's Comment is Free. However, said Younge, it's not as if the Democrats do much for the poor either: "Democrats do not promise substantial changes to the lives of ordinary working people and rarely deliver even on the symbolic ones. In short, Democrats demand a greater class attachment than they offer and therefore deserve." Therefore Democrats may want to hold back on criticising Romney's attitude towards the poorer sections of US society, wrote Younge.