Now, forget the movies and costumes, does Paul Rudd look like Ben Affleck? 
No? but his new Hot Toys figure suggests he and Ben Affleck might just look alike.
Hot Toys creates the most fantastic figures of movie characters and more. The likenesses aren't always perfect but most of the time they're pretty impressive.
Well, the company is putting out a second Rudd Ant-Man based on his Civil War appearance.
The movie-accurate Ant-Man collectible figure is specially crafted based on the film featuring a newly developed head sculpt with authentic likeness of Paul Rudd as Ant-Man in the movie, an interchangeable helmeted head with LED light-up function, meticulously tailored new Ant-Man suit, an Ant-Man miniature figure, detailed accessories and a Captain America: Civil War themed figure stand.
Twitter user Quincy Ross
noticed something — in this new figure, Ant-Man looks a hell of a lot like Batman.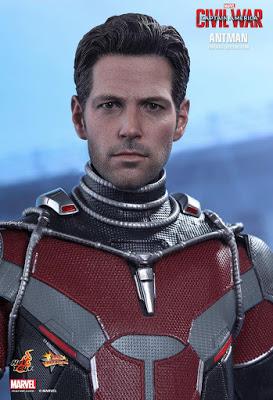 Paul Rudd played Ant-Man for Marvel in the 2015 movie and then again in Captain America: Civil War. While Ben Affleck plays Batman in the DC Cinematic universe. Old Paul Rudd kinda favors young Ben Affleck.
HitFix