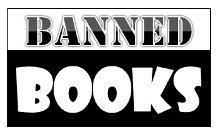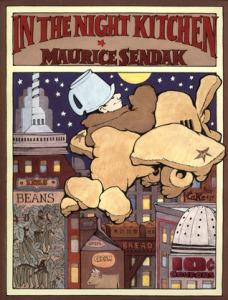 What's it all about?:
Sendak's hero Mickey falls through the dark into the Night Kitchen where three fat bakers are making the morning cake. So begins an intoxicating dream fantasy, described by the artist himself as 'a fantasy ten feet deep in reality'.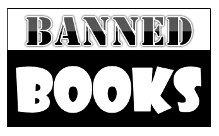 Logo designed by Luna's Little Library
Welcome to the seventh banned book in our series for 2019! As always, we'll be looking at why the book was challenged, how/if things have changed since the book was originally published and our own opinions on the book. Here's what we'll be reading for the rest of the year:
AUGUST: Whale Talk– Chris Crutcher
SEPTEMBER: The Hunger Games- Suzanne Collins
OCTOBER: The Adventures of Huckleberry Finn- Mark Twain
NOVEMBER: To Kill A Mockingbird- Harper Lee
DECEMBER: Revolutionary Voices- edited by Amy Sonnie
But back to this month….
In The Night Kitchen by Maurice Sendak
First published: 1970
In the Top Ten most frequently challenged books in 2004 (source)
Reasons: nudity, offensive language, sexually explicit. 
Do you understand or agree with any of the reasons for the book being challenged when it was originally published?
BETH: Trying not to scream at this moment in time. I've just finished this book (as it's a picture book it took me about 30 seconds!) and sat down to collect my thoughts on why it might be banned. As always, I don't like to read the reasons until I've finished the book and I had a sneaking suspicion nudity might be in there but as for the others? I just can't deal with it. This book is one of the less recent banned books in our challenge so far, being published in 1970 and although I wasn't around back then, I'm struggling to understand why a children's picture book could cause such offense. Especially for the reasons mentioned! Let's go back to the nudity thing. Yes, there is a cartoon picture of a naked little boy. It's not gratuitous or explicit in any way and I really can't comprehend why an innocent drawing could cause a furore. Answers on a postcard please.
CHRISSI: I thought it would be nudity when I saw the pictures. As Beth said, it's a cartoon naked boy. It's not an explicit, detailed picture and it's not on every single page. So do I agree with any of the reasons? No. There really isn't a reason that I could get behind for challenging this book. Would I read it to my class? I don't think so. I don't think it's a great story in my opinion. No other reason than that!
How about now?
BETH: Sigh. A challenge on this book was raised as recently as 2004 which means for me that some people somewhere are still having an issue with this book. Okay let's take nudity out of the question because that might be just some people's personal preference – which I can kind of understand, innocent though it is. But sexually explicit and offensive language? Was I reading a different book?! Has it been re-published and watered down for the noughties children, amending some lurid details from the seventies? Please can someone enlighten me because if it hasn't, I don't understand where the sexual explicitness and offensive language came from. In my eyes, there was none! Ridiculous.
CHRISSI: I honestly can't see anything wrong with this book. I, too, understand that naked children is a bit of an issue, but it's a story. There's nothing sexually explicit about it whatsoever. I'm a bit baffled by it. Like Beth, I'm wondering if the story has been changed?
What did you think of this book?:
BETH: I understand that Maurice Sendak is a beloved children's author however for me, this book didn't quite work. I appreciated the fantastical, whimsical elements but I sadly didn't connect with it on the level that I wanted to. Perhaps because I'm not the intended age group for the book? It has fans all over the globe though and was nominated for the Caldecott Medal in 1971 so it's obviously a treasured piece of children's literature.
CHRISSI: It was very, very odd. I do like whimsical stories but this one didn't really work for me. I actually finished it and wondered what on earth I'd been reading!
Would you recommend it?:
BETH: Probably!
CHRISSI: Yes!
BETH's personal star rating (out of 5):

COMING UP IN AUGUST ON BANNED BOOKS: Whale Talk by Chris Crutcher
Advertisements