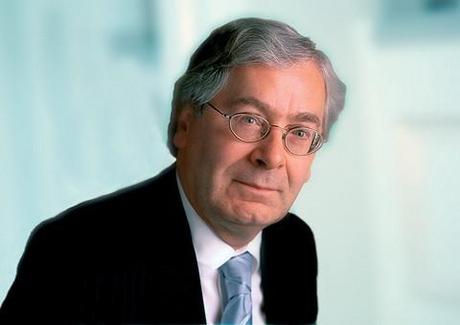 Mervyn King announces plans to help economy. Photocredit: Bank of England
The background
Sir Mervyn King, the Governor of the Bank of England, and George Osborne, the Chancellor of the Exchequer, announced measures to prevent a new credit crunch. This new "liquidity operation," reported The Independent, will give banks funding so that they in turn provide cheap loans to small businesses and households. It is hoped that this will increase annual lending flows by 5 per cent. This is partly in response to the continuing turmoil in the eurozone, which is about to claim Spain as its next victim. There are fears that in Greece, elections will see anti-austerity parties gaining power – which might see it coming out of the euro.
"We are not powerless in the face of the eurozone debt storm. Together we can deploy new firepower to defend our economy from the crisis on our doorstep… We are rolling up our sleeves and doing everything possible to protect British families and firms," said George Osborne in his Mansion House speech, quoted on The Independent.
Banks will be protected, but is it enough?
The scheme, explained Robert Winnett in The Telegraph, will allow banks in Britain to protect themselves from the eurozone crisis, since they will no longer have to rely on the international financial markets to raise money. Liberal Democrat peer Lord Oakeshott said that the Government was right to "hit the panic button." However, Ed Balls said on the Today programme that these measures wouldn't help, quoted on The Daily Mail.
Apocalyptic, but in the right direction
Alex Brummer in The Daily Mail said that those listening the the Mansion House speech no doubt "felt a shiver of fear." In forty years, he'd never heard "such apocalyptic terms." It's "unlikely" that we'll emerge from recession until the autumn, or even 2013. Also, the Government now realises that growth is more important than cutbacks. The Treasury's coming up with a scheme to use Britain's AAA credit rating to boost infrastructure. Finally it looks like our politicans have realised the trouble we're in.
There are flaws with the schemes
Robert Peston analysed the scheme on the BBC. There are actually two: The Extended Collateral Term Repo, which will give banks £5 billion a month, security for which will be provided by any assets the bank has. The Bank of England is basically saying it will give banks money "whatever the financial weather." So banks can relax now. The other scheme, "Funding for Lending," is "more radical." It's lending money to get it out "into the real economy." The risk is that the loans won't come back from the banks – but that's a small risk. But the banks are also taking risks in lending to the real economy. There are two reasons for doubting the scheme: businesses are more reluctant to increase debt in these times; and those in difficulty won't be lent to by banks.