Muffins are a common breakfast or snack item around here.  I like how they can be quick and easy to make.  They are also easy to adapt to include variety of ingredients.  This recipe is definitely a simple one.  I like it more as a base and can be adapted with other spices, fruits, nuts or shredded vegetables.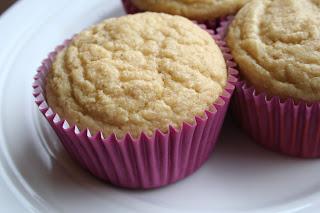 Ingredients
2 cups oats (regular or gluten free)
3 ripe bananas
1/4 cup grapeseed oil
2 eggs
1/2 cup organic greek or regular yogurt
3 tablespoons honey or maple syrup
1 1/2 teaspoons baking powder
2 tablespoons flax seeds
1/4 teaspoon sea salt
1/2 teaspoon baking soda
1/2 teaspoon vanilla extract
toppings or fillers: chocolate chips, blueberries, nuts, coconut, dried fruit, zucchini/carrots?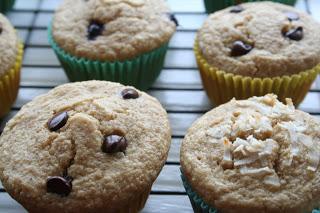 Directions
Preheat oven to 350 F and prepare muffin tray.
Combine all ingredients into blender except if you want whole pieces of nuts, fruits, etc.  Add those in after blending.
Blend until batter is smooth.
Add your additional fillers if desired and stir.
Pour into muffin tray 3/4 full.
Bake for 20-25 minutes or until inserted toothpick comes out clean.
Enjoy!