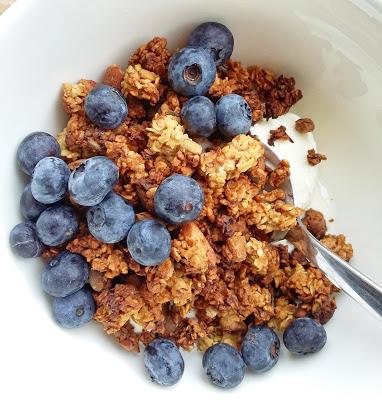 I haven't done a recipe post in a very long time, apologies loyal readers but life just got in the way. This beautiful crunch granola was originally inspired by a facebook post by Miranda Gore Browne ( off on of the early series of GBBO), she posted something similar and it looked delicious, so myself the task of creating a granola which would use overripe bananas.
We all experience the unloved banana from time to time, Mr LF refuses to eat banana once slightly spotty so I nearly always have an ample supply of bananas for bakes and makes, but this one has become one of my favourites, so frugal , so delicious.
For the last month or so I have been sharing the recipe with some of my work collegues and they all love it, so here goes.....
What you need
Roughly 1 1/2 cups of rolled oats (if you need gluten free, buy GF oats)
1/4 cup of chopped mixed nuts ( I buy a mixed bag with skins on and roughly chop)
1/4 cup of mixed seeds (pumpkin, sunflower, linseed, etc)
A few drops of vanilla extract
Pinch of sea salt
1 1/2 tbsp coconut oil
1 1/2 tsp runny honey 
1 large ripe banana
What you do
Pre heat the oven to 200c
Prepare your baking tray, line with baking parchment
In a large bowl, mash the banana with a fork
Add the coconut oil, vanilla and honey.
Mix until you have a smoothish mixture, mashing any coconut oil lumps
Add the rest of the ingredients and mix thoroughly.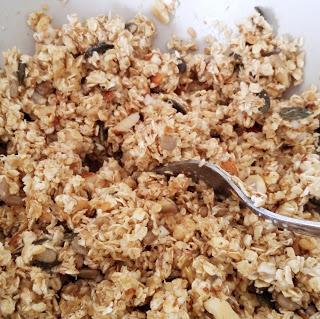 Strew on the baking tray so you have a moist rubble like texture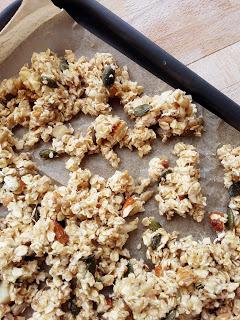 Place in the oven for approx 12 minutes , remove and turn the rubble to dry out the other side
Place back in oven for approx 10 minutes until your granola is golden and slightly crunchy.
Switch the oven off but leave tray in oven to cool with the oven door a jar to let the granola dry out further.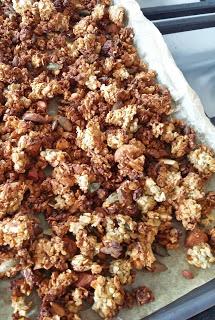 Once cool store in an airtight jar, I find a kilner jar is perfect.