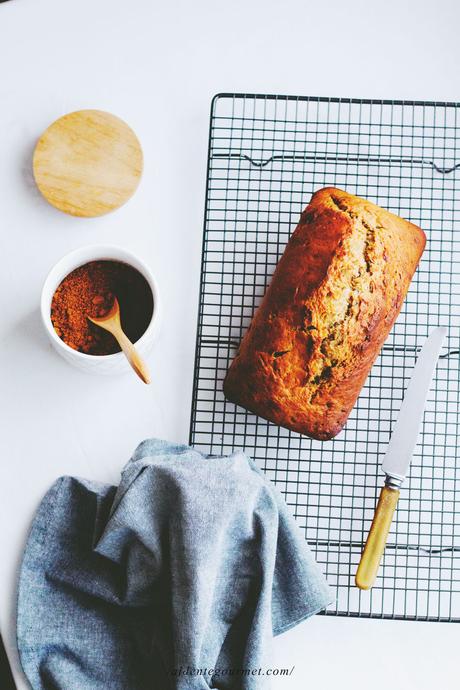 A few ripe bananas and a raining afternoon were all I needed to make my way into the kitchen and start mixing ingredients. That once again would end up in the form of a delicious banana bread! I made banana bread many times, always using this basic banana bread gluten-free recipe that I'd share in this post on 2009. It was one of my first posts actually, and it has also gained a lot of popularity over time since the day I published it. I think this is because it's simplicity regarding preparation and how delicious it tastes considering it is a gluten-free version of banana bread.
Baking is something that I enjoy. But prefer spending as less time as possible into blending and mixing. Believe me; I don't do too well when it comes to a baking recipe with more than ingredients than I can read. It becomes confusing to me. Maybe it's just because I'm too anxious when it comes to baking. Ooh…those fragrant fresh baking goodies… coming out of the oven… I can hardly wait!

So, yes I like keeping baking recipes easy to handle. Few ingredients, easy preparation but delicious taste, and this recipe; Banana + Cinnamon Bread it's no exception. It's easy to put together, delicious, it only requires a few ingredients and is also healthy and nutritious. Besides being naturally sweetened (refined sugar-free), in this banana bread recipe, I'm also using Spelt flour which contains a lot of vitamins and minerals. One slice of this banana + cinnamon bread and you'll be singing all day long! Ok, that was a bit exaggerated. Maybe just for a few hours, though but I'm sure you'll be singing after the very first bite. You can also add chopped walnuts or raisins to the preparation if you'd like. Serve it with some cinnamon sugar on top, and it's Christmas, my friends! To make a healthier cinnamon sugar, I combine coconut sugar with ground cinnamon. That's all. Even Lia can't resist it, yes; that's her in the last picture trying to get the slice of banana bread with her little hands.
Happy Weekend!

BANANA + CINNAMON BREAD (VEGETARIAN) (REFINED SUGAR-FREE)
2 C. Spelt flour
1 tsp.(or to taste) Cinnamon powder
1 1/2 tsp Baking powder 
1/4 tsp Baking soda
Pinch of salt 
1/4 C. + 1 Tbsp. Honey 
2 eggs or 3 small
2 Tbsp Sunflower oil
1/2 C. Almond milk or milk of your choice
1 C. ripe/bruised bananas, mashed (2 big or 2-3 medium)
Preparation: Preheat oven to 180 C/350 F. Grease loaf pan and set aside. In a medium bowl sift the flours, baking powder, baking soda and salt. In a separate bowl add the oil, milk, egg, sugar, mashed bananas and cinnamon. 
Mix well until all ingredients are combined. Pour into the prepared loaf pan and bake for about 55 minutes to 1 hr or until a skewer comes out clean and the cake is just firm. When ready let it cool completely on a wire rack. Enjoy!