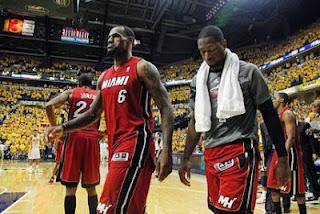 Photo: AP Images - Darron Cummings
- Troy Ballard and Adam Parker
Welcome to the sixth episode of Beard and Stache Chat Sports!
Hosts Troy Ballard and Adam Parker converse about the Philadelphia Eagles extending LeSean McCoy five-years, the Los Angels Lakers' unbelievable struggles against the Oklahoma City Thunder, and the Miami Heat looking like a D-league team against the Indiana Pacers without Chris Bosh on the floor!
This is a weekly segment that is released every Friday, covering the biggest news, injuries and moves in the NFL, NBA and MLB!
Be sure to check us out on 
iTunes
 if you want to catch us on the go!
Related Content at B&S: 
Are There Any Los Angeles Lakers Who Want to Help Kobe Bryant?
NBA Playoffs: Beard and Stache Fact or Fiction Questions for the East and West
The Miami Heat are Bosh-Less: What Now?
The Ten Commandments of the NBA Playoffs