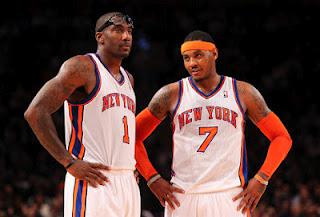 Photo: Getty Images - Al Bello
- Troy Ballard and Adam Parker
Welcome to the fifth episode of Beard and Stache Chat Sports!
Hosts Troy Ballard and Adam Parker breakdown the future of the New York Knicks following being eliminated in the first-round of the playoffs, the possibility of Ryan Tannehill starting for the Miami Dolphins day-one, and the eventual return of Yankees' closer Mariano Rivera from a torn ACL.
This is a weekly segment that is (this is a rare occurrence), released every Friday, covering the biggest news, injuries and moves, in the NFL, NBA and MLB!
Be sure to check us out on 
iTunes
 if you want to catch us on the go!
Related Content at B&S: 
There's a New Sheriff In Town -- Knicks' Tyson Chandler Wins Defensive Player of the Year
The New York Knicks Are a Sinking Ship, and Amare Stoudemire Isn't Helping Matters
Is Quarterback Ryan Tannehill Really Worthy Of The Hype?
New York Yankees' Closer Mariano Rivera Has Torn ACL