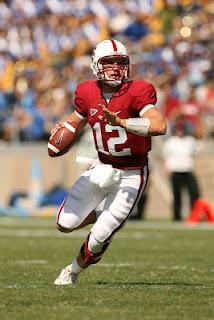 Photo: Dave Gonzales - Stanford
- Troy Ballard and Adam Parker 
Welcome to the second episode of Beard and Stache Chat Sports!
Hosts Troy Ballard and Adam Parker breakdown the hot start of Matt Kemp and the Los Angeles Dodgers, Andrew Luck confirmed as Colts' choice for the No. 1 overall pick in the NFL Draft, and the latest chapter in the Dwight Howard saga.
This is the newest weekly segment that B&S will be releasing every Friday, covering the biggest news, injuries, and moves in the NFL, NBA, and MLB!
Be sure to check us out on iTunes if you want to catch us on the go!
Related Content at B&S: 
Matt Kemp and the Los Angeles Dodgers: Pretenders or Contenders?
2012 NFL Mock Draft: Beard and Stache Edition
What Happens When the Orlando Magic Cave to Dwight Howard and Fire Stan Van Gundy?