Don't Stop Living - Jonny Blair - a lifestyle of travel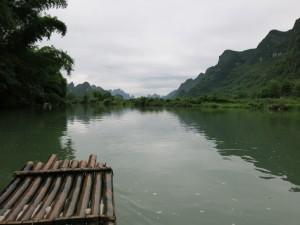 Bamboo Rafting in Yangshuo, China!
My recent China adventures continued as we veered south of the city of Guilin in China's Guangxi Province. We based ourselves in the dreamy town of Yangshuo. A town itself which is pretty enough to keep your wandering eyes glaring in awe and your camera snapping away as you marvel at its enchantment.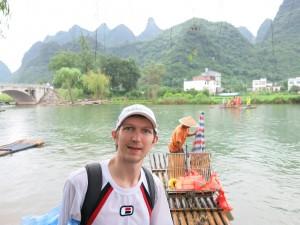 On the edge of dreamy Yangshuo ready for bamboo rafting!
As you relax in the center of Yangshuo you are surrounded by limestone hills. Yangshuo's beauty stretches much further than the town and these surrounding hills. It's a great idea to head along one of the rivers on a bamboo raft amongst many other activities available (mud baths, cycling etc.). You have two choices of where to get on a bamboo raft:
1. The Li River
2. The YuLong River
The Li River seemed to be the more touristy one so we decided to do the YuLong River.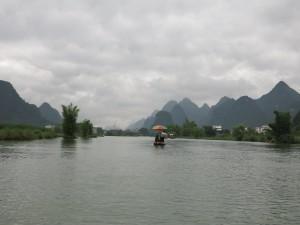 The YuLong River – the one we chose as it seemed less touristy, especially at this part.
How to organize Bamboo Rafting near Yangshuo
When you are based in Yangshuo you will be overwhelmed with Chinese travel companies organising trips on the river as well as cycling (bicycle hire) so there are no real problems. Organising with a company however does mean you will pay a little bit more. If you speak Chinese or are traveling with a Chinese friend or partner, then you'll find it even easier to organize it yourself. Agree a price and off you go.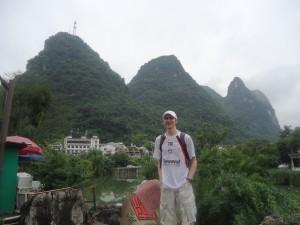 The magical town of Yanshuo in China's Guangxi Province – lots of agencies in the town offer the river cruising!
How to get Bamboo Rafting near Yangshuo for even cheaper
Do it all yourself thanks to your knowledge of Chinese or your friend/partners Chinese skills. My girlfriend plays a big part in my recent China adventures and as such she did all the talking with this one. If you speak Chinese and want to do the bamboo rafting for cheaper, then use two buses. Leave Yangshuo on a local bus to Baisha, this will cost 3 RMB only. Absolute bargain.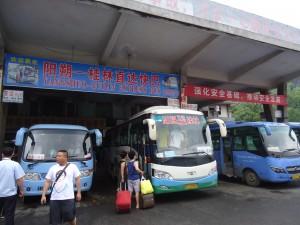 Our bus that took us from Yangshuo to Baisha – a village near the bamboo rafting.
Once at Baisha, on a random street corner there is a connecting bus you need to get that takes you to the riverside where the bamboo rafting starts. You basically wait in the street for this bus and it costs 4 RMB. Neither of these two buses have any English writing on them, none of the bus stops are obvious and you are unlikely to see any foreign tourists using them. But this is the cheapest and best way to do it.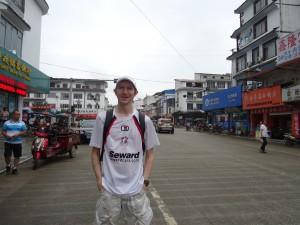 The only foreigner in Baisha waiting for the connecting bus to the bamboo rafting.
The second bus leaves you where the Bamboo Rafting starts. This area is actually known as "Golden Dragon Bridge" but it's not really a settlement. You'll then have saved money on transport before you get to paying for the actual rafting…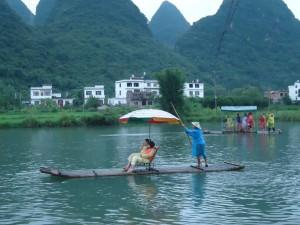 Our view on arrival by the YuLong River in Yangshuo, China.
How much does the Bamboo Rafting near Yangshuo cost?
This price will also vary. We went for a two hour cruise downstream to a remote village called Jo Yuen. The cost was 180 RMB each and they did issue us with tickets for it. We had our own raft with two seats and one guide and that was it. We got on the raft and off we went to relax and enjoy the countryside. It could definitely be done for cheaper than 180 RMB – a shorter journey for example, or when booked with a group or if you are both Chinese. We felt this was slightly overpriced and did try to bargain but alas we paid 180 RMB each.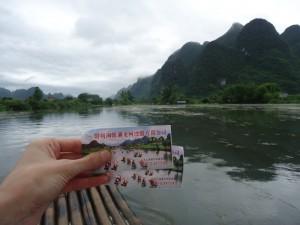 Our tickets for the bamboo rafting near Yangshuo – these cost 180 RMB each – not cheap but worth it!
What is Bamboo Rafting Near Yangshuo?
It is a bamboo raft consisting of 10 bamboo stalks joined together to form a raft. There are two seats on it and you sit there while a "driver" steers and veers you downstream. There are a few downward sections with drops, but for the most part it is a very smooth, relaxing experience. We loved it!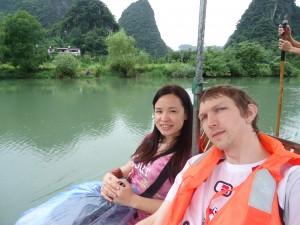 My girlfriend Panny and I relaxing on the YuLong on our bamboo raft.
On the way down you will be able to sit back and relax and enjoy the tremendous countryside around you! On the way down you might be told that certain rocks and hills resemble things such as frogs, lions etc. While admittedly some of them do, it's hard not to laugh at this – I'm used to Chinese people exaggerating things so this was no surprise.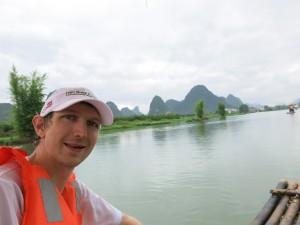 Loving the relaxation on the YuLong river near Yangshuo in China's Guangxi Province.
There is a commercial aspect too it though and we did end up buying something…half way down they take a photo of you going down a ravine and well our photo was great so we bought it. My girlfriend happened to have a USB stick on her so for 50 RMB they transferred all the photos onto it and gave us a laminated printed photo of it. I don't normally succumb to things like this as they are a pure money maker, but our photos were great and we won't be there again so we paid and got the photos. I must admit it was odd seeing a computer and a printer on a floating raft on the YuLong River!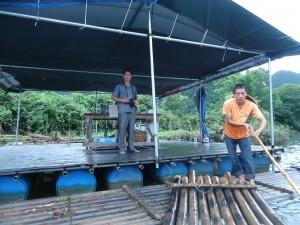 There's an odd commercial aspect to it – a printer half way down the river to print photos of you while rafting!
Waterfights on the YuLong River on Bamboo Rafts!
There is another option you can do – and the Chinese go crazy for it. I wasn't so keen as I had my travel notebook and camera with me and didn't want them to get wet or destroyed! But you can do waterfights. Basically get two groups of people together on two rafts and have a waterfight using water guns that suck up the water! We watched this as we sailed along the river. An option for those who didn't bring a camera I guess!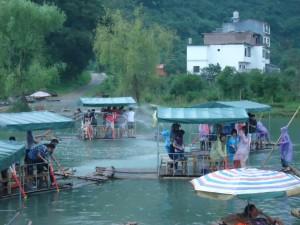 If you're keen to get soaked with the Chinese you can also partake in a waterfight on the Yulong from the bamboo rafts!!
My advice for Bamboo Rafting near Yangshuo
- Bargain the price down as best you can
- Make sure your camera is the only valuable you take with you
- Don't bring laptops or your passport
- Take water and some snacks
- Have already saved all your photos before you start so if your camera falls in the water or gets lost
- Relax and enjoy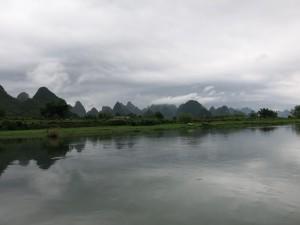 Relax and enjoy the incredible countryside views. Simply epic.
Where do you end up after the Bamboo Rafting?
OK so if you have booked it from a tour group they will give you all the information about this in advance and you'll be clued up. However if you wing it like we did, you end up in a small village known as Jo Yuen which is literally in the middle of nowhere! To get back to Yangshuo from here you'll have three main options:
1. Hire bicycles
2. Ask a bus, coach or mini-bus to take you back to Yangshuo
3. Hitch-hike
It's only about an hour maximum by bicycle so we hired a tandem bike and did it that way, in torrential rain!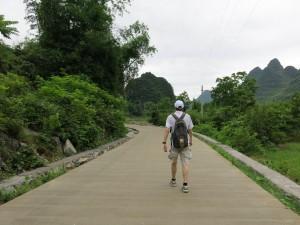 It's a long walk back to Yangshuo – hire a bike folks!
So what are you waiting for? Head to gorgeous Yangshuo and get bamboo rafting!!
My videos from Bamboo Rafting near Yangshuo:
Bamboo Rafting on the Yulong River near Yangshuo Part 1:

Bamboo Rafting on the Yulong River near Yangshuo Part 2:

Bamboo Rafting on the Yulong River near Yangshuo Part 3:

Bamboo Rafting on the Yulong River near Yangshuo Part 4:

Bamboo Rafting on the Yulong River near Yangshuo Part 5:

Bamboo Rafting on the Yulong River near Yangshuo Part 6:

Bamboo Rafting on the Yulong River near Yangshuo Part 8:

Bamboo Rafting on the Yulong River near Yangshuo Part 9:

Bamboo Rafting on the Yulong River near Yangshuo Part 10:

Hiring bikes after Bamboo Rafting on the Yulong River near Yangshuo:

Waiting in Baisha for the bus:

Waterfights and getting ready for Bamboo Rafting:

Original article: Bamboo Rafting on the YuLong River Near Yangshuo, Guangxi Province, China
©2013 Don't Stop Living. All Rights Reserved.