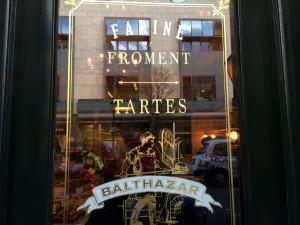 The Entrance of Balthazar Boulangerie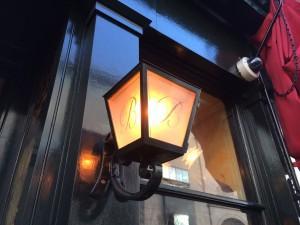 An attractive Lamp outside Balthazar Boulangerie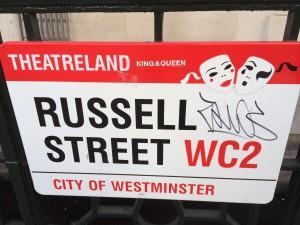 You will find Balthazar Boulangerie on Russell Street
Covent Garden in Central London seems to be getting busier and busier. If you want a break from the crowds then you could do a lot worse than visiting Balthazar Boulangerie on Russell street (not far from the opera house)  for a high quality bread based snack. Both sweet things and savory things are on offer.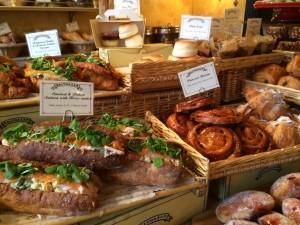 A selection of food on offer at Balthazar Boulangerie
Sticky Buns at Balthazar Boulangerie
Enjoy the finest Sticky Bun  you will have ever tasted. A cinnamon spiced firmly textured bun topped with very sticky pecan and treacle syrup. Have this for lunch as this is very filling!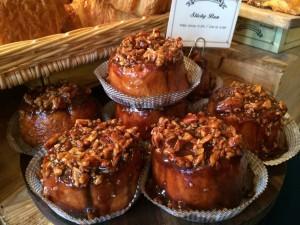 Sticky Buns at Balthazar Boulangerie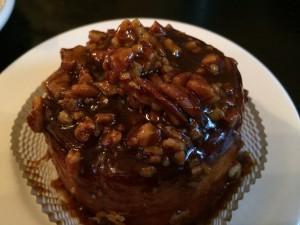 My Sticky Bun at Balthazar Boulangerie
Sit on a Post Stool at Balthazar Boulangerie
Sit on one of the plush red leather stools and enjoy a coffee or Chocolate Chaud listening to civilized classical music being played delicately through the shop.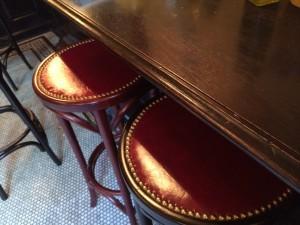 Take a seat at Balthazar Boulangerie
Take out your food from Balthazar Boulangerie
If you don't have long then have your choices placed in a attractive take out box. Enjoy your treats at your work desk or take them home and share with your family.
Write Home from Balthazar Boulangerie
If you are traveling then take one of the free postcards that are on the food benches and write to your loved ones at home.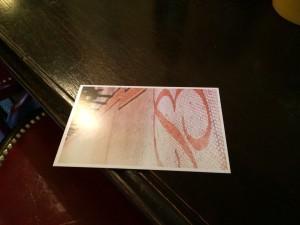 Grab one of these postcards
Enjoy the Balthazar Restaurant
Next door to this café is the New York style Balthazar Restaurant  that the  Boulangerie belongs . There is a walk in service so there is not need to book – however you may find long queues – certainly this was the case on my visit. If you have been to the one in New York then you will find this to be identical. So if you have enjoyed your coffee and pastry you may just fin yourself having dinner too.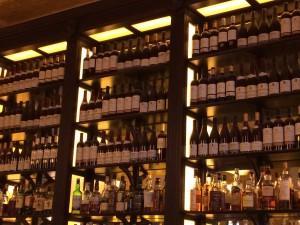 An impressive array of Wines at Balthazar Restaurant – next door to Balthazar Boulangerie
Thanks for reading
If you have  restaurant or a business you would like to feature then please e-mail me using the address [email protected]
David Ridings