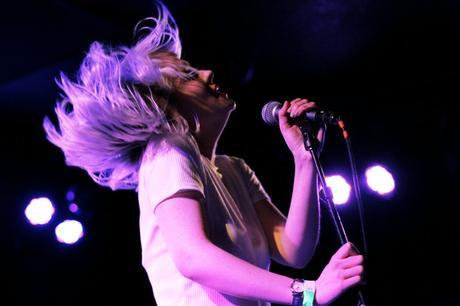 Photos by Matthew Solarski
Two distinct points on the ever-broadening spectrum of dream pop were on full display late Saturday night, as Ballet School and Seoul treated fans to a night of blissed-out sonics at Brooklyn's Knitting Factory. Transcendent four-piece Seoul, who actually hail from Montreal, impressed with a hazy sound that teetered between dreamy new wave and stone-cold chillwave (in the best way), making use of three voices that traded lines and leads seamlessly.
Meanwhile, Berlin-based multinational trio Ballet School mixed the lovestruck proclamations of Cocteau Twins (whose Simon Raymonde runs their label, Bella Union) with the ecstatic guitar swirls of Kitchens of Distinction and a giddy, unhinged energy that was impossible to resist.  Turns out, dream pop isn't just for starry-eyed, introspective types anymore.
Ballet School








Seoul