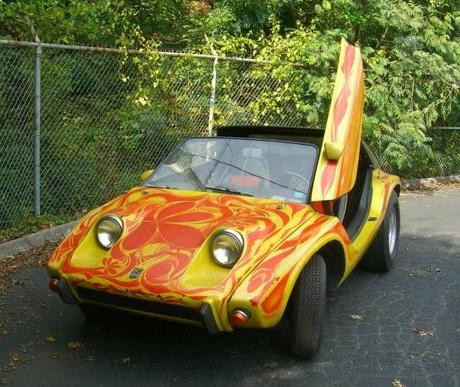 The Manx SR was a "grand touring" version of the Manx and it was actually designed to be a road car by Bruce Meyers and Stewart Reed. Featuring an 80-inch wheelbase and a curb weight of 1,500lbs, anyone with a mildly cooked up VW motor had a pretty legit little hot rod on their hands.
Word around the internet is that about 200 of these things were sold before the molds were thrown up on the shelf and forgotten about. One of those 200 made it into the hands of Baldwin-Motion.
Now, we know that you're asking what in the hell the guys who plugged big HP rat motors into everything wanted to do with a VW, but there was a side of Baldwin-Motion you may not remember.
 Motion Minicar was a joint venture between Bill Mitchell, Joel Rosen, and Marty Schorr. They worked on hot rodding VWs and other small cars of the era. Bill Mitchell campaigned a nearly unbeatable H-Gas VW known as the "Thunderbug" and this Manx SR was the tow vehicle for it at the track.
 While we're not really sure why Mitchell went from the ranks of A/Modified Production into the VW ranks we do know that he hauled the mail and laid waste to the national record perhaps dozens of times over the period he was running the Thunderbug. This particular Manx SR was on the cover of High Performance Cars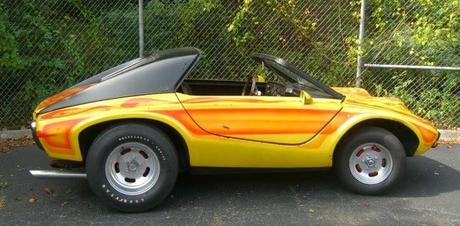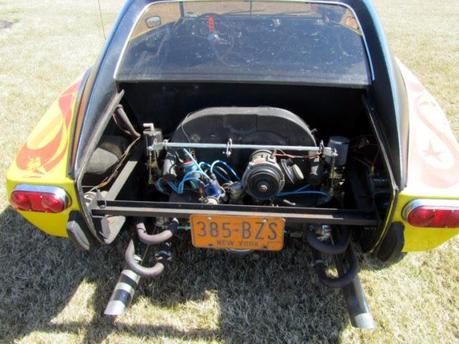 found on http://bangshift.com/blog/ebay-find-the-famous-baldwin-motion-manx-sr-is-for-sale-drag-race-and-vw-history-who-knew-that-it-existed-still.html
the Ebay listing (ended at $5,599.00) has
 Own a piece of car culture history. The single most iconic Meyers Manx SR in existence and in barn find "as found" condition having recently been brought back to excellent running condition. This was the cover car on Performance Cars magazine (included) and had been reportedly stored at Atco Raceway in New Jersey for decades. This is as original and low miles as any classic from that era could be. It drives nice and is ready to be shown at any VW show to truly wow the crowds and take home the survivor class top honors. Its rarity is unmatched since it is "1 of 1" with its amazing Baldwin mini-cars drag-strip heritage. The twin carb engine does appear to have some minor updates since 1970 for functionality and performance and I assume long term road ready reliability. But it should be noted that it would be a very simple task to reold (opposite of renew) these telltale minor tweaks back to an earlier set-up. The unique original custom seats, coupled with correct era gauges, wheels and the extremely rare fabric convertible roof are all features that make this a "must have" for the serious VW or Dune Buggy collector. This is the Meyers Manx Body SR41 June 1970 original fully documented magazine cover car. The SR model is a very rare series and features the original patented door swing that in recent years has been called "Lambo" style, but here we see a car that proceeds Lamborghini's distinct signature doors. Bruce Meyers wanted a street version of their popular line of dune buggy's and this Steward Reed design was and is the perfect combination of a shortened VW underpinning mated to a low profile two seat aerodynamic 13 piece composite (fiberglass) sleek futuristic American made road sculpture. Some 1970's articles about the SR refer to this design as the "Targa Buggy" from its same era Porsche inspired removable roof feature. It is considered to be unequaled to this day in its simplicity, stance and symmetry. The true Meyers dune buggies are escalating in value in recent years and this very car is destined to be among the most sought after examples of that company's classic very innovative collectibles. I might be wrong, but the radio may be newer than 1970, but that should be a very simple swap-out. This is otherwise an original 1970 Meyer Manx SR (Street Racer). It is a very rare car since Meyers reportedly only built 206 of them but this is the only one to go to Motion performance on Long Island for the famous Motion Mini car program. It was never intended for resale in their very popular mini car sales program, but rather it was for their own use. It is very well documented that this car was used at the drag strips by Joel Rosen (owner of Motion) and Bill Mitchell (NHRA Champion) when they raced the famous NHRA Record holder THUNDERBUG. This was the Thunderbug's drag race return tow car and was campaigned at race tracks all over the USA wherever Baldwin Motion Performance was being featured at national events. This car was in magazines and is considered to be among the rarest Motion of all. It is in pretty great shape but definitely showing its age with hairline cracks and chips very evident in the amazingly preserved psychedelic 60/70's mind blowing paintjob. I think that since it was painted by Ultra Automation who was famous for their amazing artwork, that this represents not only a legendary and rare example of a Meyers Manx, but a work of 60's car art that should be preserved as-is as a true survivor era correct unrestored piece of Americana . Any VW enthusiast would be proud to have such an iconic, historical and fun representation of the true dune buggy era as this famous one and only example. The Manx starts, runs and stops fine with a just replaced battery and is still using its original rear tires which I just had new tubes installed in order to preserve the date coded original and rare L60 Good Year tires. If I kept it I would have a spare set of rear wheels and tires for long road/cruise usage and use these original vintage rear tires only for shows. Amazingly this car has only 7350 original miles which by all accounts is accurate. It is very fun to drive and you will absolutely draw a crowd no matter where you take it. I have collected a good amount of documentation and some interesting extras such as a custom front license plate, new SR floor mats, wild shift knob, rare extra emblems, etc. that I'll include for the buyer. You may be aware that Bruce Meyers will be cruising from California to the East Coast to Nags Head North Carolina for the awesome "Manx on the Banx" dune buggy gathering on October 14th to 19th of this year. Pick up this car and head there to be the centerpiece of this show. The SR model is so rare it may well be the only one in attendance, last I heard. A historical perspective: Dune Buggy's in the 60's provided a way for even a novice car enthusiast with very limited funds to create a personal vehicle usually from an older Volkswagen's floor pan and drivetrain. One of the true legends in Dune buggy body kits and ready-made completed cars was the legendary designer and builder Bruce Meyers. Meyers was considered the style to copy and beat. He produced several variations up until the early 70's. One of his most innovative efforts as penned by Steward Reed was a radical design resulting in this amazingly unique creation. This car went to Baldwin Automotive, where Motion Performance was headquartered for NHRA Drag racing. In the 60's and 70's Motion was considered to be the pinnacle muscle car and race VW supplier in the North East holding many NHRA records of the day and selling street an race cars that are highly sought after today. They sent this 64 VW cut down pan with it's then new factory body out to Ultra Automation be painted in what can only be described as the most psychedelic paint schemes ever applied to any car. The car was featured at race tracks across the country as Motion's "tow car" to the delight of fans. It is perhaps the most remembered and unique Manx of all time. Although further research may be needed, it was purchased by Atco Dragway and has been stored there for decades and then in recent years sold. When it came on the market I knew this would be a fun car to own and preserve exactly as it was in 1970. I have maintained it's heritage in every way possible and I would hope the next owner will continue to push it's originality on into the future. I am reducing my modest collection by two cars and this car must be sold. It is being offered at a very reasonable reserve.