BM# 51 -- Baking Marathon: Day 14
Bake of the Day: Breakfast -- 
Baked Eggs Fradiavolo
As I was looking for recipes of baked dishes, I wanted at least a few to be without flour, sugar and the other usual bread ingredients. I got this recipe for baked eggs in a newsletter from
Chef Central
. I immediately added it to my mega marathon list.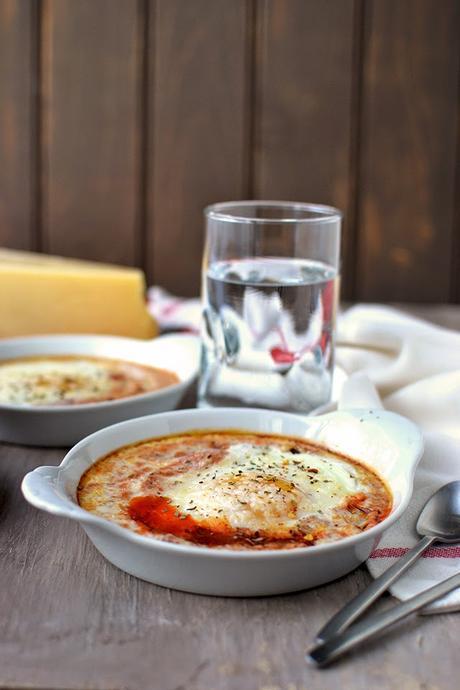 We are a egg loving family -- both my kids absolutely love eggs in any shape or form. I stopped baking with eggs though because I find eggless bakes are so much easier and most of my extended family prefers eggless bakes. So after all the flour based bakes without eggs, here's a really simple recipe for baked eggs.
A little background about this dish -- Spicy baked eggs have a reputation for curing any night-before excesses (you know what this means right?). The term, '
fra diavolo
' translates as '
brother devil' --
 perhaps an apt reference to the one that may have led you into trouble the evening before.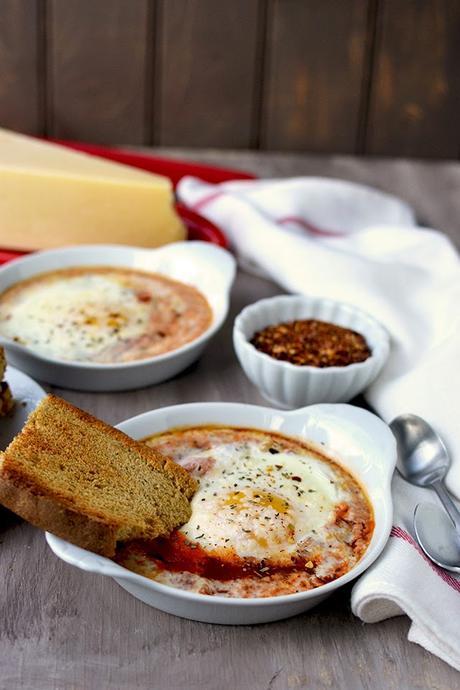 The best part of this dish is that the tomato sauce can be made ahead of time and refrigerated. To make the dish, simply add the eggs and bake. Also these eggs can be baked in individual bakers or 1 large baking dish. The egg's white solidifies, while the yolk is still runny -- perfect opportunity for dipping bread. Serve with a little extra hot sauce on side.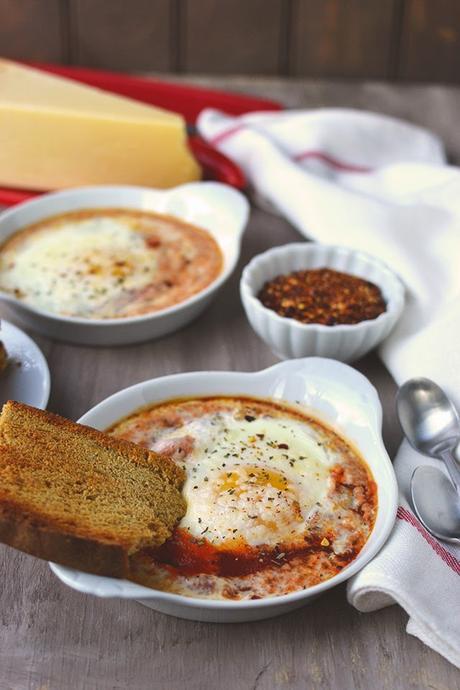 Recipe from Chef Central
:
Ingredients
:  Eggs - 4
Parmesan Cheese - ¼cup, coarsely grated
For the Tomato Sauce:
Crushed Tomatoes - 1 28 oz. can
Garlic cloves - 2, crushed
White Wine - ¼cup (I didn't use any wine)
Dried Oregano - ½tsp
Dried Basil - ¼tsp
Bay Leaf - 1
Crushed red pepper flakes - 1tsp (adjust as per taste preference)
Salt - to taste
Method
:
To make the Spicy Tomato  Sauce: In a saucepan, add 2tbsp olive oil and cook the crushed garlic for 30~60 seconds or until fragrant. Make sure to not let the garlic brown or burn.
Add the white wine, if using, and cook till reduced and nearly evaporated.
Add the crushed tomatoes, salt, oregano, basil, bay leaf and red pepper flakes. Simmer over low heat for 10 minutes to allow the flavors to mingle and to thicken slightly. The diavolo sauce is now ready -- it can be cooled and stored, refrigerated for up to 5 days.
Preheat the oven to 425°F. Prepare individual baking dishes or one single 2~2.5 quart baker by lightly coating with cooking spray. 
Warm the diavolo sauce, if not already warm. Put a generous layer of sauce in each baker, about ½" deep. Crack an egg in the middle of each baker, top with a sprinkling of the Parmesan cheese.
Bake in the oven for 10 minutes or until the egg whites are firm and the yolk is cooked to the desired consistency. Serve immediately with bread to mop up the sauce.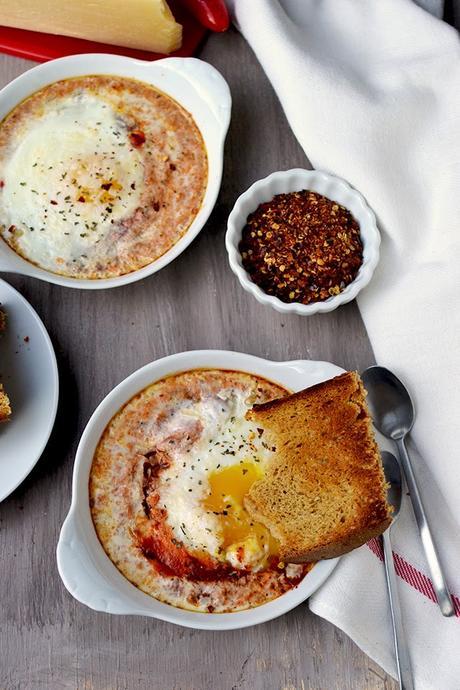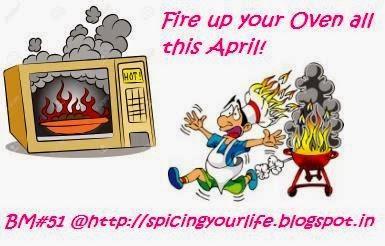 Check out the
Blogging Marathon page for the other Blogging Marathoners doing BM# 51.
An InLinkz Link-up