This is a pretty simple dish that can be arranged ahead of time and then baked when needed.  If using rice pasta, I would not bake too far in advance as the pasta can get hard if left too long in the fridge.  I have used this casserole as a way to use up some left over chicken and other vegetables I have on hand.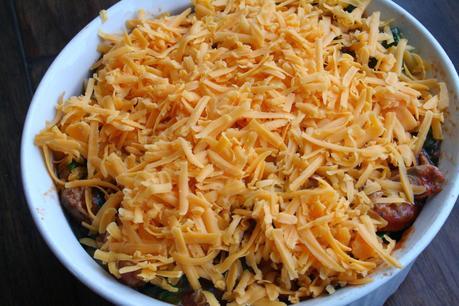 Ingredients
16 oz uncooked rice pasta (I like to use Tinkyada)
1 tablespoon extra virgin olive oil
2 minced cloves garlic
1 diced onion
2-3 cups cubed chicken (breasts or thighs)
1 can organic tomato paste
1/2-1 cup water
1/4 cup minced fresh basil or 1/2 tablespoon dried basil
1 teaspoon sea salt
2 teaspoon chili powder (or to taste)
2 cups diced mushrooms
2 cups spinach
1-11/2 cups shredded cheese or daiya cheese
sea salt and pepper to taste
Directions
Preheat oven to 350 F.
In a large pot cook pasta according to directions and place in a large oven safe deep dish. (I used a large corningware dish.)
In a large wok, or pot heat oil and saute onions until translucent.  Add garlic and cook another minute.  Add chicken and cook until no longer pink.
Add tomato paste, basil, chili powder, mushrooms, salt and pepper.  Cook until bubbling and bring down to medium-low heat.  
Stir in spinach.
Pour onto pasta.
Cover with shredded cheese (daiya) if desired.
Bake for 30-40 minutes until cheese is melted and sauce is bubbling.