Instant Approval in 3 easy steps anytime, anywhere!
Bajaj Finserv, the undisputed leader in consumer durable finance has unveiled India's first EMI finance App. Through an industry first initiative, the app gives consumers the freedom to apply for an instant EMI finance anytime, anywhere.

Bajaj Finserv Experia is the easiest and quickest way to buy LED TVs, Smartphones, Furniture and lots more on easy EMIs this festive season. To get instant approval, all one has to do is click on the 'QUICK APPLY' button, once they download the App.
"Finding new methods to acquire customers and expanding into new geographies are key in the present times. We continue to simplify EMI financing for customers through digitization initiatives going forward as well" says Devang Mody, President Consumer Finance, Bajaj Finance Ltd.
"We've seen a strong start of the Festival Season. Our new mobile application has made it possible for customers to get an instant EMI Finance approval even before stepping into the stores for purchase. We have a robust process in place and if the festive season goes as planned, we expect our assets to grow 30-35 per cent", says Rajeev Jain, CEO, Bajaj Finance Ltd.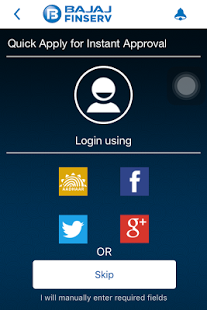 Adding to the convenience of the application process, the app lets consumers to login using:
·   Aadhaar Card
·   Facebook
·   Twitter
·   Google+
This eliminates the time consumed by pre-filling consumers' basic information in the form.
Using the revolutionary app, consumers can get instant approval with a unique user id to avail EMI offers across 12,000+ stores including the likes of Croma, Vijay Sales, Hometown, Home centre, Urban Ladder, Helios and more.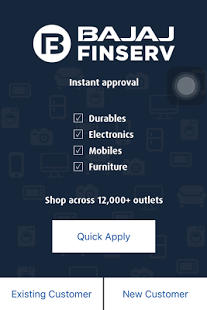 With the Bajaj Finserv Experia App consumers can:
Avail Instant Approval for pre-approved loans up to INR 3 Lacs at a tap

Login with Aadhar Card, Facebook, LinkedIn or Google

Share only the first 6 digits of their Credit Card to get an extra advantage. This increases their chances of getting an approval, and also makes them eligible for higher loan amounts. No money will be deducted from their card and Bajaj Finserv does not use your Credit Card details for any banking purpose.

Convenience of applying from anywhere, anytime

Edit their personal details easily

Post approval, shop across any of Bajaj Finserv's 12,000+ partner outlets in, over 150 cities

Track their loan application
Download Link: https://play.google.com/store/apps/details?id=org.altruist.BajajExperia&hl=en