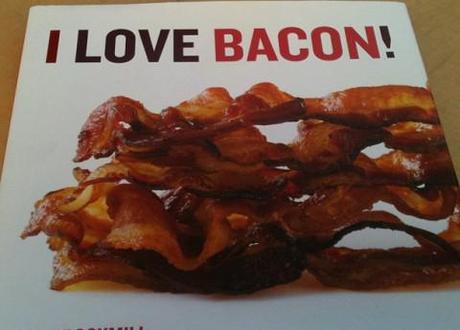 The dangers of loving bacon include high blood pressure…
The background
Much of the bacon found in British supermarkets contains levels of salt that far exceed the daily recommended amount, according to a study released on Thursday from anti-salt campaigners Consensus Action on Salt and Health (CASH) – prompting the group to call for bacon to come with a warning label.
Of the major brands, only Tesco and Marks and Spencers sell bacon that comes under the maximum of 2.88 grams of salt per 100 grams of bacon. Scotland's Daily Record described bacon as "saltier than seawater", while Rebecca Smithers of the Guardian dubbed it "the second-biggest source of salt in the UK diet after bread", much to the horror of bacon sandwich lovers everywhere.
Excess salt is linked to high blood pressure, strokes and heart attacks, as well as other conditions such as diabetes, osteoporosis and even Alzheimer's. The recommended daily allowance of salt stands at 6 grams for an adult, but children can tolerate significantly less.
The recession's hidden health risks
CASH, a consumer group committed to raising awareness about the dangers of eating too much salt, have indicated that there also exist quite striking disparities in the saltiness of the bacon sold by a single supermarket. For example, their study reveals that Morrisons's Savers Smoked Rindless Back Bacon contains more than three times as much more salt as the Applewood Smoked Dry Cured Back Bacon from their 'The Best' range (6.8g of salt per 100g, compared to 2g).  CASH pointed to the country's current economic woes and suggested that "as the recession continues, consumers are turning to cheaper foods such as bacon to feed their families". This problem is potentially two-fold considering that the cheapest bacon products might also contain significantly higher salt levels than their more expensive counterparts. Julia Glotz of The Grocer reported on CASH's calls for the government to counter this risk and 'push harder for clearer and more consistent on-pack labelling' to help customers make more informed decisions about the salt content of the products they buy.
Bacon is not good for you, but is this news?
Twitter seemed to meet the new data with some bemusement. One user simply marvelled at the idea that bacon's harmful saltiness was anything other than common knowledge: 'This is not new news surely?' . Another remarked, "It's legit. Bacon is bad for you" , finally putting to rest the furious debates raised by a certain YouTube sensation and his conviction that 'Bacon is good for me!'.
"Bacon is good for me!"

More in health