When I worked at the Manor one of the hors d'ouvres I made frequently for the luncheons was these delicious little cherry tomatoes which were stuffed with a mixture of bacon, spring onions and mayonnaise.  All of the ladies loved them.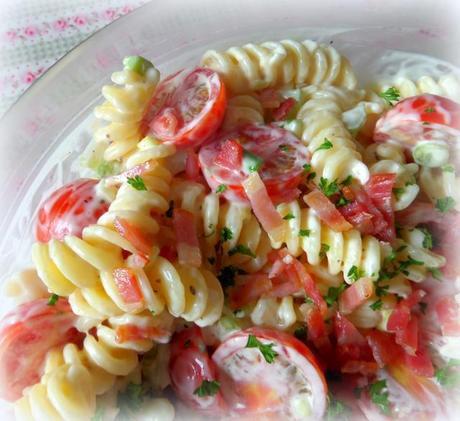 They were very popular and I liked making them because they were not as fiddly to create as some of the other hors d'ouvres I had to make were.  In comparison they were a doddle, the fiddliest bit being hollowing out all of those littl cherry tomatoes!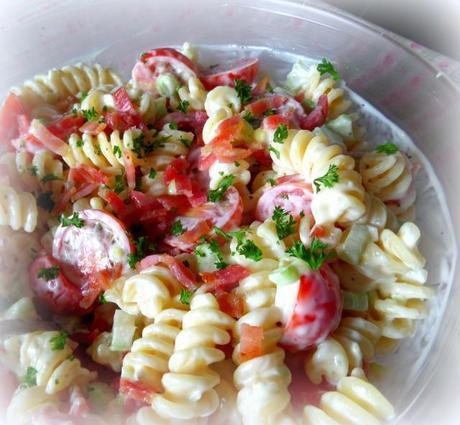 I decided to create a pasta salad using some of these same flavours.  I had been sent some delicious Newman's Own Blue Cheese Salad Dressing and I felt it would be the perfect match!  I was not wrong.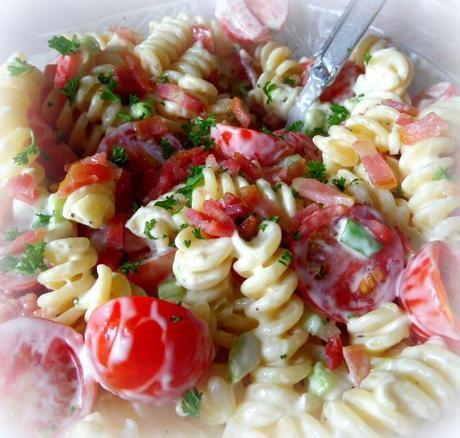 It went beautifully in this salad.    This is a lovely salad, with the heartiness of pasta  being combined with the crunch of celery, the snappiness of spring onions and the sweetness of cherry tomatoes . . .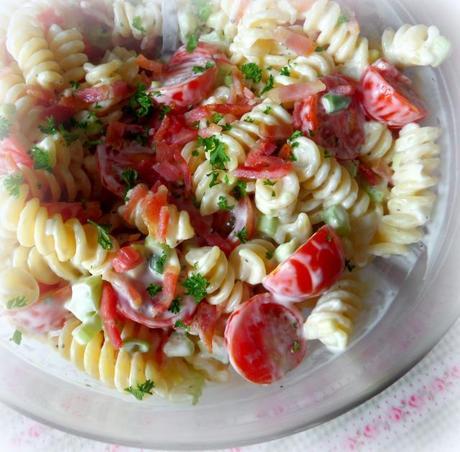 With a hefty addition of crisp smokey bacon bits, it's a winner/winner I believe!  Save some of the bacon to sprinkle on top of the salad when you serve it.  I guarantee that everyone will love this.   If they don't  . . .  then they just ain't human!  That's all I got to say!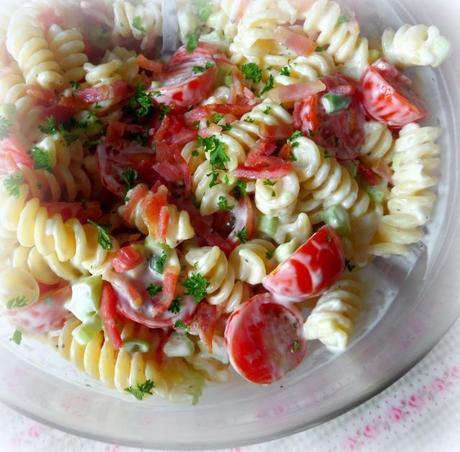 *Bacon and Tomato Pasta Salad*
Serves 10 to 12 as a side dish
Printable Recipe
All the flavours of my favorite tomato bite appetizers in a pasta salad.  Scrummy yummy!  
1/2 pound of fussilli pasta (8 ounces)
4 to 5 spring onions, washed, trimmed and chopped
1 punnet of cherry tomatoes, washed and halved (about 2 cups)
 2 stalks celery, trimmed and diced
1 pound of streaky smoked bacon, cooked, drained and crumbled
220g of good quality mayonnaise (1 cup)
60g of blue cheese dressing (1/4 cup)
2 TBS cider vinegar
1 TBS sugar
salt and black pepper to taste
chopped parsley to garnish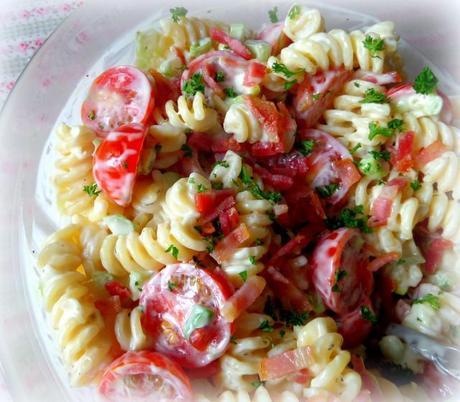 Cook your pasta according to the package directions.  Drain well.  Rise in cold water and drain again.  Set aside.
Whisk the mayonnaise, blue cheese dressing, vinegar, sugar, salt and pepper together in a serving bowl.   Stir in the spring onions.   Add the cooked pasta and cherry tomatoes.  Toss to coat well.   Cover and chill for at least an hour.   Remove and stir in 3/4 of the bacon.  Sprinkle the remainder on top along with some chopped fresh parsley.   Serve.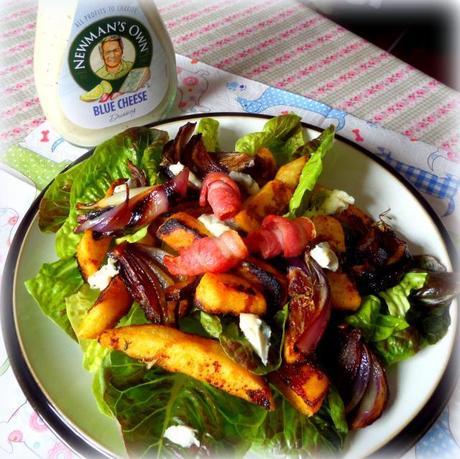 I also used some of it the other day to make a delicious salad using balsamic roasted potatoes and red onions.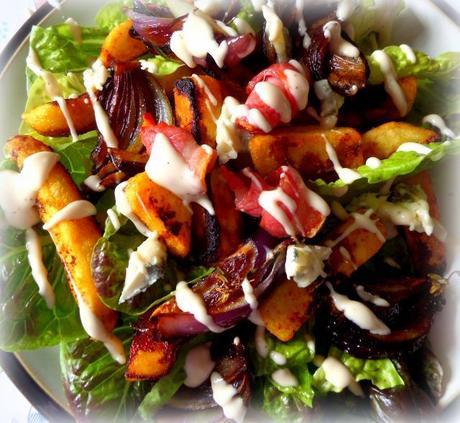 With a mixture of crisp salad leaves  . . . and crisp bacon rolls (doesn't everything taste better with bacon!) . . . it went down a real treat!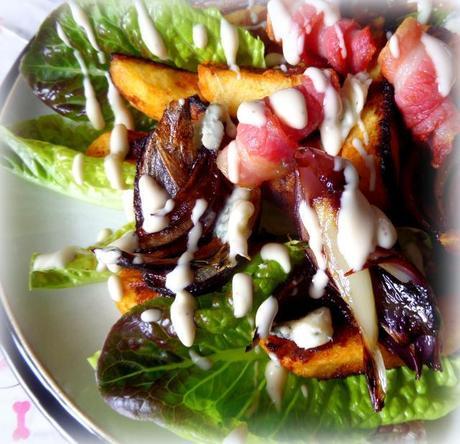 You had the crisp edged roasted potatoes . . .  the sweetly caramelized onions . . .  crisp salad leaves . . . and the smokiness of the bacon.  The blue cheese dressing added the perfect tangy touch.  We loved it!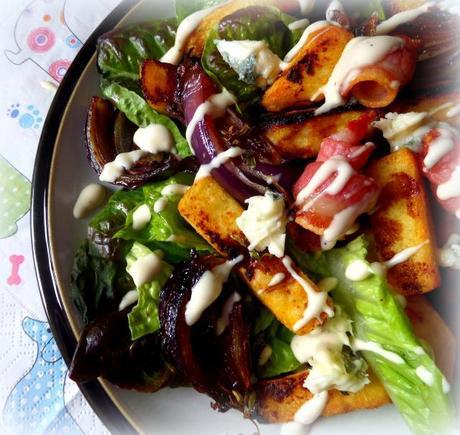 *Balsamic Roasted Potato and Red Onion Salad*
Serves 4
Printable Recipe
Chipped potatoes, red onion wedges and bacon rolls, drizzed with good balsamic vinegar and thyme, and roasted until sweetly caramelized.  Served on a bed of crisp lettuce with a blue cheese dressing.
2 large baking potatoes, peeled or not as you wish cut into wedges or chips
2 large red onions, peeled and cut into wedges
8 rashers of streaky bacon, cut in half crosswise and rolled into curls
olive oil
good balsamic vinegar
salt and black pepper
garlic powder
several sprigs thyme
two heads of red baby gem lettuces, broken into leaves, washed and dried
crumbled blue cheese to serve
Blue Cheese Dressing to serve
(homemade or your favorite store bought one)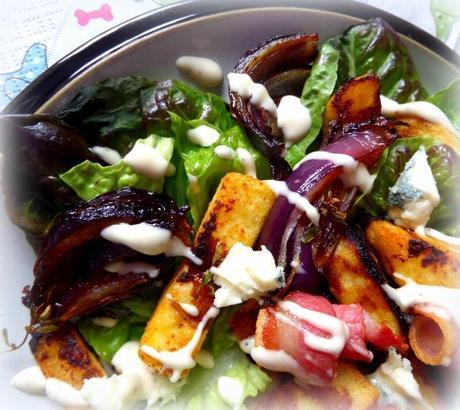 Preheat the oven to 220*C/425*F/ gas mark 7.  Line a baking tray with foil and spritz it with some non stock cooking spray.
Toss the potatoes and onions with a bit of olive oil, some salt, black pepper and garlic powder.  Spread them out on the baking tray.   Drizzle with some good balsamic and
sprinkle with thyme leaves which you have stripped from the sprigs of thyme.  Roast in the heated oven for about 15 minutes.  Add the bacon curls and roast for a further minutes, until the potatoes and onions are beginning to caramelize and the bacon is crisp.  Remove from the oven and allow to cool to room temperature. 

  
Divide the lettuce leaves amongst four plates.  Top each with a fourth of the roasted vegetables and the bacon rolls.  Crumble some blue cheese over top.  Drizzle with the blue cheese dressing and serve immediately.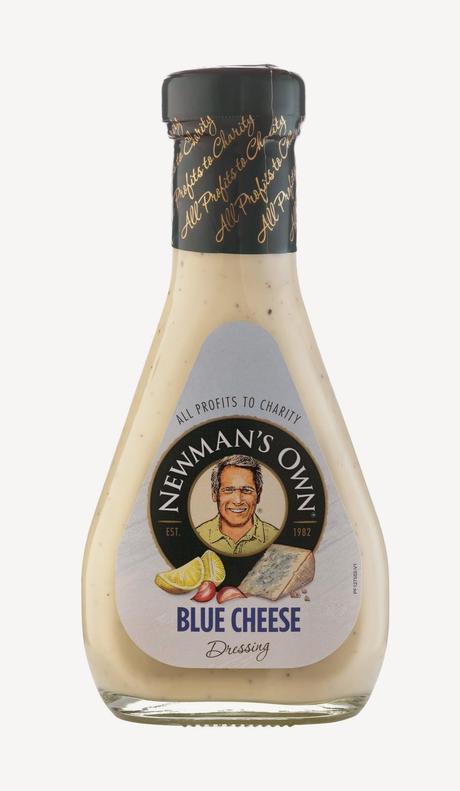 June 2014 will see the launch of two brand new salad dressings from family favorite Newman's Own. Both new sauces; the Blue Cheese and Santa Cruz Chilli and Lime Dressing will add extra flavor and add depth to any light summer salad. Available from early June 2014, the American-inspired Blue Cheese Dressing is perfect for recreating a taste of the States for your own summer BBQ. The creamy sauce works amazingly well with a simple salad of iceberg lettuce and bacon lardons, or on the side served with chicken wings or crudités. The Santa Cruz Chilli & Lime Dressing has a hot and fruity flavour, offering a fresh and well balanced addition to any meal, great for dishes of fish and chicken, or with a pasta salad.
Authentic, traditional and full of American flavour, the new sauces bring the USA to UK supermarkets ahead of the summer season. Perfect for family BBQs and get-together's, the new sauces are a great accompaniment for a food fueled summertime. The new dressings will join the recently launched Pasta Sauces and new sauce range which includes All Star BBQ Sauce, Hot Pepper Sauce and Smokin' Hot Dog Sauce. Founded by Hollywood actor Paul Newman, Newman's Own already has a popular range of salad dressings, BBQ sauces and marinades available. What's more, Newman's Own Foundation donates all post-tax profits to charity, with over £1million already being donated to a wide range of charities in the UK alone and over £250 million donated around the world.
They will be widely available at ASDA nation wide at a suggested retail price of £1.79
I really like their hot dog sauce and the barbeque sauce and was already a bit fan of the Caesar Salad Dressing.  Needless to say I have fallen in love with this Blue Cheese Dressing as well.  It has a lovely rich flavor and texture.   It's quite moreish really.   I also love that I am supporting charities when I use the Newman's Own products.