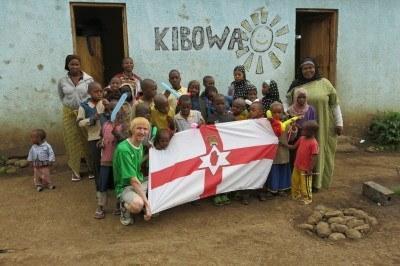 Backpacking in Tanzania: My Top 5 Moments
As I head to Senegal on a secret trip, it seems a lifetime ago that I was backpacking in Tanzania and Ethiopia. It was a trip of a lifetime where I got to feed hyenas mouth to mouth, at dusk, in Harar as well as 4-5 days of hardcore safari in and around the Serengeti. It's a good time to round up and reflect on my top 5 moments from Tanzania, where I toured in 2013 with Shadows of Africa.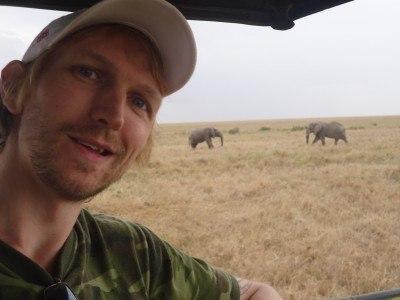 On Safari in the Serengeti with Shadows of Africa
1.Visiting Kibowa Orphanage
Any visit to an African orphanage will have you in moments of huge emotion. Here at Kibowa, we got to play football with children, color in some books and play with them. There is a sadness and a happiness on these visits and I'll never forget my time in Kibowa Orphange.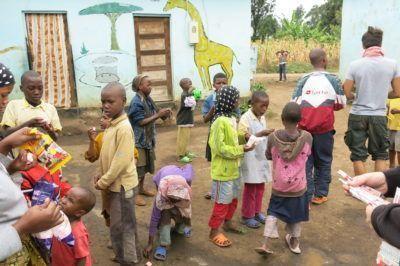 The kids at Kibowa
2.Camping in the Serengeti
Imagine sleeping next to hyenas, gazelles and lions. Yes that's what it was like when I went for some camping in this world famous jungle. I stayed in a much more luxurious tent than I was used to though, and we had an ace barbecue with beers in the heart of the Serengeti ahead of our safaris around the place.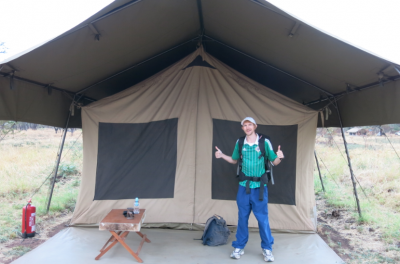 Camping in the Serengeti – my luxury tent in the jungle!
3.Visiting a Maasai Tribe at Rabbatt
We visited a nomadic Maasai tribe village at Rabbatt and it was a truly memorable experience, to witness the singing, dancing performance. On a separate evening, I also joined in with Maasai dancing at our base for the night at Tarangire National Park.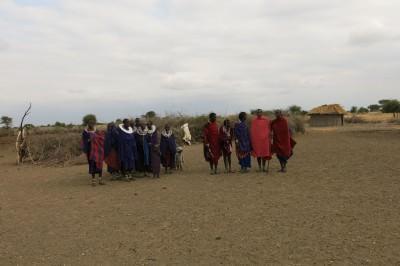 The Maasai Tribe in Rabatt ready for the "Welcome Dance" on our arrival.
4.Visiting Esa School
We got to visit a local school, Esa school, while on tour with Shadows of Africa. I was in the classrooms teaching English and enjoying the company of all these enthusiastic children. It was a sight to be hold and a vivid memory from my time backpacking in Tanzania. I wrote about my visit to Esa School before.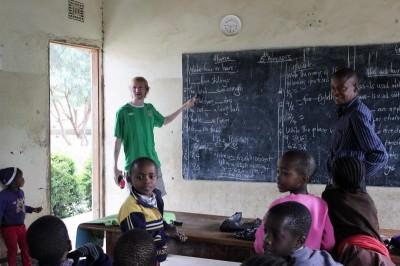 I briefly went back to the role of teacher in Esa School, Arusha, Tanzania.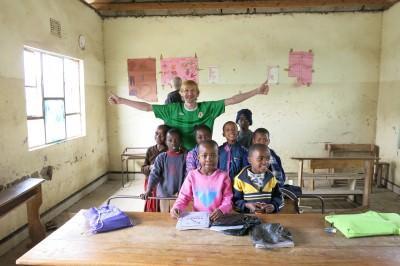 Loving the enthusiasm of these kids in Esa School – it's clearly rubbed off on me!
5.Safari in the Serengeti National Park
Finally on the top 5, I can't ignore the brilliant safari itself. We toured three national parks – Tarangire, the Serengeti and Ngorongoro Crater and all were highlights. However, seeing lions, zebras, giraffes, leopards and cheetahs in the Serengeti was the most exciting of all. Especially the days with binoculars trying to find those elusive rhinos. At least we saw 4 of the big 5!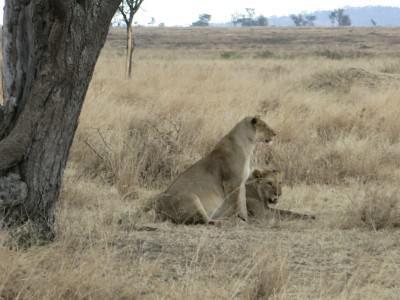 Safari in the Serengeti – Lions rest by a tree on Day 1.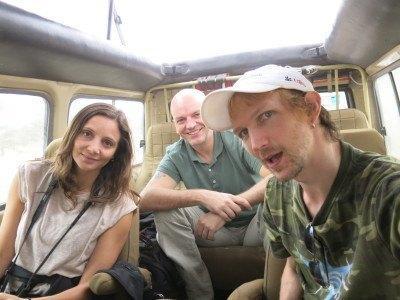 Annette, Raymond and I at the entrance to the Serengeti.
So I'm excited to be heading to Senegal this time but loving my previous three African jaunts as well! Here are some excellent resources for touring Tanzania, and Zanzibar:
African safari   http://www.africaodyssey.com/africa-safari
Tanzania Safari  http://www.tanzaniaodyssey.com/tanzania-safari
Safari Holidays   http://www.africaodyssey.com/
Zanzibar holidays   http://www.tanzaniaodyssey.com/tanzania/zanzibar
Join 15,017 Monthly Readers! If you enjoyed this article and LOVE travel and SAVING money, get e-mail updates from Don't Stop Living – a lifestyle of travel! (It's Free) 😉 Jonny