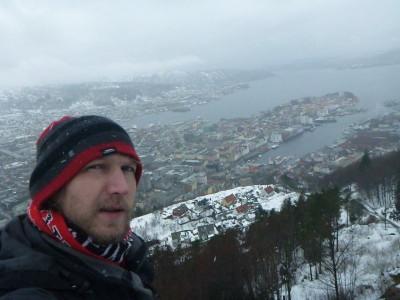 Backpacking in Norway: Top 8 Sights in Bergen
To celebrate my 99th country I toured Norway, it was a reader vote that sent me there so on route I made sure I dived back into Sweden for a couple a weeks and a few days in Denmark (and Christiania). Then it was time for Norway and I decided to do a hardcore week of travel – I barely rested!! I ended up visiting Gudvangen, Flam, Voss, Bergen, Myrdal and Oslo (had 4 days in the capital in the end and also got to meet up with Gunnar Garfors – the Norwegian who has visited every country in the world) in a week which also saw me stay in a couple of perfect Oslo hotels – 1. The Olympiatoppen and 2. The Clarion Collection Oslo. However backpacking roots kicked in so in the town of Bergen, I decided to skip the 4 star option (despite celebrating country 99) and I stayed in the Hostel Montana. On my way here, I slept on the night train from Oslo. I loved Bergen, on Norway's west coast and here are my top 8 sights in the city, which houses 280,000 people and is Norway's second biggest city. Remember these are my personal top 8, they may not be yours 😉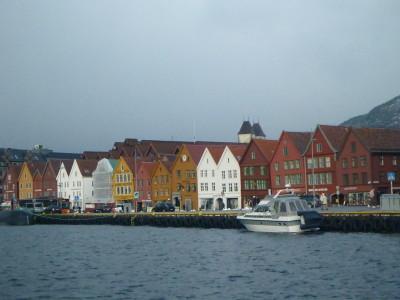 Backpacking in Norway: Top 8 Sights in Bergen
1. Bryggen UNESCO World Heritage Site
Bryggen in Bergen is basically the waterfront old quarter of the city which has been listed as a UNESCO World Heritage Site. The beauty is that it's free and you can wander around at your leisure. The striking coloured triangularly topped buildings are a standout memory and no doubt if you have ever clicked on a travel blog post on Bergen, you will have seen a photo of these buildings before.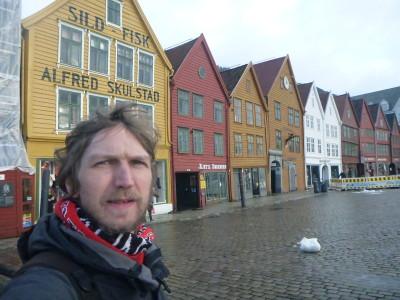 At Bryggen UNESCO World Heritage Site
I couldn't actually believe I was the only tourist at Bryggen taking selfies though – I had to double check, but yes nobody about!! So if you want to see this place without tourists – head early morning in the Winter and you will have the place to yourself! There are two museums in the Bryggen UNESCO World Heritage area – Hanseatisk Museum and the Bryggens Museum. They are 60 NOK each for entry so I gave them both a by-ball as I spent my luxury money on a decent fish stew, beer and the funicular to the top of Mount Floyen.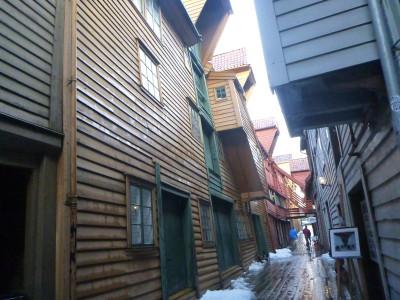 Bryggen World Heritage site in Bergen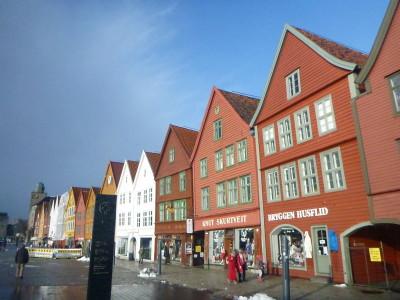 Bryggen World Heritage site in Bergen
2. Mount Floyen
For the perfect stereotypical postcard view over the city of Bergen, head up to Mount Floyen. You can walk it or get the "Floybanen" up there – it's a funicular train up the mountain and costs 43 NOK for a trip up there, walking is free. I'd say visiting Mount Floyen is unmissable, unless you're rushed or being really cheap.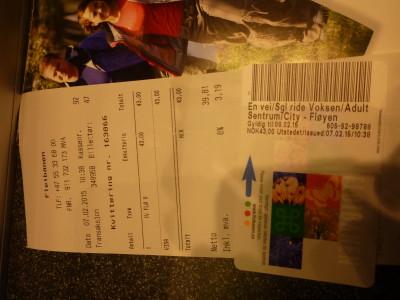 Ticket for the Floibanen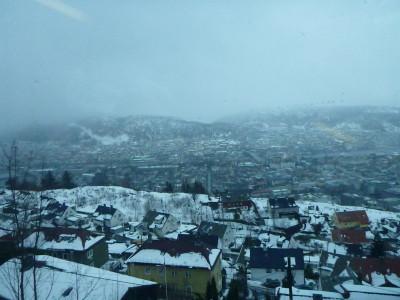 View from the Floybanen
I got the Floybanen up and walked back down. It was icy and slippy all the way down as I was there in February. But I love the cold weather – the walk back down was extremely scenic and I walked leisurely so it took me around 35-40 minutes. The views are magnificent from the top. Truly sensational – you can stare down at the pure beauty of Bergen. I did a few of the walking trails too and met some fake trolls!
"It's all too beautiful" – The Small Faces (once covered by M.People)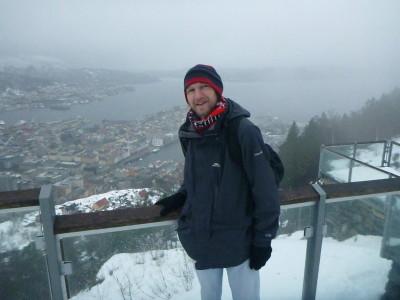 Enjoying the view of Bergen city from Mount Floyen
3. Lille Lungegardsvatnet (Frozen Pond)
This pond which I cannot pronounce sits in the middle of a leafy park in the city centre. I just loved how it was so big yet completely frozen. It could be an ice rink, though when the sun creeks out or it rains, perhaps that would be dangerous!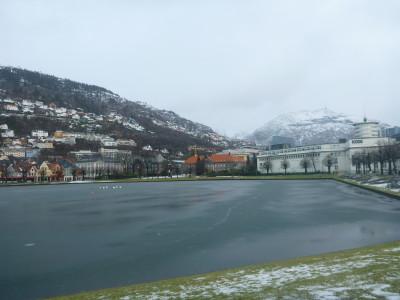 Lille Lungegardsvatnet (Frozen Pond)
The actual park that it sits in is worth a walk round too.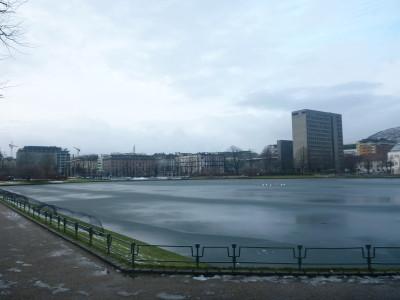 Lille Lungegardsvatnet (Frozen Pond)
4. Pingvinen Restaurant and Bar
For a textbook Norwegian Fish Feast and a good old beer, head to "the Penguin" Pingvinen Bar which I featured on my Friday's Featured Food section. This bar is frequented by locals so don't be thinking the high prices are because it's touristy – Norway is a dear country as things stand and if the locals are munching fish and pint sinking here, then you know it's worth a visit. Splash out and treat yourself.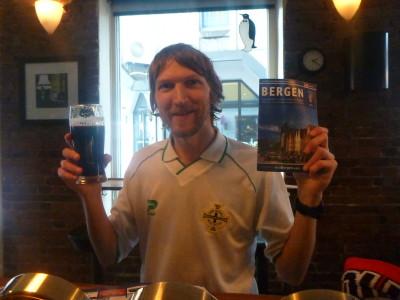 Beer in Pingvinen, Bergen, Norway.
They change their menu daily but the impressive range of beers (local and foreign) remains constant. Incidentally I will construct a favourite bars of Norway post at some point for Thirsty Thursdays.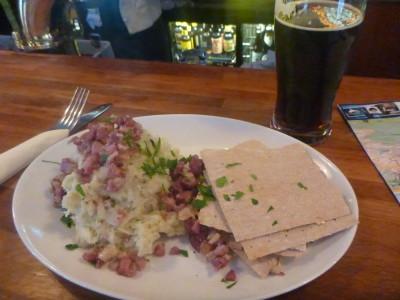 My fish stew and Beer in Pingvinen, Bergen, Norway.
5. Bergenhus Fortress
You can get your sample of history and battle when you visit Bergenhus Fortress, it's just a few minutes walk along the harbour past Bryggen. The fortress is massive but now seems surrounded by ships on the harbour side and housing on the city side.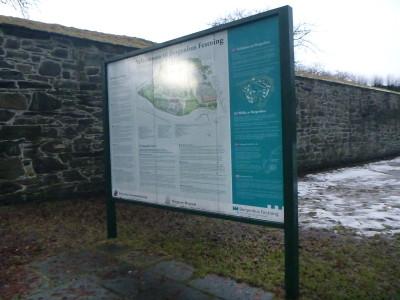 Bergenhus Fortress, Bergen, Norway
It contains buildings dating as far back as the 1240s, as well as later constructions built more recently as World War II. In medieval times, the area of the present-day Bergenhus Fortress was known as Holmen (which means "the islet") and contained the royal residence in Bergen, as well as a cathedral, several churches, the bishop's residence, and a Dominican monastery. The highlight for me though was Rosenkrantz Tower, part of the Royal Castle.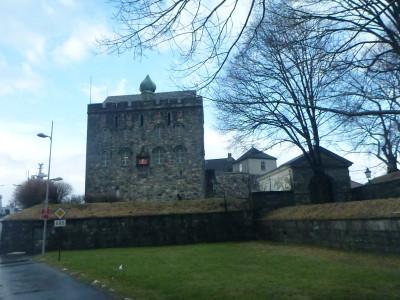 Rosenkrantz Tower, Bergenhus Fortress
6. Vagen Harbour
Bryggen UNESCO world heritage site over shadows the equally pretty harbour it sits facing. Boats come and go here all the time – there are routes to England and Scotland. It's known as Vagen Harbour.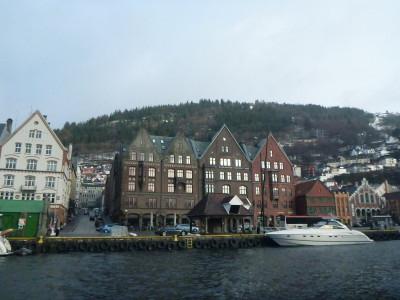 Vagen Harbour, Bergen, Norway
Torget Fish market is worth a walk around though, predictably it does reek of fish! At the end of the pier in the centre there is a statue of Shetlands Leif Larsen. A famous Norwegian sailor and army member who helped prevent a German Siege in the Second World War.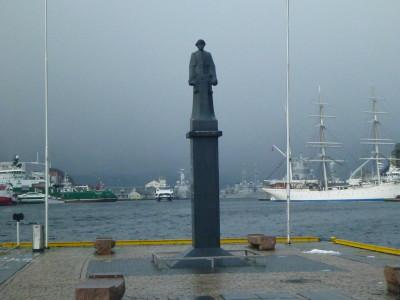 Larsen statue in Vagen Harbour, Bergen, Norway
7. St. Mary's Church
When you're backpacking in Norway, it's important to remember the religion in this part of the world. It's mostly Lutheran with loads of scattered churches in Bergen. My favourite was St. Mary's Church but the most touristic one is Bergen Cathedral which has a massive green dome. Below is a photo of St. Mary's Church which is really close to Bryggen. Notably Bergen has a high population of Polish and Iraqi immigrants.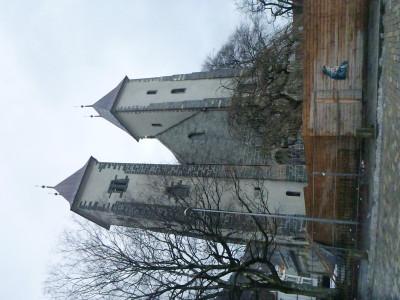 St. Mary's Church on its side (un-turnable!)
8. Local Neighbourhood Housing
I enjoyed the local neighbourhood housing in a few parts of the city. As I was staying at the Hostel Montana, the hilly streets of that area have fantastic views and are typical of Norwegian street life. I just really enjoyed walking round streets away from the tourist attractions here.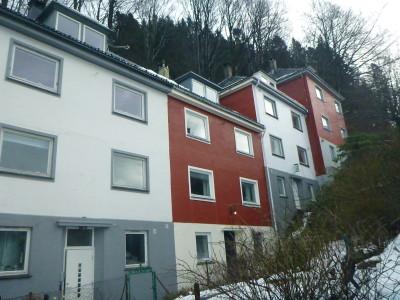 Local neighbourhood housing.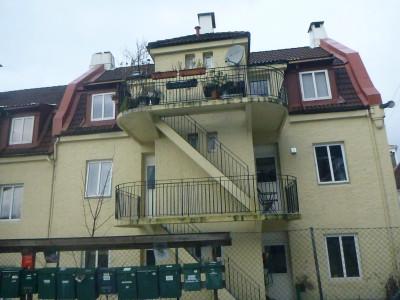 Local neighbourhood housing.
Also on the way back down from Mount Floyen, I dandered round the poky back streets and loved the colour of the buildings, the design and the art. I was basically just walking around local people's neighbourhoods and houses in admiration.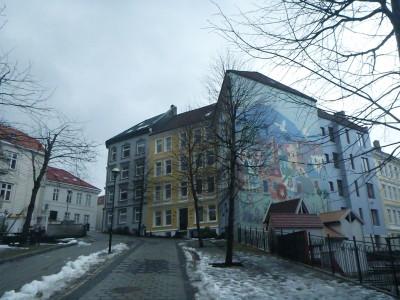 Local neighbourhood housing in Bergen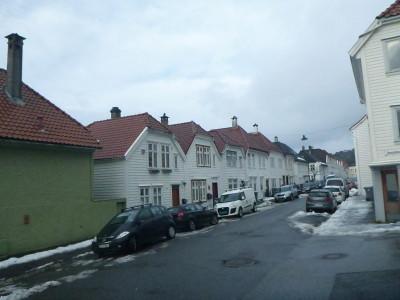 Local neighbourhood housing in Bergen
I don't know why the housing fascinated me but it did – it's one of the prettiest cities I've been in for streets and housing and I just dandered around on my own for ages! I don't normally backpack through residential areas despite by crazy journey to the Empire of Austenasia. Those were my personal top 8 from Bergen but there's so much more to the city than that. It's also the gateway to the Fjords. I headed to Voss and then to Gudvangen and sailed through the fjords to Flam. I'd recommend it in Winter – a gorgeous city.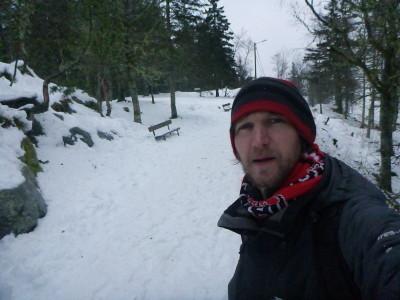 Backpacking in Bergen, Norway.
Here are some of my videos from Bergen when backpacking in Norway:
Join 15,017 Monthly Readers! If you enjoyed this article and LOVE travel and SAVING money, get e-mail updates from Don't Stop Living – a lifestyle of travel! (It's Free) 😉 Jonny