Don't Stop Living - Jonny Blair - a lifestyle of travel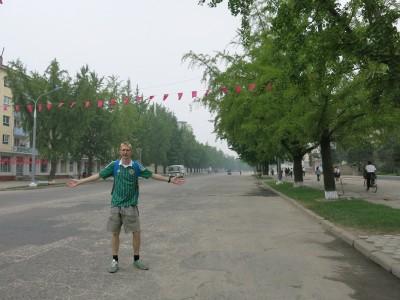 Backpacking in Kaesong, North Korea. Here's a top 5 things to see and do.
I'm on a serious mission to catch up on my latest travel stuff, so North Korea needs more posts on here. I didn't just backpack the hell out of its charming capital city, Pyongyang, we also checked out the DMZ, the city of Kaesong and took the train north to Sinuiju on route back to China.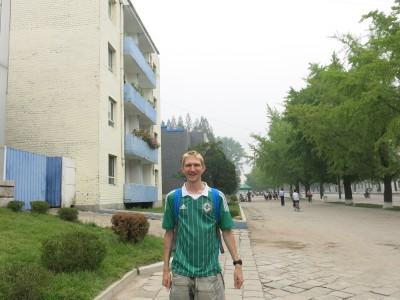 Checking out the southern most city in North Korea – Kaesong!
I have to say I loved North Korea, from a traveller's perspective, it sure kicked the ass out of South Korea and Japan. It's one of those countries that all your preconceptions of it, are torn to shreds when you actually visit the place! Incidentally, anyone wanting to visit can grab a handy 5% discount through quoting Don't Stop Living when you travel with Young Pioneer Tours.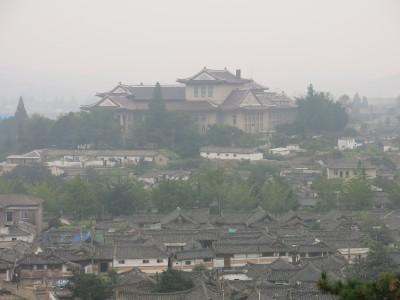 The city of Kaesong, North Korea.
To the city of Kaesong then. This is a city of 200,000 people. It sits nicely just north of the border with South Korea. Try and get it included in any tour you do. I really recommend it. Mostly because you don't want to go all the way to North Korea and spend your whole time in Pyongyang. Yes Pyongy is a top spot, but there's some beautiful countryside, and then there's the dreamy old city of Kaesong. Here's a top 5 things to tick off when you're there.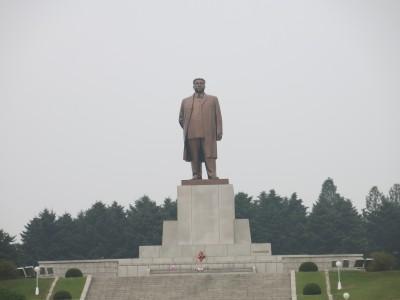 The Kim Il Song Monument in Kaesong, North Korea.
How to Get to Kaesong, North Korea
Currently access to Kaesong from the South Korea side is tricky, so get yourself booked on a tour of North Korea/DPRK to make things smooth and easy. Kaesong only takes about 3 hours maximum to get to, from Pyongyang. Public transport isn't really an option for tourists at present in the country, so you'll probably be in a shared private car or a tour bus, depending on your budget. The backpackers party bus to Kaesong was my choice. Beers allowed on board of course

The countryside on route is also stunning.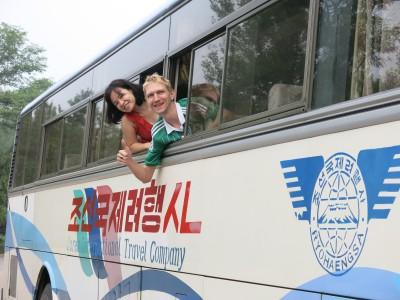 On the party bus from Pyongyang to Kaesong with YPT.
1. Koryo Museum
This is probably the main event in Kaesong. The good old Koryo Museum. North Korea actually has quite a lot of museums. This one has a special history behind it. Once a Confucian Academy and dating way back to the Koryo Dynasty, long before the current regime, the Korean war and the divide between North and South. This is a really cool museum to get a feel for the real Korean history. Relics, mock houses, tombs and art show you the real Korea you dreamed of.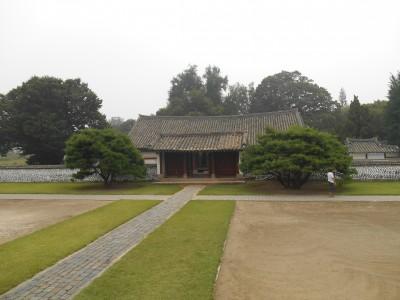 The Koryo Museum, Kaesong, North Korea.
It's a splendid courtyard setting too with a load of rooms. Your guide can explain everything to you, but it's also written in English.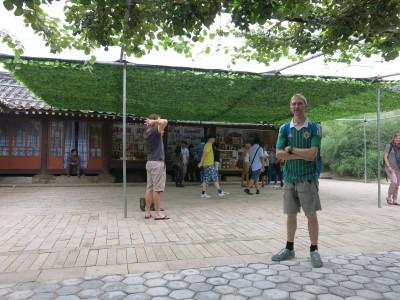 Inside Kaesong's Koryo Museum.
2. Koryo Songyungwan University
North Koreans are well educated folk. Kaesong has one of the country's biggest Universities, and while you'll have to ask to go inside and be with a guide, you can admire the building and watch the hoardes of students run out waving at you! It's a totally massive building!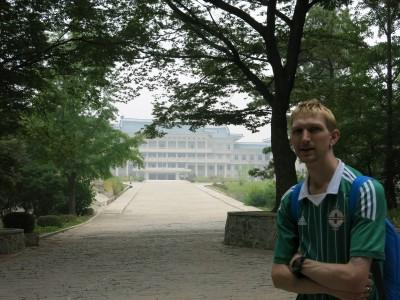 The massive university in Kaesong.
3. North Korean Stamp Shop
North Korean souvenirs are epic. The Stamp Shop in Kaesong is so good that it would be an absolute heaven for stamp collectors. You would not quite believe the vast quantity of North Korean stamps that are out there! I managed to pick some up and send my brother a postcard.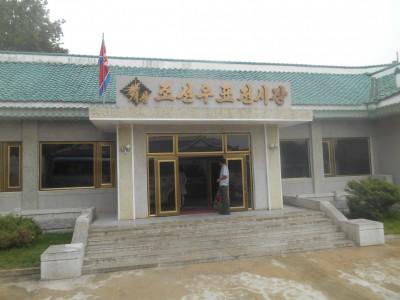 This is the awesome "Stamp Shop" in Kaesong, North Korea.
The biggest surprise was seeing a stamp with a Northern Ireland flag on it – from the 1986 World Cup. Sadly they didn't have any spare.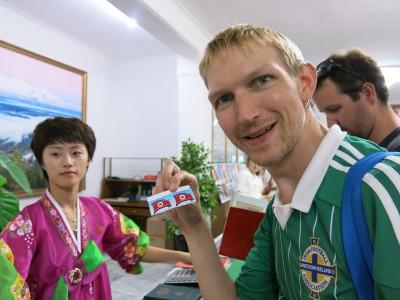 Buying my stamps on Kaesong, North Korea.
There is a vast range of other souvenirs too. Fridge magnets, posters, ornaments etc. Almost everyone buys something here – it's probably the best souvenir shop in the whole country.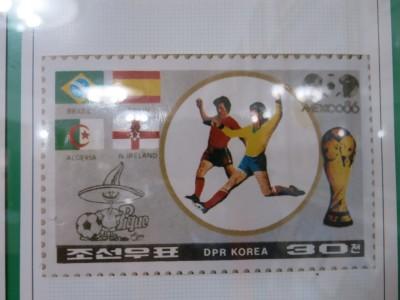 The North Korean stamp with the Northern Ireland flag on it – for the 1986 World Cup.
4. Chomsongdae Park and Observatory
This place is cool for a few different reasons. One is that it sits at the end of a road out of the city center and has an elevation. This makes it the perfect spot to look down on the city of Kaesong and admire.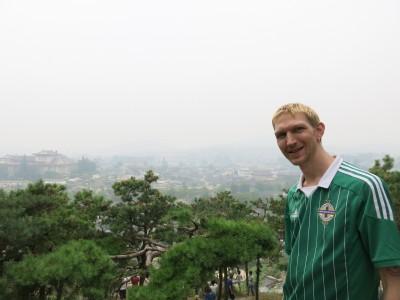 Views of Kaesong from Chomsongdae Park.
It also houses a massive statue of Kim Il Sung and attracts a lot of flowers, wreathes and parades.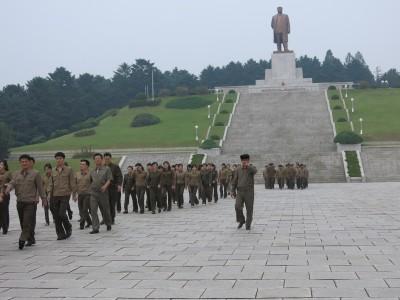 The North Korean Army pay their respects to the Great Leader at his monument in Kaesong.
It also has some pretty gardens to walk around and more memorials. The weirdest thing was the whole park reminded me of Stormont's parliament area in Belfast in my home country of Northern Ireland!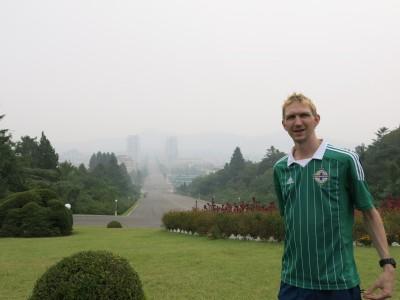 Chomsongdae Park reminded me of Belfast's Stormont!
5. King Kong Min's Tomb
Strictly speaking King Kong Min's Tomb isn't in the city of Kaesong, but the region. I'm including it here however as it's a must see if you're down that way. Most tours will stop off here on route anyway. Again you'll get your fix of old Koryo era history as you wander round tombs in sparse countryside. It's all too beautiful.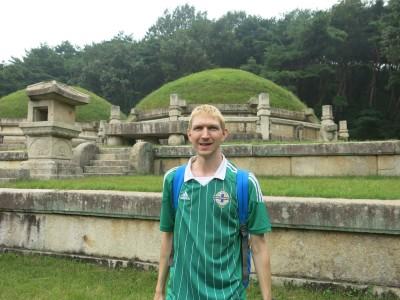 At the tomb of King Kongmin just outside Kaesong, North Korea.
As well as this top 5, we also enjoyed the views of the city of Kaesong and lunch in one of the local restaurants. Here's a photo of our Kaesong feast: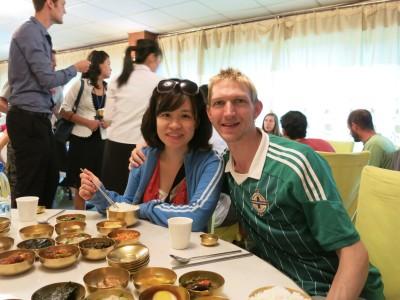 A feast for lunch in Kaesong, North Korea.
Here are a few of my many videos from Kaesong. You can find more on my North Korean YouTube Section:
Original article: Backpacking in North Korea: Top 5 Things to Do in Kaesong
©2014 Don't Stop Living. All Rights Reserved.